Canada's governing Liberal Party promised the biggest single gun bans in the country's history if they are re-elected in October 2019.
This makes Election 2019 the most-critical vote in a generation for gun owners and businesses.
This web page details the Liberal Party's election plans against the millions of Canadian men, women and youth who hunt and shoot safely and responsibly.
Newest update of this page: 13 August 2019
Liberals Promise Sweeping Gun Bans

Bill Blair, the minister for confiscation, outlined the Liberal plans against gun owners and stores in speaking to media in mid-June 2019. Information sources and quotes are linked below.
1. Seize and Destroy

Seize and destroy about 200,000 rifles and/or shotguns owned by PAL holders.
Criminalize people who own "assault-style" guns, a label made up by the Liberals.
Target people who own so-called "Non-restricted" firearms, probably also owners of "Restricted" and/or "Prohibited" models. (e.g. semi-auto AR-15 target rifles?)
Pay owners for firearms that are turned in for destruction.
2. Ban Gun Owners and Gun Stores From Cities
Create new laws for provinces and municipalities to ban firearm owners and gun stores.
Open the way to ban handgun owners.
3. Ban or Further Restrict Private Gun Ownership

Create new laws against people who keep guns at home, which is everyone.
Blair has previously indicated interest in criminalizing people who store guns at home and forcing them to hand over their firearms to state-approved central storage facilities.
"The proposal is a ban on private ownership, not sports shooting," a Liberal member of parliament said in February.
---
---
Trudeau Says Anti-Gun Plan Is Coming
Prime Minister Justin Trudeau | 13 August 2019
Via CityNews Toronto
Context: Answering question about Liberal plans for handgun bans at a media briefing in Toronto after meeting with Toronto Mayor John Tory.
Trudeau: "We know that there is more to do. That's why we look forward to putting forward a plan that will continue to invest in controlling our guns and keeping our communities safer. And that's exactly the thing we're going to move forward with on a stronger mandate."
Context & Background
Other Measures: Bill C-71
The planned measures are in addition to the prohibitions and restrictions in Bill C-71, a new law passed in June.
See our Bill C-71 page.
What We Don't Know
Many unknowns remain about the Liberal plans against gun owners if they are re-elected:
Targets. Which PAL holders will the Liberals criminalize first? Will they target owners of "Restricted" and "Prohibited" rifles and shotguns (e.g. auto or semi-auto AR-15, FN-FAL, AK-47, HK91 …), or only people who own "Non-restricted" models (e.g. semi-auto SKS, Ruger Mini-14, IWI Tavor, Kel-Tec …)?
Tactics. How will the Liberals enforce their bans against honest men and women?
Timing. When will the Liberals begin their new assault on gun owners — the day they take office, or later?
Costs. How much will the Liberals offer for each gun? How will they compensate people for violating our dignity, the years invested in a passion or hobby or sport, the accessories that become worthless without the gun, or the sentimental or historical value of guns? How will the Liberals compensate the businesses they destroy and the people whose jobs they kill?
Gun Bans + Gender Politics = Votes
Gun bans against lawful men and women are a vote winner for the Liberals and could be an election winner.
Opinion polls show Liberal voters are the most hostile to firearm owners and the most in favour of gun bans.
"Gun control presents an untapped opportunity for Justin Trudeau and his team to grow and solidify the voting base that gave them a majority in 2015," a government adviser said in March 2018. "Over and above any electoral potential that exists for gun control, it remains an important gender issue."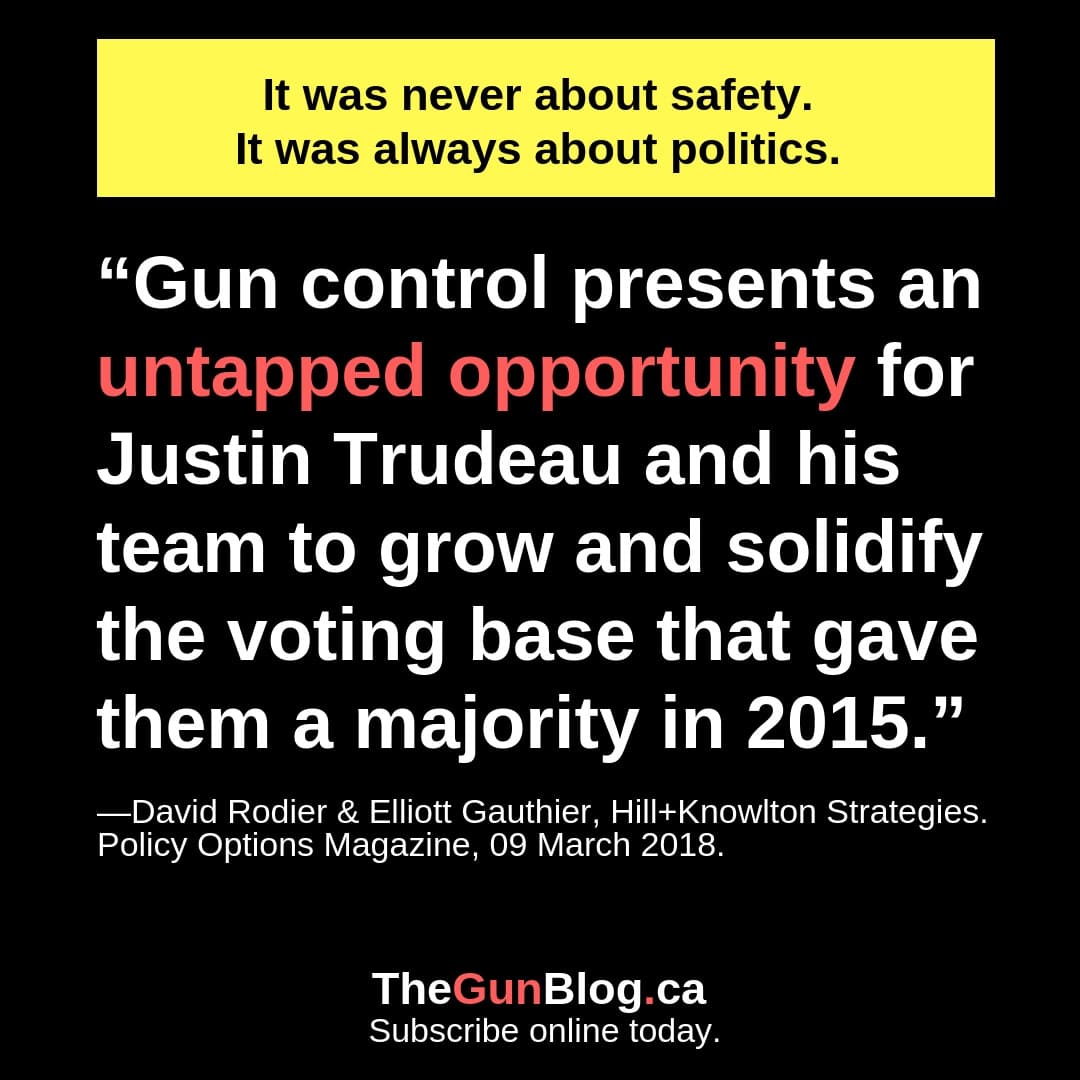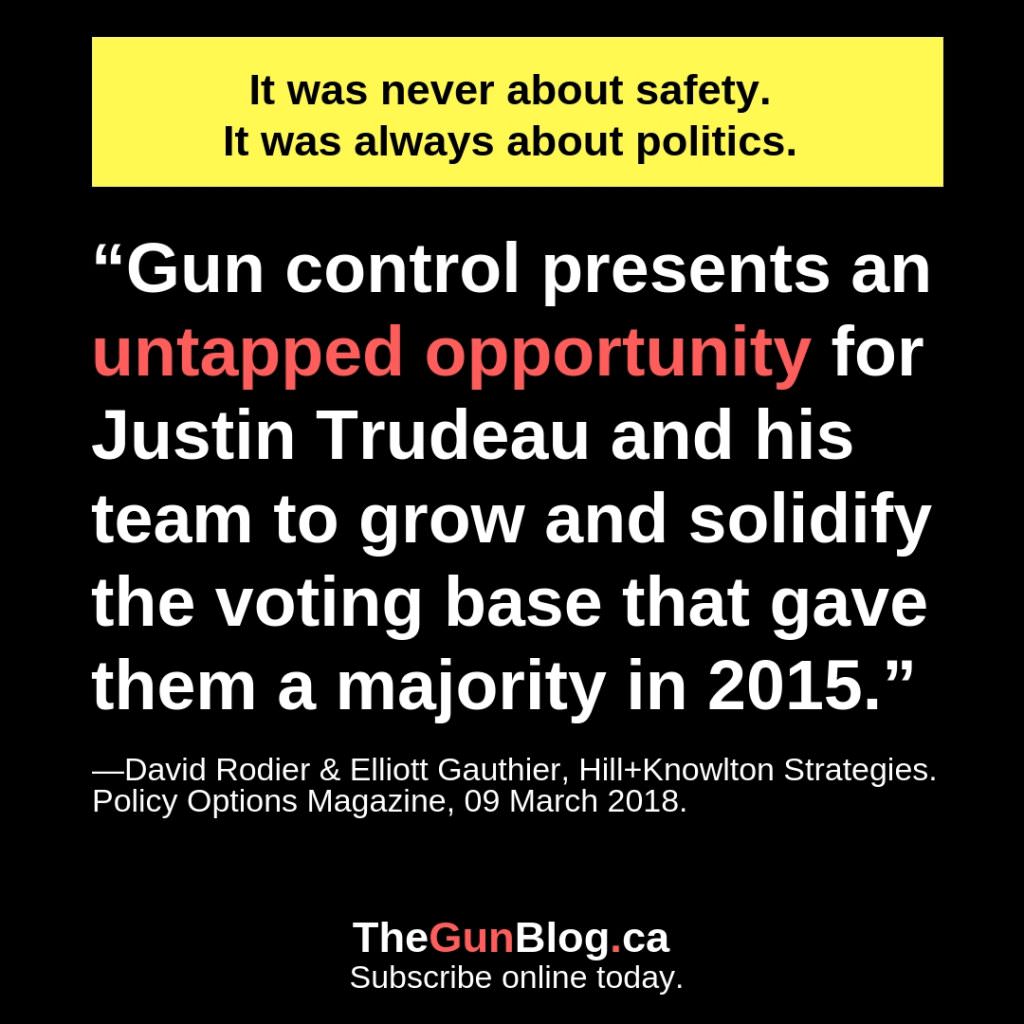 Shooting Is Part of Canadian Culture
Guns and shooting are at the heart of Canadian culture, heritage and tradition.
About 2.2 million adults have a firearm licence, more than play hockey. Millions more family, friends and colleagues also shoot safely under their supervision.
Every community across Canada is home to men, women and youth who hunt and shoot safely and responsibly.
Every political party has hunters, plinkers, sport shooters, farmers, ranchers, gun collectors and people interested in personal protection and home defence.
Many past Liberal voters have vowed to never again vote Liberal over their treatment of firearm users.
Options for Gun Owners

Vote Smart to Save Your Guns … and Restore Justice

In every electoral district:
Best Option: Vote for a political candidate who supports gun owners and who can defeat the Liberal candidate.

Best Outcome: Majority government led by the Conservative Party, the only major federal party to consistently oppose confiscation against honest citizens.

Next-Best Option: Vote for the most-likely candidate to defeat the Liberal candidate.
In Case of New Bans
Gun owners have two main options:
Surrender
Don't Surrender

Leave and seek refuge in a city, province or country that welcomes gun owners.

Many people have said they will seek asylum in the U.S.

Stay and don't comply.

Many people will disregard illegitimate or unjustified surrender orders, aware this could be a serious crime that leads to jail.
Many police officers will refuse to enforce illegitimate or unjustified orders against honest men and women.
---
Information Sources

Quotes From Media Reports Based on Comments by Minister Bill Blair
Daniel Leblanc and Patrick White, The Globe and Mail, 14 June 2019
"Mr. Blair said the government should not simply prohibit new sales of these weapons and allow current owners to keep them under a form of grandfathering. Instead, he said the Liberals will propose to buy them back."
"'In fairness to those individuals [who have already lawfully acquired these weapons], if we were going to prohibit them and remove them from society, we would want to consider the best way to compensate them for the forfeiture of those weapons,' he said."
"In addition to prohibiting some weapons, Mr. Blair said the Liberals will want to strengthen the rules on the safe and secure storage of firearms and make a series of changes to firearms laws."
"He also opened the door to giving greater powers to provinces and municipalities to regulate the sale and use of firearms on their territories."
Tonda MacCharles, The Toronto Star, 17 June 2019
"'What I believe is that we can work with — and it would have to be done through the provinces — but work with the municipalities so that they may be able to effect additional regulation regarding storage,' Blair said in an interview with the Star."
The Canadian Press, 18 June 2019 (via Red Deer Advocate)
"He says the government is also open to working with municipalities to allow them to decide exactly where, or even if, firearms can be stored within their boundaries."
Michael Leiser, CBC International, 18 June 2019
"The minister said there are roughly 200,000 so-called 'assault-style' firearms in Canada that he would like to ban."
Amanda Connolly, Global News, 18 June 2019
"'It's certainly my recommendation,' he said when asked about whether the Liberals will ban assault weapons."
"… the government will consider letting municipalities enact restrictions and potential bans of their own that go beyond the national safe-storage rules."
---
Related