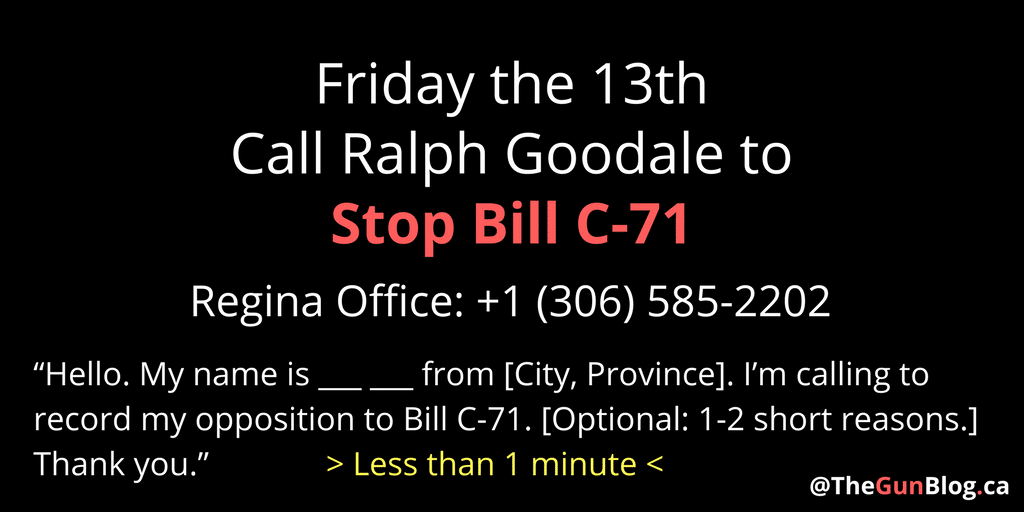 Latest Update: 20 April 2018, 01:25 Toronto time.
You can copy or link to this page. Just please credit and link back to TheGunBlog.ca.
If you see an error or an omission or have ideas, please contact me.
---
How Does Bill C-71 Harass Gun Owners?
Strangles lawful, legitimate, licensed people with more red tape that will do nothing to reduce violent crime. It goes after the proven good guys, instead of the proven bad guys.
Gun Bans: Immediately classifies more than 10,000 legally bought and legally owned rifles as "Prohibited," including some models that cost more than $4,000 and are used for hunting.
More Gun Bans? Removes government's ability to easily overrule RCMP's firearm classifications, giving the federal police greater leeway to ban even more guns and fueling concern of police overreach.
PAL Refusals, PAL Revocations: Some people won't get PALs, and some people will lose their PALs as background checks expand to cover a person's whole life.
Confiscations: No more PAL? No more guns.
Registrations: It becomes a crime for anyone to buy, sell or give away any gun without an authorization and a reference number for each transaction from a government Registrar.
Costs for Stores: Stores must keep transaction records for 20 years.
Authorizations: Immediately revokes all existing Authorizations To Transport. Requires specific ATT for all transportation except from store to home and between home and target range.
Paperwork and Penalties for Violent Criminals: Zero.
What Can You Do Right Now in 1-5 Minutes?
Call your Member of Parliament (Use the script in the card at the top). (1 min)
Call Minister of Public Safety Ralph Goodale (Use the script in the card at the top). (1 min)
Write a 1-paragraph e-mail to your Member of Parliament. (5 min)
Use OneClearVoice.ca to easily e-mail your Member of Parliament. (1 min)
Sign Petition E-1608 on the House of Commons website. (1 min)
Sign Petition E-1605 on the House of Commons website. (1 min)
Looking Beyond Bill C-71
Bill C-71 may pass easily because the Liberal Party has a majority in the House of Commons and strong support in the Senate. (They promised to strip away gun rights in the last election, and voters supported them.)
We need to look beyond this bill to where we can act next.
Contact local political candidates who support gun rights and help them get elected. Got a car or a phone? They need you. Can you smile, write or count? They need you. Alberta and Ontario have elections in the next few months.
Join your favourite firearm association or renew your membership right now.
Subscribe to TheGunBlog.ca to get the latest news affecting you and your guns.
Where Can You Get More Info?
What Do the Firearm Associations Say?
Canadian Coalition for Firearm Rights
Canadian Shooting Sports Association
National Firearms Association
Canadian Sporting Arms and Ammunition Association
Where Can You Find Official Info?
© 2018 TheGunBlog.ca
---
The most important part of gun rights isn't "gun," it's "rights."
---