Petition to Stop Liberal Gun Confiscations Surges to No. 1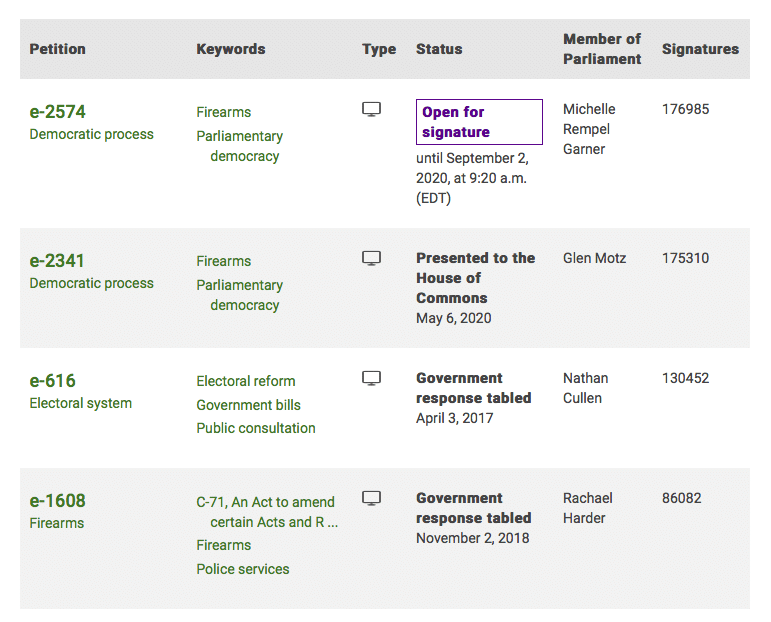 TheGunBlog.ca — A petition to restore Canadian democracy and stop the Liberal Party attack against honest citizens surged to become the No. 1 online petition to the House of Commons after barely a week.
Petition e-2574 had 176,985 signatures as of 5:15 p.m. in Toronto today. It overtook the 175,310 names from a similar solicitation in February, grabbing the top spot among the 1,041 e-petitions on record. It opened May 5 and closes Sept. 2.
See below for how to sign.
Grassroots Opposition
E-2574 has become the focal point for a national grassroots movement against the governing political party's abuse of power in the middle of Canada's worst health and economic crisis.
A second, related petition, e-2576, had almost 38,000 signatures today. It also closes Sept. 2.
Shock Assault
The Liberals ordered their shock assault on May 1, threatening criminal charges leading to jail unless gun owners and stores surrender our suddenly prohibited gear within two years.
They struck in the middle of the day with immediate effect, assisted by the civil service and federal police. They promised options that have yet to be formalized and may never be.
'Fantastic and Frightening'
"It's fantastic to see hundreds of thousands of Canadians standing up to restore justice and the rule of law, and it's a frightening time in Canadian history that we need to," said Nicolas Johnson, the editor of TheGunBlog.ca.
Violation of Justice
Prime Minister Justin Trudeau ordered the prohibitions in what may become one of the biggest crackdowns against honest individuals and families by any democracy in history.
His ban order violated fundamental principles of the rule of law, from legal certainty and predictability to procedural transparency and parliamentary scrutiny.
At least four court challenges are in the works.
Petition Demand
We, the undersigned, citizens of Canada, call upon the Prime Minister to immediately scrap his government's May 1, 2020, Order in Council decision related to confiscating legally owned firearms and instead pass legislation that will target criminals, stop the smuggling of firearms into Canada, go after those who illegally acquire firearms, and apologize to legal firearms owners in Canada.

Source: Petition E-2574
Liberal Attack
E-2574 took less than eight days to overtake the four-month run by the previous record holder, e-2341 in February.
The petitions aim to stop the Liberal attack that specifically targets Canada's 2.2 million federally licensed firearm users and 4,400 businesses employing almost 50,000 people.
https://twitter.com/TheGunBlog/status/1260641922651172865
Forced Confiscation
Trudeau's forced confiscation-incarceration order affects hunters, farmers, ranchers, sport shooters and firearm collectors, and our family and friends.
Without warning or phase-in, he instantly made it a crime to buy, sell, import or transport more than 125,000 rifles, carbines and other firearms.
Server Crash
The petition drew more than 50,000 signatures in its first 24 hours, overwhelming computer networks and preventing some people from logging their names.
House of Commons Comment
"Due to this increase in demand, it has been taking longer than usual for signatories to receive the email necessary to confirm their signature," Heather Bradley, a spokeswoman for the House of Commons in Ottawa, told TheGunBlog.ca on May 7. "However, the issue has been resolved and most signatories should receive this email within a few minutes."
Weaken, Cripple, Eliminate
The May 1 decree started a new wave in Trudeau's sweeping measures to weaken citizens, cripple the firearm industry and eliminate modern sport shooting.
He's preparing handgun confiscation and a new firearm-classification regime to easily and quickly prohibit any new design.
Rempel, Faszer
Jesse Faszer from Calgary initiated the petition. It was sponsored by Michelle Rempel Garner of the opposition Conservative Party, the only federal party opposing the forced confiscations.
E-petitions began in 2015. Three of the top-four seek justice for gun owners.
---
Sign the Petitions to Restore Democracy
Anyone of any age can sign if they are a citizen or resident of Canada. That includes kids, grandkids, Canadians living abroad, etc.
It takes 1-2 minutes.
Sign in Three Steps, Then Share
Sign. Go to the petitions on the House of Commons website, click "Sign the Petition" near the bottom of the page, enter your details, and click "Sign."
Validate. Validate your e-mail address by clicking the link in the e-mail you get from the House of Commons. Check your Inbox and Spam/Junk.
Confirm. The link will take you back to the House of Commons website where you should see this message: "Congratulations! You have completed the signature process for this petition."
If you don't see the confirmation, your signature wasn't counted.
Double check your Inbox and Spam. Wait a while and try again.
Next: Share. Share this with anyone who cares about democracy and the rule of law. You can forward this article.
Sign Here
https://twitter.com/TheGunBlog/status/1260332210722344962
---
Related
—
Correction: Corrects link to E-2576