Trudeau Says to Study 'Full Ban on Handguns and Assault Weapons'
TheGunBlog.ca — Canadian Prime Minister Justin Trudeau instructed his new minister of organized-crime reduction to examine a "full ban on handguns and assault weapons."
It's the first time he has indicated publicly that he will consider seizing firearms from federally licensed men and women in the safest segment of society.
"You should lead an examination of a full ban on handguns and assault weapons in Canada, while not impeding the lawful use of firearms by Canadians," Trudeau told Bill Blair in his mandate letter dated today outlining the new minister's "top priorities."
All guns already are prohibited for anyone without authorization, so any new ban could apply only to people who have permission to have them. That includes the military, police and more than 2 million hunters and sport shooters with a firearm Possession and Acquisition Licence (PAL) authorized by the federal police.
"It's very disappointing that an elected government would turn on 2 million law-abiding citizens that haven't done anything wrong and start looking at punitive measures of taking their lawfully owned property," Tony Bernardo, the executive director of the Canadian Shooting Sports Association, told CBC News. "You don't expect that stuff in a democracy."
Confused, Priorities
Some gun owners said they were confused by Trudeau's orders to study a "full ban" while "not impeding" approved users.
"It's not impeding lawful use if you first outlaw them," one person said on Twitter.
Making new prohibitions a top priority for study shows how seriously Trudeau is considering bans. If he decides to proceed, they could take effect in many ways, such as blocked sales, forced turn-ins, immediate seizures or as confiscations after death as the government does now.
Terminate, Wipe Out, Destroy
A "full ban" would terminate the athletic careers of Olympic pistol shooters such as Lynda Kiejko, end target sports enjoyed as a hobby or sport by more than half a million men and women and force businesses to lay off employees and shut down.
It would also wipe out hundreds of millions of dollars in assets from Canadian families as firearms, cartridge magazines, holsters, cases, ammunition and other parts and accessories became worthless.
Unique historical items and precious art would be destroyed.
PALs vs. Gangs
The government said a month ago it was "open to all possible options" to protect communities from what it referred to as "gun violence." The Globe and Mail cited an unnamed senior official as saying Trudeau was considering a handgun ban and would decide this month.
Canada counts more than 430 criminal gangs, and the last of Trudeau's top priorities to Blair was to counter them. The mandate letter didn't mention taking away their guns.
"Obviously a handgun ban or similar nonsense will not stop them," Jordana Goldlist, a criminal-defence lawyer in Toronto, said after the Globe report. "We need to address the underlying issues: poverty, alienation, and a lack of guidance are key."
Safest Social Segment
Licensed firearm owners are the closest thing in Canada to a crimeless segment of society. Having a PAL requires a daily background check by the Royal Canadian Mounted Police. That level of scrutiny is beyond what is faced by members of the House of Commons who don't have a firearm-ownership permit.
A licence to own handguns and AR-15 rifles requires more instruction and tests than what is needed for bolt-action rifles and pump-action shotguns.
Trudeau's orders to Blair signal an escalating threat of confiscations in defiance of the views of some of the country's most senior active and retired police leaders.
'Not the Solution'
"I'm not sure if a complete ban is the answer, or tweaking the legislation to ensure more accountability," Brenda Lucki, the commissioner of the Royal Canadian Mounted Police, told CBC this month. "That's definitely something we need to study."
"I agree," Chris Lewis, the retired commissioner of the Ontario Provincial Police, Canada's second-largest force, responded on Twitter. "It would be unmanageable and unfair to the majority of handgun owners who obey the law and always use their guns safely. Let's effectively deal with the criminals that do NOT obey the current criminal law."
"A gun ban is not the solution," Michael McCormack, the president of the Toronto Police Association, said last week on Twitter in response to the city's outgoing mayor, who is pushing for prohibitions.
1 Million Handguns
A ban on privately owned handguns would eliminate 980,000 pistols and revolvers owned by individuals plus about 120,000 owned by businesses and museums. Canadians own more than 10 million guns. Some estimate it's closer to 20 million.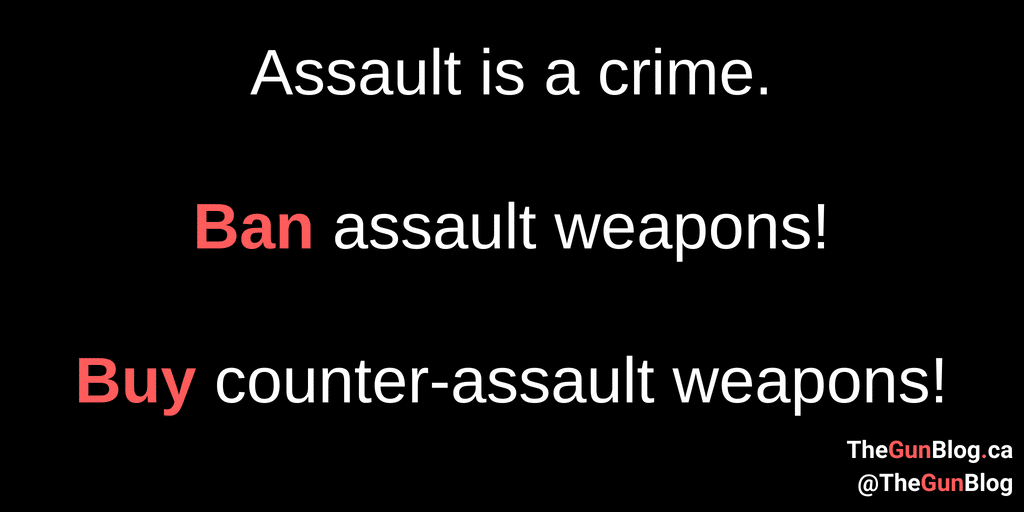 The definition of "assault weapons" is contested. Automatic firearms have been off-limits to most licensed gun owners for decades. Canadians own more than 100,000 automatic and semi-automatic rifles legally classified as "Restricted" or "Prohibited." All of those firearms and their owners are registered with the federal police.
Many of the guns aren't allowed out of the house and will be seized by police when their owners die because of laws passed in 1995 by Trudeau's Liberal Party. Trudeau has proposed more post-mortem seizures in Bill C-71.
Licence, Lawful Ownership
Target shooting is one of Canada's safest and most-popular sporting activities. More men and women have a gun licence than play hockey.
Further restrictions on hunters and sport shooters would help the ruling Liberal Party strengthen its majority in parliament in next year's election, a major public-relations firm said in March.
"Canada's Conservatives will vigorously oppose a blanket firearms ban on law-abiding, highly-vetted Canadians and will instead focus on criminals who illegally obtain guns and use them to commit violence," Pierre Paul-Hus and Glen Motz said today in a statement. They are members of parliament responsible for public-safety issues from the opposition Conservative Party.
Take Action
Write to your member of parliament and the prime minister.
Subscribe to TheGunBlog.ca, or support our work.
Related Information
---
The most important part of gun rights isn't "gun," it's "rights."
---