Liberal Mass Gun Confiscation Order in Council (OIC) of 01 May 2020
Want the newest info, intel and insight? Subscribe.
---
"We're taking the strongest step in Canadian history to move forward on tougher gun legislation."

—Justin Trudeau, Liberal Party of Canada Candidate for Prime Minister, 01 October 2019 (Election Campaign Speech)
---
What's on This Page?
Overview of main points of criminalizations and confiscations ordered on 01 May 2020
Links to government documents
Info and resources to learn more
---
Newest update of this page: 30 October 2023
---
Overview — Key Points
Canadian Prime Minister Justin Trudeau and a handful of his colleagues in cabinet ordered one of the biggest crackdowns against honest citizens by any democracy in history.
Mass Criminalizations. On 01 May 2020, after working in secret with the agency that oversees gun licensing, Trudeau instantly made it a crime for federally licensed firearm users to buy, sell, transport, import, export or use many of our rifles and shotguns.
Mass Confiscations. He ordered licensed owners to surrender our suddenly blacklisted gear by 30 April 2022 to avoid jail. He struck in the middle of the day without warning and with retroactive effect. (On 16 March 2022, he extended his deadline to 30 October 2023.)
Abuse of Power. The surprise criminalizations-confiscations are an unprecedented abuse of power and regulatory authority. They violate fundamental principles of ethics, justice, governance and the rule of law. The executive decrees were published as two Orders in Council (OICs) by Trudeau's cabinet, without the knowledge of parliament.
Targeted Crackdown. Trudeau is specifically targeting safe and responsible men and women among the 2.2 million holders of a federal firearm Possession and Acquisition Licence (PAL), and 2,400 federally licensed firearm stores and businesses.
Regulatory Attack. The Royal Canadian Mounted Police – Canadian Firearms Program, which oversees the licensing regime, worked in secret with Trudeau's staff to assist the mass criminalizations-confiscations. They invented the unheard of and unprecedented tactic of "nullifying" firearm-registration certificates.
Weaken Personal Firearm Ownership. In addition to attacking individual rights and the institutions of democracy, the Liberal Party of Canada plans more measures to weaken citizens, cripple the firearm industry and kill modern shooting sports.
Massive and Growing Opposition. Seven individuals and groups have filed challenges in Federal Court to block the attacks. About 150 applied to provincial courts. More than 230,000 concerned citizens signed the No. 1 e-petition in House of Commons history. Provinces are kicking out federally appointed Chief Firearms Officers and hiring their own people to fight the Liberals.
Guaranteed Failure. Although the 01 May 2020 criminalizations are severely disrupting the shooting community, forcing many businesses to close, and costing hundreds of thousands of dollars to fight in court, the plan will fail.
It is widely opposed by provincial premiers, the police and the public.
The government lacks the billions of dollars to pay for it.
Police, many of whom own personal firearms, don't want to seize guns from each other or from their families, friends and neighbours.
The targeted owners don't intend to participate.
TheGunBlog.ca stands for civil liberty and sound policy. We are working to restore ethics, justice and the rule of law.
TheGunBlog.ca is 100% independent and 100% funded by our supporters. No ads. No spam. No government handouts or bailouts.
Trusted as the go-to source of info, intel and insight by the shooting community, politicians, policymakers and the media.
Please support our work as a subscriber (to get full access) or as a donor.
Who is targeted?
RCMP Says Over 100,000 Gun Owners May Be Target of Confiscation
How did we get here?
How Quiet Gun Owners Become Former Gun Owners
---
You may also like: Canada Gun Facts & Stats
If you see a mistake or have an idea, please contact us.
---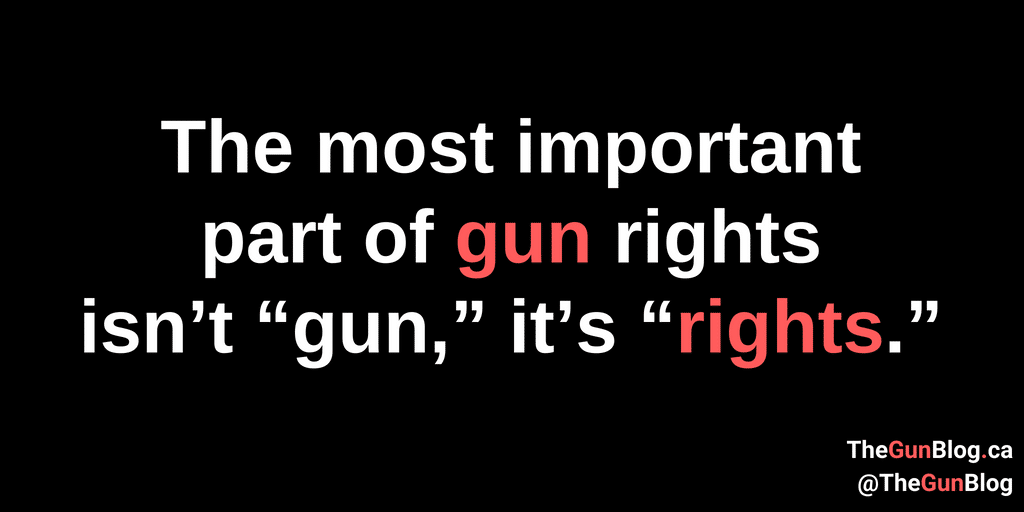 ---
The Two Orders in Council of 01 May 2020
Highlights
Two Orders in Council (OIC) of 01 May 2020, with retroactive effect:

Criminalization Order (to prohibit certain firearms and criminalize the owners)
Amnesty Order: Temporary, partial and limited amnesty to avoid certain criminal charges until 30 April 2022. (Extended to 30 October 2025.)

Criminalizes 100,000 – 200,000 rifle and shotgun owners who:

Own any of the newly prohibited items. We are now in unlawful possession of those rifles and shotguns.
Buy, sell, import, export, transport or use any of our affected goods
Don't keep our newly banned gear locked in a safe at home
Don't surrender our newly banned gear by 30 April 2022

Arbitrarily classifies an unknown number of "Non-restricted" rifles and shotguns plus 105,000 "Restricted" models as "Prohibited."
Original goal was to seize and destroy 250,000 rifles.
Although absent from the new regulations, the Liberals say their attack will eventually offer confiscation victims two exits:

Payoff (Fast Confiscation With Victim Compensation): Offer to pay confiscation victims who surrender their guns to police by 30 April 2022 (Extended to 30 October 2025). Liberals misleadingly call this "buyback."
Revoked: Lockup (Permanent Lockup Without Victim Compensation): Force confiscation victims to keep guns locked at home as "safe queens" until forced surrender at death. The Liberals misleadingly call this "grandfathering."
01 May 2020: Trudeau Orders Immediate Rifle Bans, Promises 'Grandfathering'
06 May 2020: RCMP Deletes 'Grandfathering' Option From Web Page on Rifle Bans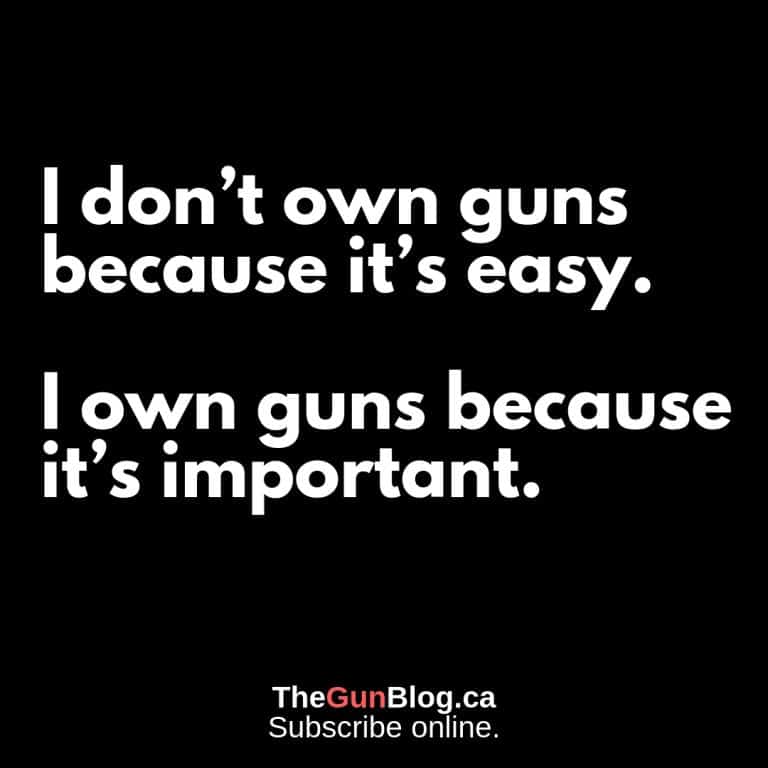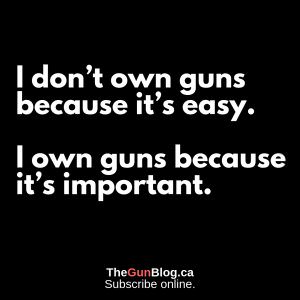 The Ban List
About 2,000 models and designs of rifles and shotguns, including:
AR-10
AR-15, M4, M16
Black Creek Labs BCL102
Beretta CX4 Storm
CSA Vz. 58
CZ Scorpion EVO 3
CZ 858
Derya Arms MK-12
Heckler & Koch MR223
Heckler & Koch MR308
Smith & Wesson M&P 15-22
Robinson Armament XCR
Ruger Mini-14
SIG Sauer MCX
SIG Sauer MPX
Springfield Armory M14, M1A
Swiss Arms SG-550, SG-551
All firearms "capable of" more than 10,000 Joules of muzzle energy [i.e., .50 BMG, .460 Weatherby Magnum, .375 CheyTac rifles, and potentially any 10-gauge or 12-gauge shotgun. See this YouTube video.]
All firearms "with a bore diameter of 20 mm or greater" [Experts say this includes most 12-gauge and 10-gauge shotguns]
Source: Canada Gazette, SOR/2020-96, 01 May 2020, Later expanded by RCMP
Specific Models Not Listed
Benelli R1
FN-FNAR
IWI Tavor, X95, Tavor 7
Keltec
Norinco Type 97
Poly Technologies Type 81
SKS
WK180-C
WS-MCR
New Models May Be Added
There is also a risk that affected firearms owners may elect to replace their firearms with models unaffected by the ban, causing a market displacement. This risk may be mitigated by adding additional makes and models to the list of prohibited firearms in the future.

Source: Ministry of Public Safety, Regulatory Impact Analysis Statement, 01 May 2020
RCMP Prohibits More Rifles, Shotguns Via FRT: Derya MK-12 Shotgun
The RCMP adds new models to its list of "Prohibited" firearms every few days. They added the popular Derya MK-12 12-gauge shotgun in mid-June 2020.
RCMP Publishes Expanded List of Guns Ordered for Confiscation (2020 June 16)
RCMP Comments on Prohibiting Derya MK-12 Shotgun as AR-15 Variant (2020 July 13)
The Price List
Key Steps for Confiscation
Source: TheGunBlog.ca
Order rifle prohibitions via Order In Council (Done 01 May 2020): Make it a crime to buy, sell, transfer, transport, import, export, … about 250,000 rifles currently owned by individuals and stores. Turns "Non-restricted" and "Restricted" guns into "Prohibited" safe queens.
Request parliamentary budget approval to pay confiscation victims.
Pass new legislation to pay confiscation victims. (May be included in Step 2.)
Prepare, administer, execute, enforce (seize and destroy the rifles).
Charge, prosecute or jail owners who don't participate.
Key Details of Confiscation
How Many. Unknown, but more than 125,000. CBC News quoted Minister Bill Blair on 20 Sept. 2019 as saying licensed owners have about 250,000 of the rifles he wants to confiscate.
Who Owns Them. The rifles will be confiscated from people such as hunters, farmers, ranchers, plinkers, sport shooters, firearm collectors and businesses.
Budget.CBC News quoted Blair as saying Sept. 20 the confiscation program will cost $400 million to $600 million. A Liberal staffer was quoted as telling iPolitics the government will offer to pay owners who surrender their rifles $250 million.

Billions. This leaves out the expenses to prepare, plan, organize, administer and enforce the mass confiscations-incarcerations, likely to cost billions of dollars.
Government Documents
Order in Council
Canada Gazette
Ministry of Public Safety
RCMP
Prime Minister
Ministry of Justice
Technical Briefings
Technical Briefing (English)
Séance D'Information Technique (French)
---
Violations of Ethics, Justice, Governance
In addition to being an unjustified attack against honest individuals and families, the confiscation order of 01 May 2020 violates fundamental principles of ethics, justice, the rule of law, and parliamentary democracy:
Arbitrary. The confiscation order turns honest, lawful individuals into potential criminals out of the blue.
Vague. The confiscation order has left hundreds of thousands of people unsure if they are committing a criminal offence, and they have no way of finding out.
Sweeping. The confiscation order cracks down on millions of individuals without legitimate reason.
Immoral. The confiscation order punishes individuals and businesses who have done nothing immoral or harmful. It forces them to take immediate action to avoid criminal charges or jail.
Unjust. The confiscation order punishes individuals and businesses who were in full compliance with the law.
Sudden. The confiscation order came in the middle of the day without warning.
Retroactive. The confiscation order is deemed to have taken effect before it was even published.
Contempt of Parliament. Bypasses parliamentary scrutiny and oversight put forth in the Constitution.
Violates Basic Policy Principles

Legal certainty
Regulatory clarity, stability and predictability
Procedural transparency
Non-retroactivity
---
Stop the Confiscation Order
Opting Out
TheGunBlog.ca isn't aware of anyone who intends to participate in the forced surrender.

Many people have said they would rather be arrested than surrender their firearms.
Some people have said they will neither surrender their gear nor allow themselves to be arrested.

They believe the confiscation order will be practically impossible to enforce given the costs, broad opposition among police to enforce it, and massive opposition by targeted gun owners.
---
---
Lawsuits
News
Summary: Applications for Judicial Review to Federal Court
| Court Number | Date Filed (2020) | Lead Party | Lead Rep/Lawyer |
| --- | --- | --- | --- |
| T-569-20 | May 21 | Cassandra Parker | Solomon Friedman |
| T-577-20 | May 26 | CCFR | Michael Loberg |
| T-581-20 | May 27 | John Hipwell | Edward Burlew |
| T-677-20 | Jun 29 | Michael Doherty | Arkadi Bouchelev |
| T-735-20 | Jul 10 | Christine Generoux | Christine Generoux |
| T-905-20 | Aug 11 | Jennifer Eichenberg | Eugene Meehan |
Donate to Fundraising
Court Challenges (Lead Applicant)
Cassandra Parker and K.K.S. Tactical (Via NFA)
Canadian Coalition for Firearm Rights (CCFR)
James R. Cox, Owner of The Shooting Edge and Target Sports Canada
John Hipwell
Michael Doherty et al., the Group of Nine
Christine Generoux
Jennifer Eichenberg et al.
Alberta Tactical Rifle Supply
---
Petitions
Associations Call for Bill Blair's Removal
May 2020 Statements
More
Police Oppose the Confiscations
---
Dishonesty & Disinformation
Justin Trudeau
To advertise confiscation, the Liberals went on national television to accuse federally licensed firearm owners of being murderers and terrorists:
Today, we are closing the market for military-grade assault weapons in Canada.

These weapons were designed for one purpose, and one purpose only: to kill the largest number of people in the shortest amount of time.

…

So, effective immediately, it is no longer permitted to buy, sell, transport, import, or use military-grade assault weapons in this country.

Source: Justin Trudeau, Media Briefing via CPAC TV on YouTube, 01 May 2020
Bill Blair
Minister Bill Blair's office told The Canadian Press in May 2019:
Assault-style rifles are military weapons designed to hunt people, and not animals, in the most efficient manner possible that maximizes the body count at minimum effort.

These weapons are for use in the battlefield, but too often they have been brought into our communities and used to target and kill law enforcement, women, members of the LGBTQ2S community, religious observers and children doing nothing more than attending class.

There is no option that will be discounted and all possibilities will be considered.

Source: Office of Minister Bill Blair, Quoted by The Canadian Press, 30 May 2019.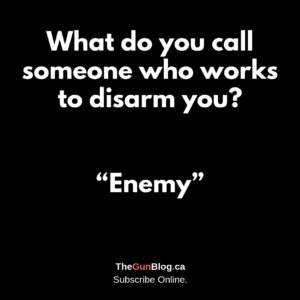 ---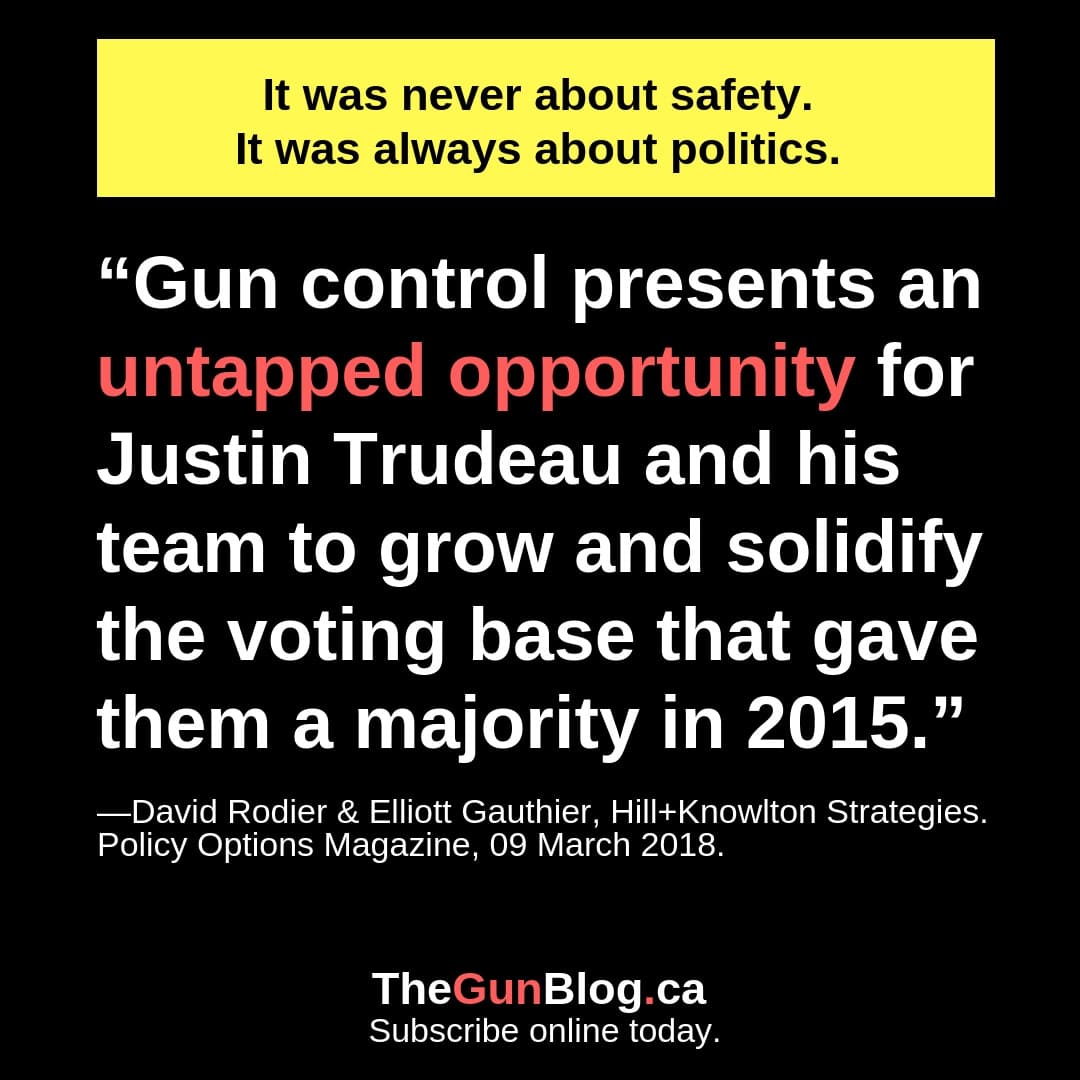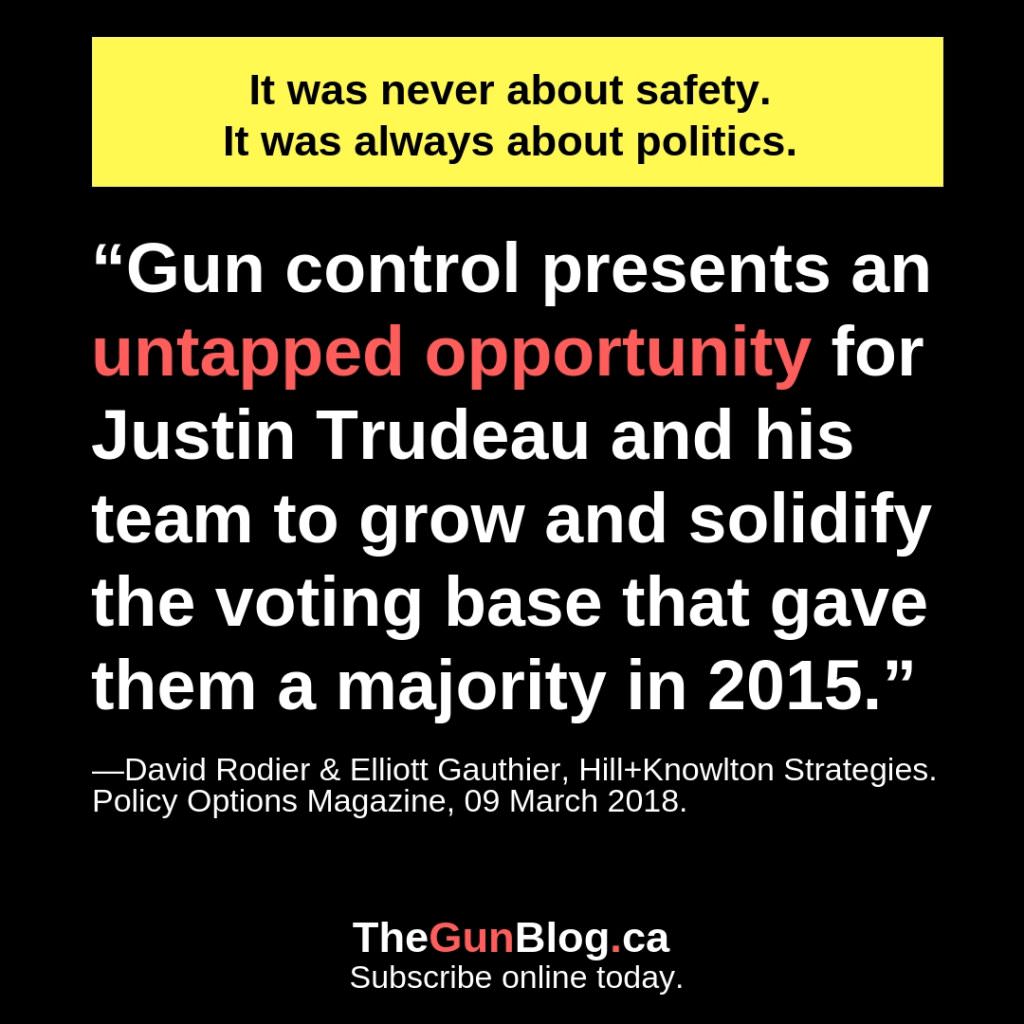 ---
More Info
Timeline
05 Dec 1995: Liberal Party Passes Firearms Act to Criminalize Gun Ownership
19 Oct 2015: Liberal Party Elected to Government
21 Oct 2019: Liberal Party Elected to Government
---
Blair's Mandate Letter
(Excerpt)
I will expect you to work with your colleagues and through established legislative, regulatory and Cabinet processes to deliver on your top priorities. In particular, you will:

With support from the Minister of Justice and Attorney General of Canada, implement our firearms policy commitments, including to:

Amend Canada's firearms laws to ban all military-style assault rifles, with an associated buyback program and two-year amnesty;
Work with provinces and territories to give municipalities the ability to further restrict or ban handguns;
Update firearms licence requirements for ammunition imports, strengthen safe-storage laws, develop a mechanism for suspending licences for those who pose a danger to themselves or others, continue to build a national system that allows for the flagging of bulk purchases of firearms, impose stronger penalties for gun smuggling, provide the Canada Border Services Agency (CBSA) and the Royal Canadian Mounted Police (RCMP) with additional resources to detect and stop gun smuggling, and work to limit by regulation the glorification of violence in firearms marketing and sales; and
Continue to protect the rights of hunters and farmers. There will not be a return of the long-gun registry.

Source: Trudeau Mandate Letter to Blair, Published 13 Dec. 2019
Key Targets
Trudeau's confiscations target hundreds of thousands of individuals and families among the 2.2 million men and women with a federal firearm Possession and Acquisition Licence (PAL) authorized by the federal police (RCMP).
Everyone is banned already from buying, selling or having any gun unless they have a licence authorized by the federal police.
None of the new bans target violent offenders or gangs who obtain or use firearms illegally.
Key Challenges
No Legitimacy, No Enforcement, No Compliance
Any move against lawful Canadian families will face challenges and likely fail.
Alberta, Saskatchewan and Ontario are among provinces that oppose bans and support hunters and sport shooters.
Police leaders across the country oppose gun bans.
Legal specialists question the constitutionality of handing federal powers to municipalities.
Canada's gun laws are complex, confusing and controversial. New restrictions have historically resulted in low compliance (e.g. the PAL system), often because the restrictions didn't serve any purpose or people didn't know about them or how to comply, or didn't want to.
The government hasn't said how it will finance the billions of dollars in administrative, legal, police, court and prison costs to set up, process and enforce any bans.
Key Articles
More Articles
Key Resources
CSSA – Canadian Shooting Sports Association
RangeBob
---
Against All PAL/RPAL Holders
New restrictions and prohibitions on home gun possession. (Trudeau instructed Blair to "strengthen safe-storage laws.")
Could affect every individual or family with guns among the 2.2 million licence holders.
---
Sources of Data and Information

Official government documents
Trudeau's mandate letter to Minister of Public Safety Bill Blair
Liberal campaign plan
Statements by Trudeau and Blair covered by the media
Government statements to TheGunBlog.ca
Independent research and estimates by TheGunBlog.ca
Liberal Election 2019 Platform
Measures against PAL holders
Full platform
Liberal Party Backgrounder (Election 2019)