TheGunBlog.ca is:
A website created by Nicolas Johnson in 2015. It is independent and unaffiliated.
Canada's leading media for gun rights, politics, policy and the firearm industry.
A remarkable success of independent journalism and effective advocacy.
A trusted source of exclusive news, original analysis and intelligent commentary for leaders who think about, legislate, regulate, police or do business with people who use guns.
A strong community of Canadians who care deeply about our rights and our guns. For many of us, this goes way beyond "gun rights." It's about culture, liberty, politics, democracy … and the direction of our country.
The largest and most-engaged community of Canadian Gunnies on Twitter via @TheGunBlog. See our Twitter polls here and here.
We're present but not active on YouTube, Instagram @TheGunBlog.ca and Facebook.
TheGunBlog.ca inspires, informs and makes change happen.
RCMP Website on Bill C-71
Three Top Cops Don't Support Banning Guns From Lawful Owners: Shaped the agenda for politicians, media and individuals. e.g. NRA TV, Members of Parliament (here, here) Twitter, …
Memes and digital posters shared hundreds of thousands of times on Facebook, Twitter, Instagram …
The Bill C-71 Book: Co-written with the Canadian Shooting Sports Association. Shared by Ministry of Public Safety, quoted and referenced by Members of Parliament and Senators. Promoted by industry, shooting clubs, and more.
The Bill C-71 Book: 'A Must Read'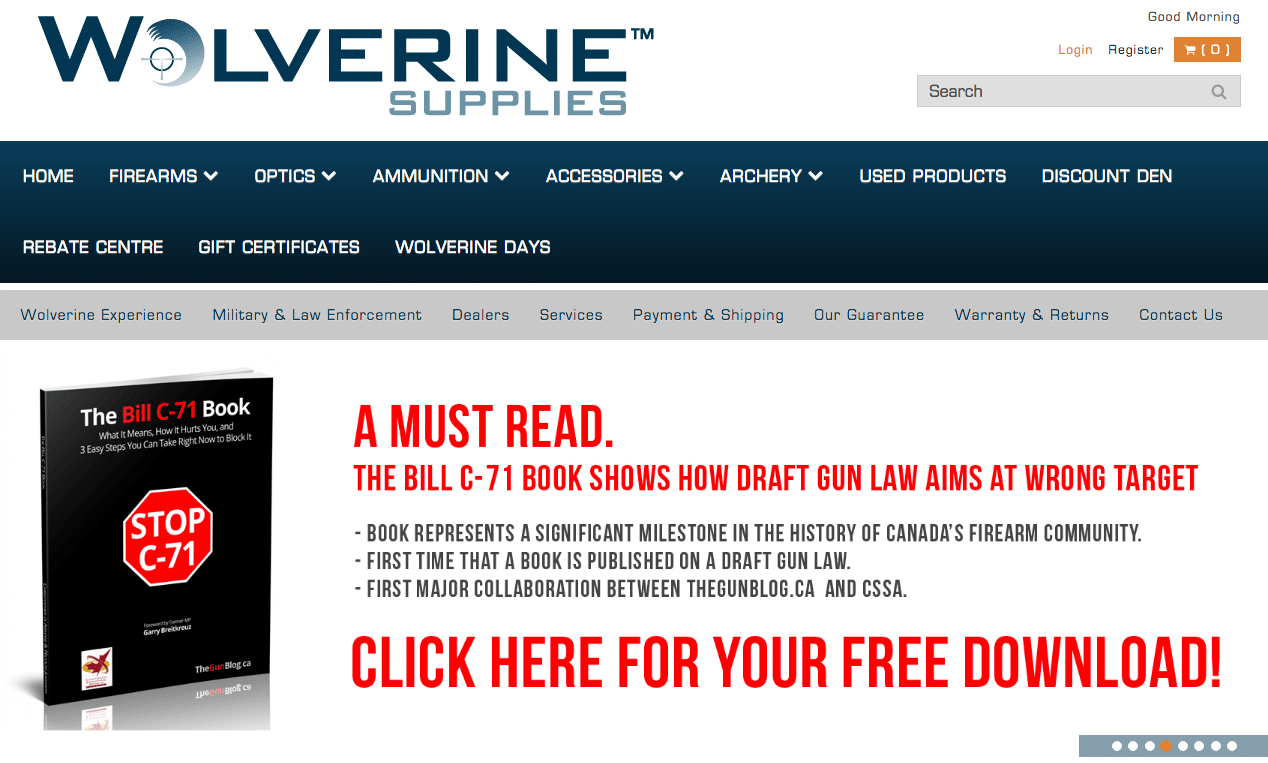 Shaping the Debate: TheGunBlog.ca Is Trusted and Quoted.
Members of Parliament and Senators, and Their Staff: Act on our reporting, quote or mention us in their speeches, reference us in their e-mails.
Government Staff: Distribute our reports and invite us to closed meetings.
Federal Agencies: Change their practices/communications as a result of our reporting.
Media: Quote us as an authoritative and reliable source of information and opinion (See below.) Consult us for background information and context.
Gun Industry, Shooting Clubs, Target Ranges: Recommend and use our publications.
Athletes and Competitors: Count on us to report their victories and save their sport.
Individuals: Rely on us for information and inspiration.
Team Canada Shooters Value Our Coverage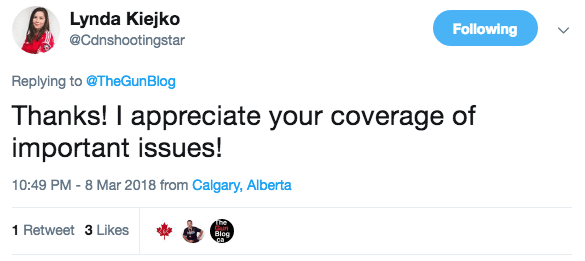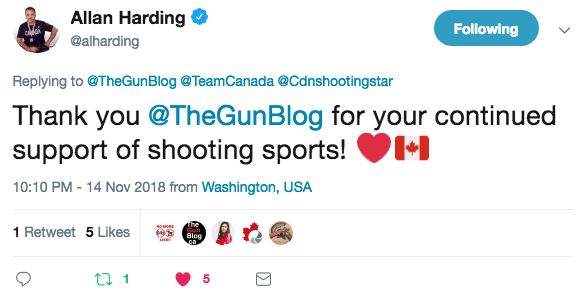 TheGunBlog.ca in the Media

General Media
CBC
The Canadian Press via
CityNews Toronto
The Daily Caller
The Economist
iPolitics
The Rebel Media
The True North Initiative
Saskatoon StarPhoenix
Toronto Star
Firearm Media
Canadian Shooting Sports Association: Regularly featured in E-News
National Firearms Association: Regularly at the top of the Daily Media Report
Calibre Magazine
U.S. National Rifle Association (NRA) News, NRA-ILA
Bearing Arms
The Firearm Blog
Guns.com
Chat Groups: Canadian Gun Nutz, Gun Owners of Canada, Reddit.com/r/CanadaGuns, Glock Talk, Army.ca, Navy.ca, Nova Scotia Hunting, Outdoors Men Forum, …
Lady Gaga Fan Sites (Seriously!)
Original Introduction (January 2015)
I created TheGunBlog.ca (Twitter: @TheGunBlog) to promote the safe, respectful, responsible, informed and skilled use of firearms in Canada.
TheGunBlog.ca aims to be a hub for information, facts, data, news, analysis and opinion for anyone and everyone wanting to learn about guns in Canada. It seeks to be thoughtful, fair, balanced and fun.
Whether you love guns or hate them or are in between, whether you are a novice or expert with firearms, whether you want to learn about guns for collecting, hunting, competing, relaxing, training, writing, photographing, defence, war, work, fun, as a hobby or lifestyle, or anything else, TheGunBlog.ca aims to serve you.
If you like this blog, please share it with people who might enjoy it.
Thank you for visiting.
Nicolas Johnson
04 January 2015
Toronto, Ontario, Canada
About the Editor
Has been into guns since he was a boy.
Enjoys handguns, rifles and shotguns.
Supports freedom and rights of people to own and use firearms for protection, hunting, recreation, competition and collecting.
Has a particular interest in politics, policy and personal protection.
Says: The most important part of gun rights isn't "gun," it's "rights."
Is closer to believing that firearm ownership and training should be mandatory than to believing it should be prohibited. But dislikes "mandatory" anything.
Current or past member of Canadian Association of Journalists (CAJ), Canadian Coalition for Firearm Rights (CCFR), Canadian Shooting Sports Association (CSSA), National Firearms Association (NFA), Shooting Federation of Canada (SFC), U.S. National Rifle Association (NRA).
Certified range-safety officer.
NRA certified instructor.
Career in journalism, media and publishing for more than 20 years, mainly for a major global media company.
Ran as a political candidate.
Some of My Other Interests
Living bliss (love, kindness, fulfilment, authenticity, joy, …). It's a work in progress.
Creative expression, authentic communication, doing work that matters. Strongly inspired by Seth Godin. One of my most rewarding activities besides running this website is running public-speaking workshops.
Journalism, media, independent publishing, entrepreneurship, social movements, leadership, political philosophy, risk.
The "liberty vs. security" debate: protecting civil liberties as we protect innocent life from potential and actual violence, from random street crime to terrorism to war.
Avoiding and recovering from crisis and collapse (emergency management, disaster preparedness, business continuity, crisis communication, system fragility, …). Strongly inspired by two events: (1) covering the global financial crisis of 2007-2010 in real-time as a financial journalist. (2) Living and working in Japan during the March 2011 earthquake + tsunami + Fukushima nuclear meltdown.
TheGunBlog.ca Is Also
A remarkable success of digital journalism, advocacy and influence on the most controversial and polarizing technology available to individuals.
Thought leadership on how we think about and talk about: guns, freedom, rights, responsibility, intent, agency, ethics, regulation, legislation, safety, security, defence, protection, force, violence, attacks, danger, risk, threats, crime, terrorism, targets, victims, policing, symbols, technology, weapons, and more.
A valuable repository of original data and research for policymakers, journalists, academics and industry.
Important Disclosures
This Update: 03 January 2019
Alignment of Interests, Independence, Standards
I do my utmost to provide good ideas and information.
Nothing on this website constitutes legal advice, tactical advice or any other advice.
I am a past, present or future customer or member of many of the businesses, associations and political parties that I write about, e.g. gun stores, manufacturers, clubs, trainers, ranges, CSSA, CCFR, NFA, NRA, SFC, Conservative Party of Canada, Ontario Progressive Conservative Party, …
Update 03 Jan 2019: I decide what gets published, nobody else. I have preferred products, but I don't run annoying or disruptive ads. I don't run ads or "sponsored content" disguised as news.
I am committed to independence, accuracy, credibility, fairness, transparency, accountability, and other values of journalism ethics.
Update 03 Jan 2019: I recognize that trust is hard to win and easy to lose. I want to keep your trust.
Payments, Donations and Ads
I solicit donations and payments.
I receive donations and payments from individuals, businesses, associations, etc. that I write about. In most cases, I don't know or verify the identity or the affiliations of donors.
I earn a commission from the Store.
Update 22 Oct 2018: I have a complimentary membership from a target range.
Update 03 Jan. 2019: I haven't run any ads or sponsorships, but it's something I may experiment with soon. If I run ads, it would be with brands and people I trust, and it would be done in a way that respects the values, principles and design of this website. So no pop-ups and flashing lights.
Role as Media
I benefit from advantages generally accorded to media, such as invitations and permissions to attend private events. These include trade shows, factory tours and range events that offer the use of guns and ammo without charge, or for a small fee, and may include meals.
I don't have any direct financial stake or financial interest in any company, association or topic that I cover.
I am a past, present or future member of political parties. See above.
I have accepted standard trade-show swag, such as pens, pins, keychains, coffee mugs, coasters, a book and a paper target.
Privacy & Security
I value personal privacy and information security.
If you e-mail me, I consider it private and confidential. I expect the same consideration from you.
I will never sell, share, rent or abuse your personal information. In most cases, I will never ask for it.
I use subscriber information to share information relevant and related to TheGunBlog.ca, such as e-mail notifications about new posts or campaigns, and related news.
I recognize that risks always exist, and I use third-party software (e.g. Gmail, GiveWP, MailChimp, Paypal, Stripe, WordPress, several WordPress plugins, …) to manage subscriptions and donations.
Subscribing & Unsubscribing
Enter your e-mail in the subscription box.
MailChimp (my mailing list software) will send you an automatic e-mail to confirm your subscription. (Check your Spam folder.)
You can unsubscribe at any time.
Reader Comments
"Thanks for all your great work. I'm very happy to pay for the service you provide, it's well worth it." — Bryan, British Columbia. 22 Aug. 2018
"just donated. keep up the good work." — William
"Thank you for your work to support the interests of law-abiding gun owners." — Devin
"I am a hunter, farmer and target shooter. Enjoy your posts." — Alton
"I've been following your blog for a few months and wanted to compliment you on your clear concise and informative articles. It is a welcome change from the uninformed crowd hysteria in most social media. Keep up the great work." — Terry G.
"Many thanks to you for running your blog." — Brian
"Merci pour ton travail. J'apprécie tous les articles que tu écris." ("Thank you for your work. I appreciate all the articles you write.") — Reader on CanadianGunNutz
"Thanks for running this blog. It is a needed site for gun owners." — William, British Columbia
"Thank you for the part you are playing with the blog and keeping us up to date on the issues affecting this great sport and hobby we all share." — Ian, Quebec
"Keep doing the wonderful job you are doing and know you have my support. — Frank
"Thank you for your work." — Doug
"Thanks for putting out great content." — Stephen
"I appreciate your coverage of important issues." — Lynda Kiejko, Olympic Shooter, Alberta
Thanks! I appreciate your coverage of important issues!

— Lynda Kiejko (@Cdnshootingstar) March 9, 2018
"Thanks for everything you are doing to keep lawful firearms owners appraised." — Stan
"Keep up the good work." — Anton
"Thanks for all your hard work." — Richard. 19 Apr 2018.
"Keep up the great work!" — Eric
"Thank you for the spectacular work you've been doing on behalf of Canadian firearm owners." — Mohamad
"Thanks for all you do." — Brian
"TheGunBlog.ca does a great job for law-abiding firearm owners. … I want to send in a donation" — Ron
"Great site!" — Elisa
"I would like to say how much I appreciate all the hard work that goes into TheGunBlog. It keeps us informed and I really appreciate the government contact information included." — Randy
"Thank you so much for this blog!" — Michael
"What you are doing is unbelievably important to firearms community members and the cause at hand." — Anthony
"You are doing a great job for all of the Canadian gun owners. Thanks so much." — Gerry, British Columbia
"I just wanted to say how much I appreciate you keeping us subscribers up to date. Thanks for all you do!" — Linda
"Appreciate your passion and ongoing direction in support of the industry at large." — Canadian sales manager for a major firearm manufacturer. 06 Jul 2018
"I am happy to endorse the Gun Blog as one of the best online sources of news and information for the Canadian firearms enthusiast. Glad I found it recently." — James Taylor, Alberta
"Agree! A great job and service to Canadian gun owners is being done there." — On Target Canada
"I appreciate your professional efforts on behalf of the community and industry. Thanks for the information you provide." — James
"I appreciate your work and common sense. … Hang in there." — Bryan
"Thank you for all the hard work you do, I live in Halifax and own several handguns and an SKS and I am worried they are going to try and confiscate guns here too." — Steve
"I personally would like to thank you for all of the hard work that you put into this. Your blog is a great one-stop shop for information. I will be donating today." — Stefan, Ontario
"Awesome work, brother!" — Kevin
"I like what you are doing." — John
"Your blog is very informative and a fine public service." — Richard, British Columbia
"Thank you for the great work you do. It is much appreciated." — Ben
"You are doing stellar work getting the word out, I thank you, sir." — Gerry, British Columbia
"Thank you for your hard work and for the speedy information you provide in the ever changing landscape of Canadian firearms ownership. A salute to you from a thankful gun owner." — Dan, Ontario
"I have been receiving your emails now for a couple months and really enjoy your work. On behalf of myself and our community as a whole your work is tremendously important and very well done. I look forward to more of your great content." — Brandon
"Thanks for your great effort and voice in all of this." — Gerry
"Thank you so much for your extensive efforts to protect the 'Rights' of Canadian citizens. … Keep up the battle with your intelligent insights and I'll keep supporting you as I can. Thanks again." — Rick, Ontario, 30 Sept. 2018 and 25 Oct. 2018.
"Thank you for the great work you are doing." — John
"You are keeping me informed on all of the important information that few others are covering." — Richard M. Ontario. 04 Oct 2018.
"I appreciate your work and efforts to keep legitimate shooting sports viable!" — Robert. 06 Oct. 2018.
"I've followed your blog on Twitter for the last several months and have found the information provided and support of the firearms community to be exemplary." — Mauro. 12 Oct. 2018
"Thank to people like you for your work and efforts on this serious matter." — Louis. 16 Oct. 2018
"I am a fan, and you have a number of others in the form of my friends." — Roman, Ontario. 17 Oct. 2018
"I enjoy your blog, keep up the good work!" — Justin, 24 Oct. 2018
"I want to thank you for work you are doing!" — Dave A., 25 Oct. 2018
"Excellent information. Thank you." — Jeff N., 26 Oct. 2018
"Great website." — George, 31 Oct. 2018
"Thank you for the work you are doing." — Bill K., Ontario. 06 Nov. 2018
"I am an avid reader of TheGunBlog.ca's articles and am in full support of the opinions and facts presented. I am also a National Firearms Association long-time member and firearms user and advocate for the shooting sports. Please keep up the excellent articles so the gun grabbers know firearms owners are serious and informed. Thank You." — Bob. 09 Nov. 2018
"Thank you @TheGunBlog for your continued support of shooting sports!" — Allan Harding, Canadian National Pistol Champion, 15 Nov. 2018 in Toronto (14 Nov. in Washington State)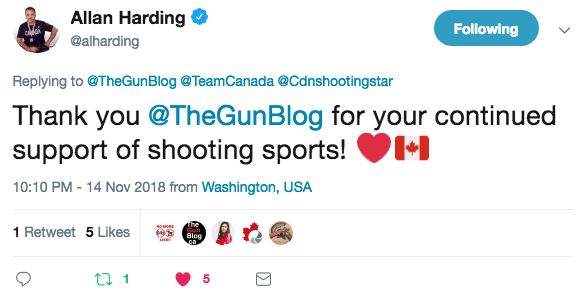 "Thank you so much for your activism and tireless efforts in keeping us up to date on the latest news. I hope my small contribution can help you. I want my son to be able to shoot my two [firearm make and model] decades from now because of the efforts of people like you. … Please keep up the great work!" — Cary C., British Columbia, 16 Nov. 2018
"Keep up the good work with TheGunBlog!" — Arie. 26 Nov. 2018
"Keep up the great work." — William. 29 Nov. 2018
"Thanks for all you do." — J.G., British Columbia. 30 Nov. 2018
"Keep up your good work." Doug S., Manitoba. 01 Dec. 2018
"I checked out your blog (obviously) and I found it truly interesting. Reminded me I always wanted to learn how to shoot a rifle." — U.O., Ontario. 03 Dec. 2018
"I like the direction and scope of your articles and the voice you use to fight for common sense and the rights of all legal firearms enthusiasts and owners." — James. 07 Dec. 2018
"Thanks for your great work. Please keep it up! Been a subscriber for a while, now want to contribute." — George P., 07 Dec. 2018
"Your efforts are truly appreciated. Perhaps you could let me know how I could contribute." — Jim Q., 08 Dec. 2018
"Appreciate all the info on your site.  Will be using it in the next day or so to write the Senators. … Thank you Nicolas for your service." — Joan H., 12 Dec. 2018
"I luv what you are doing, keep it up!!" — Luciano D. 13 Dec. 2018
"One thing is for sure, you have had a major impact on the gun community and this fight and you probably couldn't have done that to this degree without the blog." —Sue, Ontario. 21 Dec. 2018
"Thank you for doing what you can to protect the rights of gun owners." — Barry, Alberta. 28 Dec. 2018
"The Glock 48 will be the second pistol I will have bought because of your blog. … Your blog is the first place I found out about the Glock 19 and now the 48. You articles are well written and the info is out before the retailers release their advertisments. I have made a few purchases in the past that I regret mostly because of a lack of good information. There is no shortage of info for the American market. It is great that you put a Canadian perspective on your articles. Thank you again." — Jason B., British Columbia. 03 Jan. 2019
"Congratulations on an excellent website!" — Director of Parliamentary Affairs for a Canadian Senator active on Bill C-71. 08 Jan. 2019
"If you're a Canadian gun owner and not following @TheGunBlog you're likely missing out! Stay up to date on everything guns and get the latest juicy news! … You've got the best #scoops" — Tracey Wilson, Canadian Coalition for Firearm Rights, 09 Jan. 2019
If you're a Canadian gun owner and not following @TheGunBlog you're likely missing out! Stay up to date on everything guns and get the latest juicy news! #TriggerChange #ThisIsOurLane #gunnie #gunpoli #gunnews

— Tracey Wilson (@TWilsonOttawa) January 9, 2019
You've got the best #scoops

— Tracey Wilson (@TWilsonOttawa) January 9, 2019
"You're doing a great job with the blog." — Baron, 11 Jan. 2019
© 2019 TheGunBlog.ca