Canada Gun Facts & Stats
Newest Update: 03 December 2019
See a mistake, or have a suggestion or comment? Contact us.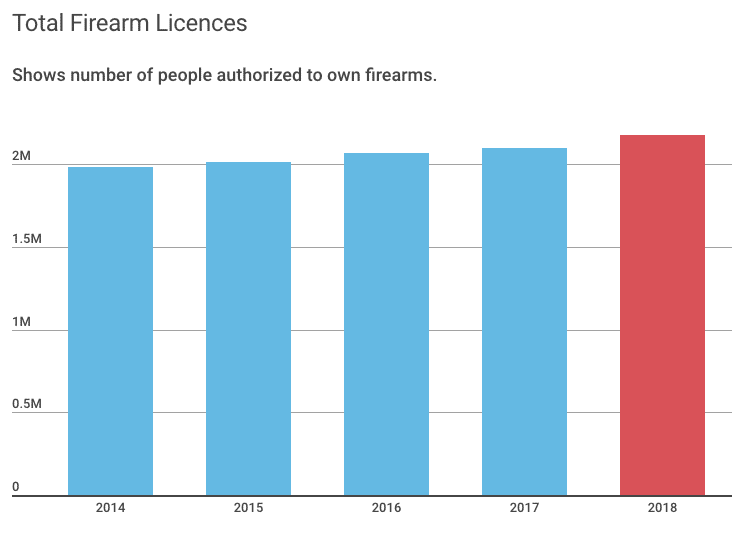 ---
At a Glance
---
500 million. Number of ammunition cartridges fired safely and responsibly by civilian shooters each year in Canada. (Estimate based on independent analysis of Statistics Canada import data. The Ministry of Environment cited a report estimating 375 million cartridges are imported each year.)
10-20 million. Guns owned by individual Canadians for hunting, farming, ranching, protection, recreation, competition, education, collecting, investing, art, engineering, history, and other legitimate purposes. (Adding in government agencies, military and police would add less than 0.5 million.)
2.2 million. Canadian men and women with a federal gun licence at 31 March 2019.
936,459. Handguns registered to private individuals at 30 April 2019. Including businesses and museums, the total rises to 1.06 million.
443,000. Canadians prohibited by courts from owning firearms (2017).
260,677. Canadian adults with a federal firearm licence who own at least one registered handgun as of 31 March 2019.
90,000. Estimate of Canadians (mainly police, law-enforcement and military) allowed or required to carry loaded guns in daily life for personal and public safety.
75,634. AR-15 target rifles registered to individuals at 14 Aug. 2019.
10,000. Canadian youth aged 12-17 with licences to use, but not buy, firearms.
4,500. Firearm and ammunition businesses in Canada. (Roughly 1,500 are licensed to sell firearms.)
3,000. Estimate of guns bought and sold every day. (Roughly 1/3 new guns and 2/3 used guns.)
1,400. Target-shooting ranges in Canada. About the same as the number of hospitals.
1,000. New handguns, AR-15 rifles and other "Restricted" firearms bought in Canada each week.
365. Days each year that people with gun licences get a background check.
266. "Firearm-related" homicides in 2016, according to Statistics Canada. Fatal stabbings have exceeded fatal shootings this millennium.
16. Percentage of suicides by shooting, behind hanging/suffocation (44%) and poisoning (25%).
13. Percent of Canadian men who have a firearm licence, or almost one in seven.
13. Percent of Canadian gun-licence holders who are women.
10. Potential years in jail for not renewing your gun licence on time.
3. Legal classifications for firearms in Canada.
2. Team Canada shooters in the 2016 Summer Olympics.
2. Female Team Canada shooters in the 2016 Summer Olympics.
0. Number of violent criminals with firearms who obey firearm laws.
Latest RCMP stats, 22 May 2019:
Canadian Gun Licences and Handgun Owners Rise to New Records
---
Values & Culture of Safety

---
What values do Canadian gun owners share?
Firearm owners come from all backgrounds and have diverse values, but some of the most common are a commitment to safety, responsibility, discipline, and good citizenship.
We want to preserve our firearm culture and make sure anyone who joins our community is of good character and shares that culture. If that's you, we will welcome you with open arms.
Hunters provide

valuable leadership, expertise and hundreds of millions of dollars each year for nature

conservation

, wildlife protection, habitat restoration and outdoor education.

Many families are discreet about their hunting and sport shooting for privacy and security. Others are worldwide celebrities.
Hunting with family. Doesn't get much better! ❤️ pic.twitter.com/UpEeGFUxLq

— Jim Shockey (@JimShockey_) January 27, 2019
What if you don't share our values?
If you aren't of good character or don't share our culture of safety, responsibility and good citizenship, we don't want you in our community. Period.
---
General Info

---
How popular is shooting in Canada?
Hunting for food, shooting for sport, and having guns for personal protection and national defence are at the heart of Canadian culture, heritage and tradition. Many people in northern or remote communities depend on hunting for survival. Farmers use firearms to protect their crops, ranchers use them to protect their livestock, all sorts of people use firearms to protect themselves and families use them for a fun day at the target range.
More Canadian men and women have a firearm licence than play golf, hockey soccer or baseball.
In 2010, 1.5 million adults participated in golf (the most-popular sport), and 1.85 million had gun licences.
How many people own guns legally?
2.2 million men and women had gun licences at March 31, 2019.

That's about 7 percent of the country's 29.7 million adults.

Not all of them own guns, but all of them are allowed to.
How many guns are in Canada?
No official data. Estimates say individuals own 10 million – 20 million guns.

What we do know: Canadian individuals own more than 1 million revolvers, pistols, AR-15 target rifles and other firearms registered with the RCMP as of April 30, 2019.
Canadians buy more than 1,200 "Restricted" guns each week on average.
The military, police and law-enforcement own hundreds of thousands more shotguns, rifles and handguns.
How many target ranges are in Canada?
Canada has an estimated 1,400 shooting ranges, about the same as the number of hospitals.

On top of regulated ranges, many people shoot on their properties (e.g. back of the farm) or on Crown land (e.g. old quarry, in the woods) where it is safe.
Which big cities have the most licensed shooters?
Montreal has the highest number of licensed shooters among Canada's five-biggest cities, but Calgary has the highest rate of gun owners per capita.
---
Licensing
---
Who is allowed to own guns legally?
To legally buy and own guns, and to buy ammunition, you must be at least 18 and have a firearm Possession and Acquisition Licence (PAL).

A PAL doesn't allow you to carry guns on your person for safety or self-defence, and isn't enough to use guns for hunting. You also require a hunting licence.
Who manages licensing?
The Canadian Firearms Program, overseen by the RCMP, manages firearm licensing for individuals.

How do you get a gun licence?
Take mandatory RCMP-approved safety course.

Pass written exam.

Pass practical exam.

Submit licence application and payment to RCMP.

Pass background check (including mental health, spouse approval) and reference checks.

Obtain licence card with photo.
Pass daily background screening.
It typically takes about four months minimum to obtain the licence and costs $250-$500.
Is it true that you get a daily background screening if you have a gun licence?
Yes. The RCMP calls this "continuous-eligibility screening." Having a gun licence in Canada is proof that you aren't a criminal. You can get a passport without a background check, but you can't get a gun licence.
Do you need a gun licence to go target shooting legally?
No. Millions of men, women, children and teenagers legally shoot without a licence, under the supervision of licensed family, friends or range staff.
What's special about a gun licence?
A firearm licence is one of only a few federally issued documents (e.g. PAL, passport, pilot licence, maritime licence.). You don't need a background check to get a passport, but you pass one every day to have a firearm licence.
---
Classification
---
What is Canada's classification system for firearms?
Canadian law assigns guns to one of three arbitrary classes:

"Non-restricted" — many shotguns and hunting rifles.

"Restricted"— some handguns and semi-automatic rifles, such as AR-15

"Prohibited"— smaller handguns, many semi-automatic and automatic rifles

All three classes are highly regulated and restricted, and legal to own with the appropriate licence and authorizations. So "Prohibited" doesn't mean prohibited.

Many of the world's most-popular or iconic firearms and standard gear is off-limits to most Canadians, e.g. AK-47 rifle (automatic and semi-auto), FN-FAL rifle (auto and semi-auto), Glock 19 pistol, Walther PPK pistol, standard-sized pistol and rifle magazines, …
Who classifies guns?
The RCMP gives its opinion on gun classifications based on the law, which sometimes uses measurable or observable criteria such as barrel length, overall length, design and function, and sometimes uses arbitrary decisions. (The government made up a list of makes and models it banned by name.)
Are there different rules for each classification?
Yes. The law sets out different rules to use, buy, own, store and travel with different classes of firearm.

For example, you aren't allowed to hunt with a handgun or AR-15 in Canada. If you want to legally take a handgun or AR-15 to the range, the guns must be unloaded, disabled with a trigger lock (or equivalent) and must be in a locked container. You also have to follow a "reasonably direct" route. It could be a crime to take a detour.

---
Self-Protection
---
How many Canadians are allowed to carry guns on their person in daily life for self-defence?
More than 90,000, mainly police, law-enforcement, military and armoured-car guards.
One person in Canada has RCMP permission to carry a loaded handgun for safety.
Is it legal to use a firearm to protect life or property?
Section 34 of the Criminal Code covers the lawful use or threat of force. Many factors are considered to decide if a response to a threat is justified. Section 34 doesn't specify the tools that may or may not be used. See also the Technical Guide for Practitioners.
---
Women
---
How active are women in shooting?
Women are active in shooting and rising, especially handguns, but less numerous than men.
Team Canada sent two shooters to the Summer Olympics in Rio de Janeiro in 2016. Both were women.
Women occupy leadership positions in several Canadian shooting organizations.
The president of the Shooting Federation of Canada, the only government-recognized body for sport shooting, has been a woman for several years.
---
Industry & Economy
---
How big is Canada's gun industry?
Canada had 4,495 firearm and ammunition businesses at the end of 2016, employing an estimated 25,000 people. Most are independent small businesses.

Almost all guns and related gear sold in Canada are imported. Companies brought in almost 300,000 guns in 2016, with an import value of $135 million. At a hypthetical 25 percent markup, that would retail for about $170 million.

Canadians spent $8.5 billion on hunting and sport shooting in 2018, the Edmonton Journal reported in August 2019, citing the Canadian Sporting Arms and Ammunition Association. It didn't say if amount includes guns, gear, food, travel, lodging, outfitters, cleaning supplies, targets, hunting licences and permits, range fees, …
An indirect way of assessing the size of the firearm market is looking at Statistics Canada data on firearm, ammunition and parts imports.
---
Crime & Violence
---
What is the relation between guns and crime?
The lawful shooting community (hunters, sport shooters, farmers, …) is completely separate from the criminal community of violent street gangs and individuals.
Many laws try to reduce violence by criminals (who disobey the law) through restrictions on hunters, farmers and target shooters (who obey the law). It doesn't work.
Street crime is increasingly being committed by gangs using handguns obtained on the black market. Legal handguns are tightly regulated.
Recommended: Dangerous Fallacies at the Heart of the Gun Debate
422,887 Canadians have court-ordered prohibitions on possessing guns.
Homicide: (This is 2017 data.) Fatal stabbings exceeded fatal shootings in 7 of the past 10 years. Shooting overtook stabbing as the leading method of homicide in 2016, led by gang murders in Toronto and Vancouver. Note: StatsCan includes flare guns, nail guns, pellet guns and other non-firearms in its totals for "firearm-related homicide."
Suicide: The leading methods of suicide on average are hanging (44%), including strangulation and suffocation; poisoning (25%) and shooting (16%).
Compare vehicles: 2,000 killed, 10,000 seriously injured, 160,000 total injured.
Why do so many people oppose gun bans?
They probably wouldn't do a thing in Canada because of the extremely strict legal framework.
All guns are banned already for everyone without a firearm licence authorized by the federal police (RCMP). Buying, selling, or having any gun without a licence can land you in jail.
Licensed owners are "good guys" who take their moral and legal responsibilities seriously.
Any new bans would only affect lawful, licensed, legitimate men and women who hunt and shoot safely and responsibly.
The existing bans don't affect the "bad guys," and new ones wouldn't either. Street gangs, drug dealers, murderers and terrorists to disobey the law. They don't turn in their guns for bans.
---
Sources & Resources
---
RCMP
Statistics Canada
TheGunBlog.ca
Canadian Coalition for Firearm Rights: GunDebate.ca
Canadian Shooting Sports Association: CSSA-CILA.org