Trudeau Promises Mass Gun Bans, Confiscations in Election 2019
TheGunBlog.ca — Justin Trudeau promised the biggest instant gun bans against hunters, farmers and sport shooters in Canadian history if he is re-elected prime minister.
Liberal Gun Ban Plan
Take Our Poll
Trudeau pitched his newest bans today in Toronto as the Liberal Party leader seeks to recover from scandals. Opinion polls show Liberal voters like bans.
"We're going to ban military-style assault rifles in Canada," Trudeau said on Twitter, referring to hunting and sporting rifles.
Refugees, Prisoners or Criminals
A Trudeau election victory will turn hundreds of thousands of honest men and women into refugees, prisoners or criminals unless they surrender their guns. His prohibitions and confiscations will kill businesses and jobs.
"Trudeau outlined one of the broadest gun confiscations of any democracy in history," said Nicolas Johnson, the editor of TheGunBlog.ca. "This election will determine the future of firearm owners and businesses. If Trudeau wins, we're toast."
Restore Justice
Restoring justice for firearm users has become the top issue for hundreds of thousands of voters.
Election 2019: Three Realities and Four Possible Outcomes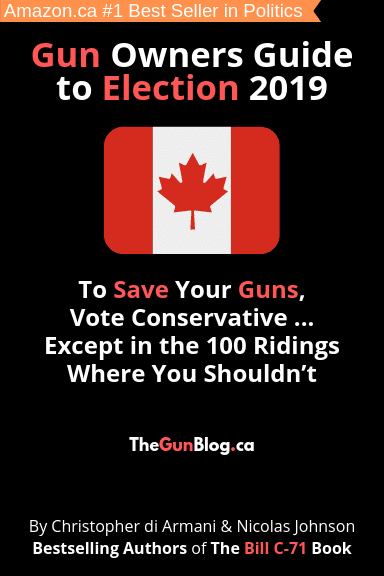 More Canadian Than Hockey
Hunting and sport shooting are at the heart of Canadian culture and heritage.
Criminalize and Confiscate
Trudeau's attack plan extends Liberal criminalizations and confiscations from the past. It builds on their Firearms Act of 1995 and confirms the Liberals as the most-hostile political force against firearm users.
The Liberal website published a press release and backgrounder today:
We will ban all military-style assault rifles, including the AR-15. … Owners will be offered fair market prices for their weapons. … A two-year amnesty will be put in place while the program is being set up;
We will work with the provinces and territories to give municipalities the ability to further restrict – or ban – handguns;

…

We will make it harder for legal weapons to fall into the hands of criminals, by further strengthening safe-storage laws;
Leave, Surrender or Jail
Trudeau didn't say what a "military-style" firearm is, or how hunters and shooters will be punished if they ignore his confiscation and expulsion orders.
Existing laws would force people to leave the country with their guns, surrender them to police, or face jail.
'Kneecapped'
More than 260,000 adults own almost 1 million handguns.
'Non-Restricted' Rifles
CBC News quoted Bill Blair, Trudeau's minister for gun bans, as saying the Liberals will target owners of about 250,000 rifles.
Ban Private Ownership
Update 23 Sept.: Blair told CTV News on Sept. 22 the Liberals will help municipalities ban handgun ownership outright, or force owners to keep their firearms in government-approved central storage.
Everyone Is Banned
Everyone is banned already from having any gun unless they have a firearm Possession and Acquisition Licence (PAL) authorized by the federal police. Being caught with a gun without permission leads to jail.
One Month to Vote, Bill C-71
Election polls are open, and the winner will be announced one month from tomorrow.
'Untapped Opportunity'
"Gun control presents an untapped opportunity for Justin Trudeau and his team to grow and solidify the voting base that gave them a majority in 2015," Hill+Knowlton Strategies, a government advisor, said in Policy Options magazine two weeks before the Liberals presented Bill C-71.
Liberal Party Backgrounder (PDF)