Police Movement Against Trudeau-Tory Gun Bans Grows With Regina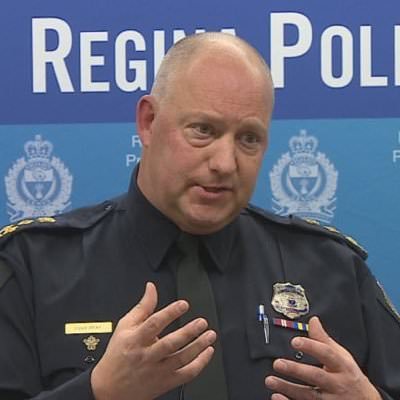 TheGunBlog.ca — Regina Police Chief Evan Bray is at least the eighth police leader in Canada opposing Prime Minister Justin Trudeau and Toronto Mayor John Tory's efforts to ban hunters, farmers and sport shooters from having guns.
The growing movement from the RCMP to the Canadian Association of Chiefs of Police to Toronto's own chief raises a challenge for Trudeau and his governing Liberal Party in the October election. Projections by 338Canada.com, a poll aggregator, suggest they will win.
The Liberals are campaigning to execute the biggest series of gun confiscations or evictions against Canadian citizens in history, starting with owners of 200,000 rifles/shotguns.
'Different Angles'
"Banning something doesn't necessarily mean that you're not going to have firearm-related crime in your community. So we need to come at it from a few different angles," Global News quoted Bray as telling reporters yesterday in Regina, Saskatchewan, in relation to banning handgun ownership.
https://twitter.com/TheGunBlog/status/1165700828881178624
Election Issue
Restoring justice for gun users is the top election issue for hundreds of thousands of voters.
Canada is home to 2.2 million men and women with a firearm Possession and Acquisition Licence (PAL) authorized by the federal police, more than play golf or hockey.
Everyone else is banned from buying, selling or having any gun.
Moral Issue
Families who hunt or enjoy sport shooting will have to leave Canada with their guns, surrender them to police, or face jail if Trudeau is re-elected and moves against them with prohibition orders.
It would raise moral questions about whether unelected police employees have a duty to obey and enforce unjust laws by elected governments.
Tory Says Leave
Tory won a second term as mayor last year after urging Trudeau to criminalize every licensed firearm owner and store with handguns or semi-automatic rifles and shotguns. He asked sport shooters in Toronto to leave the city.
Toronto Asks Feds for Canada-Wide Ban on Handguns, Semi-Autos
Restrict Stores?

Bray supports more restrictions on stores, The Canadian Press reported in an article at the Toronto Star.
The chief, who was presenting crime statistics, said offenders are using handguns and so-called "Non-restricted" hunting rifles and shotguns.
Predominantly 'Non-Restricted'
"I'm not going to say that handguns aren't a risk to citizens in Regina, because they are," CBC News quoted Bray as saying. "Predominantly the crime that's involving firearms in our city is long-barrelled rifles or shotguns."
Banning police-vetted men and women from having firearms is politically sensitive in Saskatchewan, where rural residents use guns responsibly for sport, hunting and/or pest control, Bray said, according to the Regina Leader-Post.
Saskatchewan is the province with highest percentage of licensed shooters.
Moe Says No: Saskatchewan Premier Joins Opposition to Gun Bans
Police Leaders Against Trudeau-Tory Gun Bans
(Growing List)
Evan Bray, Regina Police Chief
Also
9. Max Waddell, Winnipeg Police, Organized Crime Unit