Bill C-71 Passes Final Vote in Senate as New Law to Ban Guns

TheGunBlog.ca — Bill C-71 passed its third and final vote in the Canadian Senate today as the governing Liberal Party's new law to criminalize hunters, farmers and sport shooters and take away more of their guns.
Senators voted 55 in favour and 33 against at 5:34 p.m. in Ottawa with 2 abstentions. Pro-Liberal members supported the bill.
The opposition Conservative Party voted against, backed by Michael Duffy, David Richards, Pamela Wallin and three other senators.
Prohibit, Confiscate
The new law will start by prohibiting and eventually seizing rifles from more than 10,000 families, and put the owners in prison unless they obtain new police authorizations.
AR-15 target rifles are selling out at stores across Canada on concern Prime Minister Justin Trudeau will use the new law to order more bans before the October election.
Hostile Political Force
Bill C-71 solidifies the Liberals and their supporters as the most hostile and aggressive political force against millions of men, women and youth who own or use firearms safely and responsibly.
The Senate didn't change a comma from the draft text sent by the Liberal-controlled House of Commons, after 8 months of analysis and 30 hours of testimony from 81 experts.
Shooting Champ: 'Disappointing'
"Disappointing," Allan Harding, a pistol champion who risks having his athletic career terminated by a Trudeau ban, said on Twitter to Senator Don Plett. "I get back to the hotel to this. I'm currently in Munich 🇩🇪 representing Canada with our 🇨🇦 shooting team at the ISSF World Cup."
Disappointing. I get back to the hotel to this. I'm currently in Munich 🇩🇪 representing Canada with our 🇨🇦 shooting team at the ISSF World Cup.

After all the facts and evidence…

Impact on crime and violence: zero

— Allan Harding (@allanharding) May 28, 2019
Plett: 'Very Disappointed'
"Very disappointed that Trudeau's 'independent' senators chose to rubber stamp Bill #C71," Plett, the Conservative senator who led opposition to the bill, said in a separate tweet. "No amendments, no improvements, no sober second thought."
The Governor General will give her ceremonial Royal Assent in hours or days to turn the text into law. Some sections will take effect immediately, some kick in later.
Very disappointed that Trudeau's "independent" senators chose to
rubber stamp Bill #C71. No amendments, no improvements, no sober second
thought. #cdnpoli #publicsafetyfail

— Senator Don Plett (@DonPlett) May 28, 2019
Critical Election
Bill C-71 is pushing gun owners to defeat Trudeau's party in the next election to restore respect, dignity and rights for lawful, legitimate and licensed firearm users.
They oppose his new law as abusive and perverse for criminalizing people who have done nothing immoral or harmful. It builds on the punitive and prohibitionist Liberal Firearms Act of 1995.
Andrew Scheer, the Conservative leader, pledged to repeal Bill C-71 if he is elected prime minister.
Doctors: 'Disappointing'
"It is disappointing to see the Senate pass an ineffective piece of legislation that does nothing to combat crime or address the root causes of violence plaguing some communities across Canada," tweeted Doctors for Firearms Safety & Responsibility. "Sport shooters, hunters, and industry are not the problem but they are paying the price."
https://twitter.com/docs4firearmsr/status/1133501383167152128
Seize and Destroy
Cabinet has the power to ban any gun at any time.
Bill C-71 lets cabinet ban in slow motion by ordering immediate prohibition and delaying confiscation until the owner is dead.
Read: Ministry Comments on How Law Allows Cabinet to Order Gun Bans
This reduces potential resistance to immediate surrender or confiscation, while still destroying wealth and property.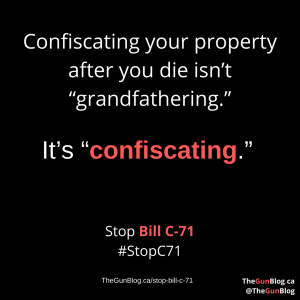 Confiscation Order?
Bill Blair, Trudeau's minister exploring a "full ban" on handguns and many rifles and shotguns, told CTV News this month he doesn't exclude a confiscation order before the election.
Bill C-71 will start by prohibiting CZ 858 and SAN Swiss Arms rifles from more than 10,000 families, requiring seizure and destruction as the registered owners die. The government hasn't said how it will inform owners of the new law.
All guns are banned already for anyone who doesn't have a firearm licence authorized by the federal police.
Buying, selling, owning or traveling with any gun without a permit can land you in jail.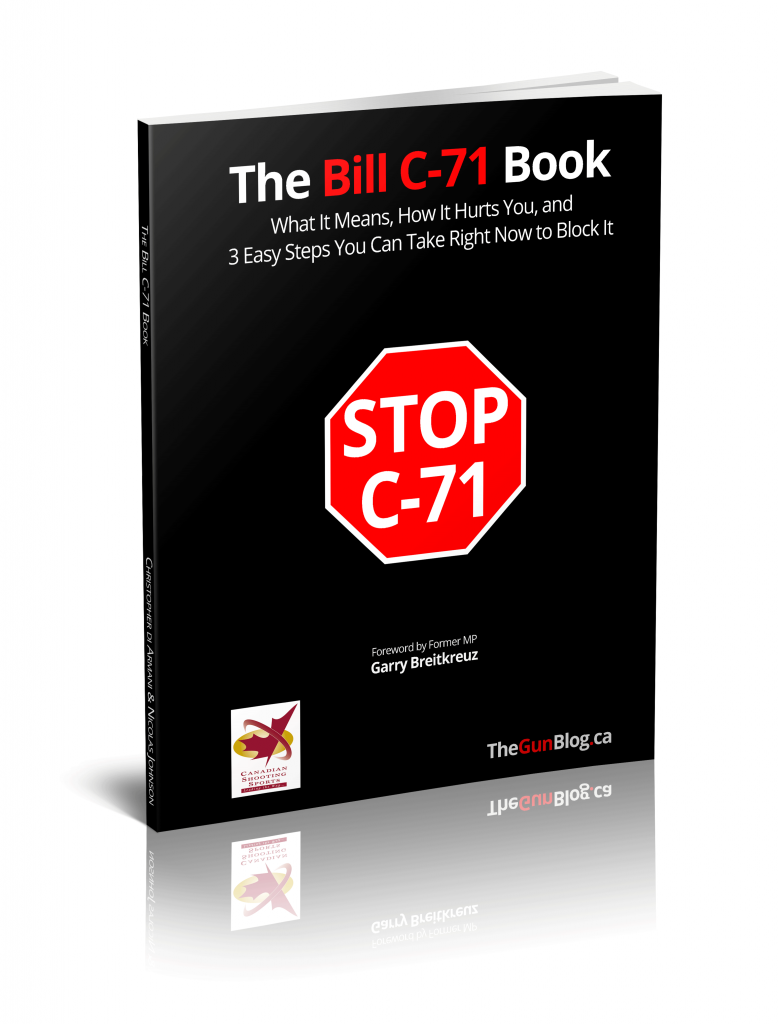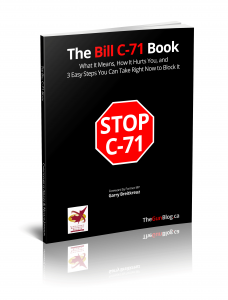 More Canadian Than Hockey
Hunting and sport shooting are at the heart of Canadian culture and heritage. More adults have a gun licence than play hockey.
About 2.2 million men and women own an estimated 15 million handguns, rifles and shotguns and buy a thousand new guns every day. Licence holders keep rising to records, driven by the popularity of sport shooting especially among women.
Bans for Votes
Trudeau instructed Blair to start examining mass gun confiscations last August.
Opinion polls show Liberal voters are the most hostile to gun owners in supporting bans.
A government adviser said last year that new restrictions and prohibitions present an "untapped opportunity" for Trudeau to win re-election this year.
https://twitter.com/TheGunBlog/status/1133567973086683137
Massive Opposition
The Shooting Federation of Canada, every national gun-rights group, provincial hunting associations and hundreds of thousands of individuals continue to oppose Bill C-71.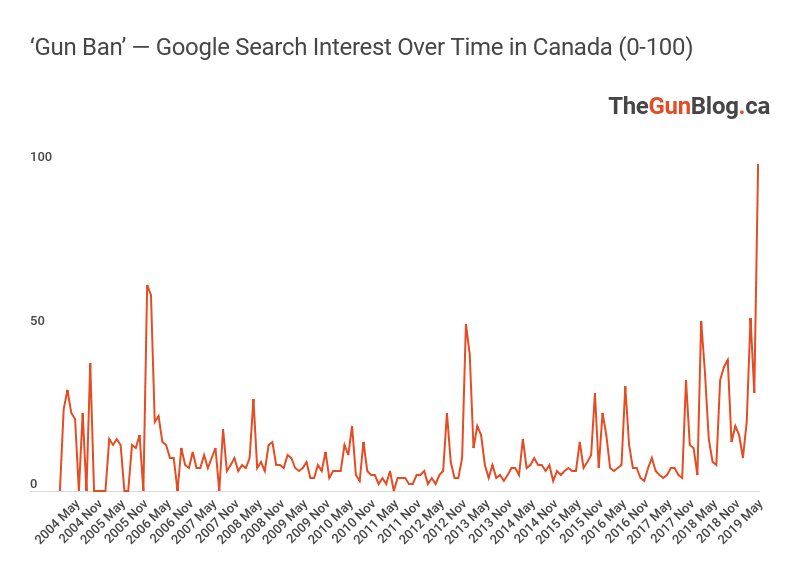 Concern of gun bans has spiked to a record on Google.
This article was the No. 1 result in a Google search for Bill C-71 this evening.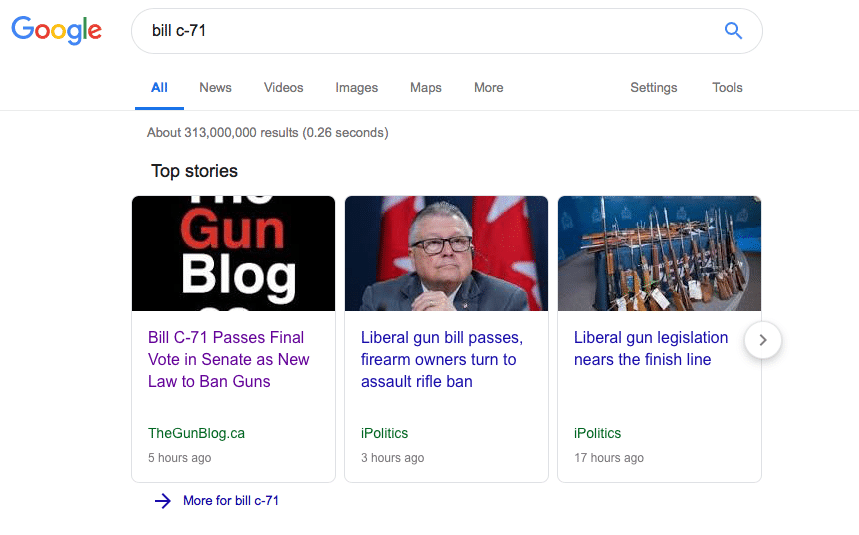 Criminalizing Honest People
Under the new law, any licensed adult who sells or gives any firearm to another licensed adult without special permission from the federal police is guilty of a crime.
That includes transfers of so-called "Non-restricted" rifles and shotguns from parents to adult children, from one spouse to another, or between friends, even if they all have licences.
Canadians buy and sell more than a thousand used guns each day, many through private transactions.
Connections Registry
The federal police will keep a record of every buyer and seller even if the transfer isn't completed, in a violation of personal privacy rights.
Every gun store will have to keep details of every gun buyer and what they bought for 20 years.
The new law will also make it a crime for a police-approved gun owner to take a police-approved handgun to a police-approved gunsmith without special police authorization for the trip. It invents new crimes for licensed owners who travel to and from gun shows, airports or the U.S. border.
Misleading Campaign
The Senate vote follows 14 months of Liberal distortions, deceptions and demonizing gun owners to promote Bill C-71.
Several Trudeau-appointed senators worked to undermine or eliminate gun ownership:
'Repeal Bill C-71'
"Repeal Bill C-71 when you take office," Travis Kay tweeted to Scheer this evening. "So much mess to clean up, but this injustice is important."
https://twitter.com/traviskay/status/1133513209690804227
—
Note to Readers
Thank you to the hundreds of thousands of Canadian Gunnies fighting for our dignity and rights.
If you are reading this and appreciate our citizen journalism, subscribe to our newsletter.
You can still buy The

Bill C-71

Book from via our Bill C-71 page.
#StandTogether
#StopC71
—
Correction at 22:50 Toronto time: Corrects spelling of "Allan."