Liberal Voters Are Most Hostile to Gun Owners, Leger Poll Shows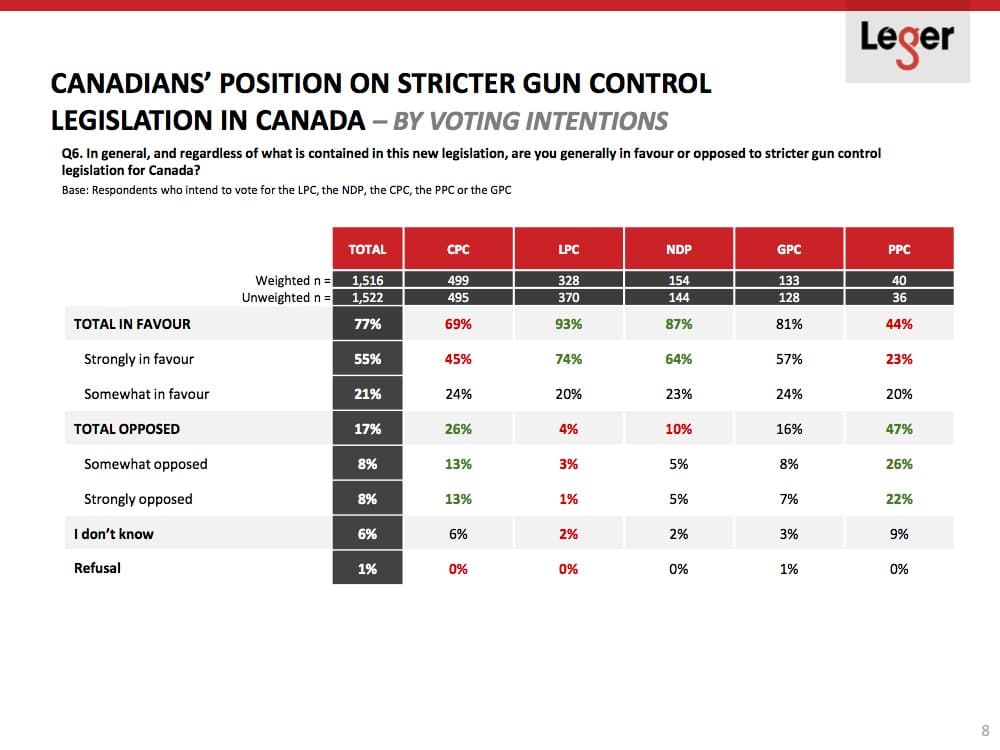 TheGunBlog.ca — Liberal Party of Canada supporters are the most hostile to gun owners such as hunters, farmers and sport shooters, a poll published today by Leger Marketing Inc. showed.
The survey this month found 93 percent of men and women intending to vote Liberal in October's election favour "stricter gun control legislation for Canada," Montreal-based Leger said today on its website.
That was the highest of five parties analyzed. Four percent of Liberal voters surveyed oppose stricter laws for gun owners, the least of any of the parties.
The poll showed 26 percent of Conservative Party voters oppose stricter laws against gun owners, while 69 percent favour them.
What's at Stake
Gun Rights. Rights to dignity, respect and fair treatment have become critical issues for firearm owners and users in this year's election. The Liberal government is preparing to pass Bill C-71 as a new law against gun owners and is considering new bans beyond those in the bill.
Gun Politics. Political parties will be proposing policies on gun ownership to attract votes. Gun owners are spread across all parties and political views, but anti-gun activism is strongest among leftist parties and groups.
Gun Votes. About 2.2 million voters have a federal firearm licence allowing them to own guns. Millions more voters without a permit also hunt and shoot safely and responsibly under the control of licence holders. All guns are banned for anyone without a permit who is unsupervised.
Gun Ownership. Poll after poll shows widespread support for new restrictions and prohibitions. Without a major cultural shift, civilian gun ownership is at risk.
Leger Poll Highlights
The Canadians in Leger's database want more restrictions for gun owners.
More respondents prefer a Liberal government (30%) than a Conservative government (25%).
Voting Intention, April 2019

Conservative: 40%
Liberal: 27%
NDP: 12%
Green: 11%
Bloc Québecois: 5%
People's Party of Canada: 3%

People's Party of Canada voters were the most opposed to stricter gun laws. (Our analysis: Given voting intentions, a vote for the PPC in most electoral districts acts as a boost for the Liberals.)
Leger Poll Details
Online survey of 1,522 eligible voters in Leger's database from April 18 to 22.
Leger, founded by a Quebec politician who sought separation from Canada, said its database represents all Canadians.
Poll asked several questions, including about Bill C-71 and stricter laws for gun owners in general.
Example: "Q6. In general, and regardless of what is contained in this new legislation, are you generally in favour or opposed to stricter gun control legislation for Canada?"

What's wrong with this question?

Undefined reference. Stricter than no legislation? Stricter than what Canada has now? Stricter than Bill C-71? Stricter than the Soviet Union?
Who cares? Unless respondents know current laws, why does their opinion on the law matter? Answer: Because they vote.

Leger's two reports today analyzing the poll:

Hot Topics, including gun laws (April 26)
Voting Intention (April 28)
Analysis: Political Tactics to Win Votes
Liberal Party

Attract anti-gun voters by continuing to show hostility toward gun owners, a key part of the Liberal brand.

Conservative Party

Challenge: Keep and attract pro-gun Conservatives, without alienating anti-gun Conservatives.
Solution: Show support for strict gun laws, as we have now. Propose cracking down on violent offenders and gangs, not honest hunters, farmers and sport shooters. ("Fight gangs, not farmers.") Show how gang shootings have jumped since the Liberals took office, while Liberals crack down on hunters and sport shooters.
The Conservatives are the only federal party promising to repeal Bill C-71 if they win the election, and are the only ones to consistently oppose new restrictions on lawful gun owners.
What Can Gun Owners Do?
Support parties and candidates that support you. Help them win.
Invite family, friends and colleagues to the range so they can experience the challenges and joys of shooting. Help them get licensed, help them get guns. (e.g. Organize an after-work range day.)
Subscribe to and support TheGunBlog.ca and other media that support you. Join at least one national and/or provincial shooting or hunting association.
https://twitter.com/TheGunBlog/status/1123004839313715203
---
If you own guns and aren't politically engaged today, you won't own guns tomorrow.
---
Related