Scheer Pledges to Repeal Bill C-71, Rejects Handgun Ban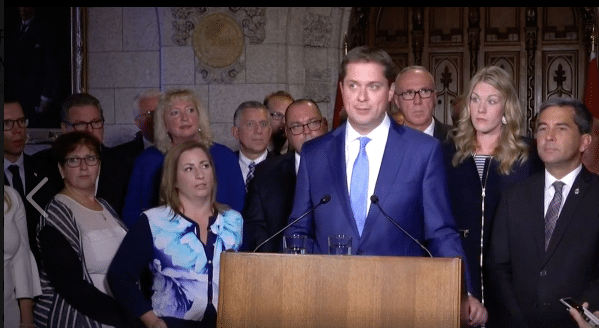 TheGunBlog.ca — Andrew Scheer, the leader of Canada's Conservative Party and of the official opposition, leveled one of his strongest critiques of government firearm policy and made an election promise today. He pledged to repeal Bill C-71 if elected prime minister and rejected any handgun ban.
The Liberal government of Prime Minister Justin Trudeau will present Bill C-71 for its third and final reading in the House of Commons tomorrow, Rachael Harder, a Conservative MP from Alberta, told reporters today in the lobby of the House.
If it passes the reading, the proposed law will head to the Senate for review. Scheer's comments suggest he expects it to become law by Christmas.
The bill proposes to seize more firearms from owners licensed under the authority of the federal police and to make it harder for them to buy, sell, own and transport guns. It will also potentially give the government of Quebec the personal information of every gun owner in Canada with the list of firearms they own.
More Canadian Than Hockey
More Canadian men and women have a firearm licence than play hockey. Millions of people of all ages across the country use guns for protection, hunting, recreation and competition.
"Should Bill C-71 pass this fall, a Conservative government elected in 2019 will repeal it and replace it with a law that targets criminals, protects Canadians and respects sports shooters and law-abiding firearms owners," Scheer said today in the lobby of the House, flanked by Harder and more than a dozen other MPs. "All C-71 does is target the most-responsible and the most-vetted members of our society."
Canada's Conservatives will repeal Justin Trudeau's flawed bill C-71. We understand that farmers and law-abiding firearms owners are not criminals and will replace C-71 with legislation that targets criminals and actually makes communities safer. pic.twitter.com/kMgWFKxSvA

— Andrew Scheer (@AndrewScheer) September 19, 2018
Opposition, Protest
Scheer's opposition to punishing lawful gun owners adds to that of at least two provincial premiers, the country's most senior police leaders and private individuals across the country. The government's firearm policy is also dividing Liberal members of parliament.
Harder officially submitted a petition against Bill C-71 earlier in the day. More than 86,000 people supported the online protest she sponsored, the second-most-signed e-petition on record at the House of Commons.
"Bill C-71 creates a backdoor long-gun registry, it calls for the confiscation of firearms that were legally purchased by law-abiding Canadians and it allows the federal government to share firearms records with the province of Quebec," Harder said from the House lobby in a video she shared on Facebook. "Meanwhile, it fails to address gang violence, it fails to address illegal firearms and it fails to address rural violence and crime."
https://www.facebook.com/RachaelHarderMP/videos/vb.325227794269092/2096882927293684/?type=2&theater
The Conservatives haven't always stood with shooters. Prime Minister Brian Mulroney passed laws in the early 1990s to limit the capacity of ammunition magazines. Gun owners and gear sellers still risk prison if they don't sabotage equipment to comply, typically by drilling holes and installing cheap rivets as stoppers.
Right now, our Conservative caucus is standing with @RachaelHarderMP who is presenting her petition against bill C71, which garnered over 86K signatures. @AndrewScheer announced that when he becomes PM, he would repeal C71 if Trudeau decides to proceed with this flawed bill. pic.twitter.com/vx6DbBebNi

— Michelle Rempel Garner (@MichelleRempel) September 19, 2018
Bill C-71 also solidified the Liberal Party's reputation for hostility against hunters and shooters. It's the first legislation aimed directly at punishing them since the Liberals passed the Firearms Act in 1995.
A major public-relations firm said in March the Liberals could win votes and strengthen their control of parliament by exploiting fear and ignorance among centre-left voters and imposing new restrictions on gun owners.
Trudeau last month instructed a minister to examine a "full ban" on handguns and other firearms owned by hunters, plinkers and sport shooters in addition to the confiscations in Bill C-71.
Scheer Says 'No'
After Harder and Scheer spoke today, a reporter asked the Conservative leader if he supports a handgun ban.
"No," Scheer said. "Completely ineffective. Great on optics perhaps for those people that think the government should 'do something,' but we hear from police chiefs — everyone from the RCMP to local police detachments — that say that it would be symbolic, it would be all optics, no results. We support real measures to go after gang members."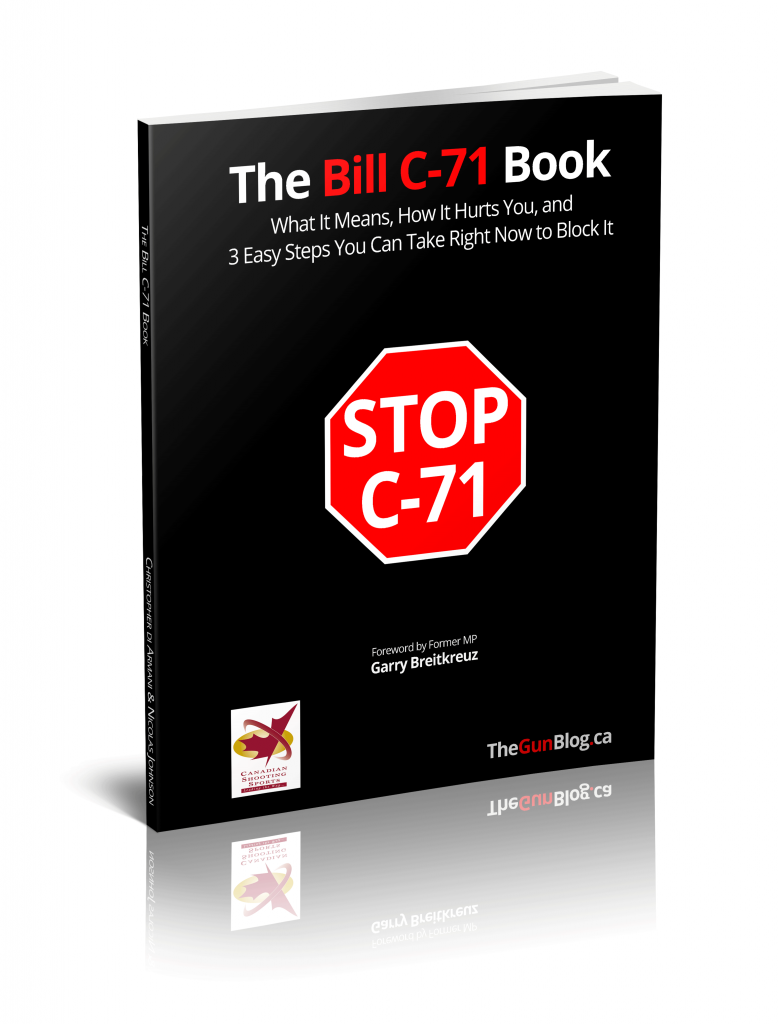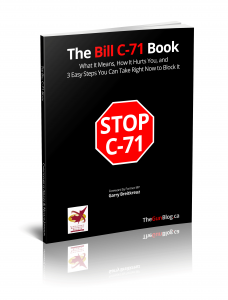 Buy The Bill C-71 Book Here
Related Information
© 2018 TheGunBlog.ca