Trudeau Tweet on PALs Isn't Totally False, Just Totally Wrong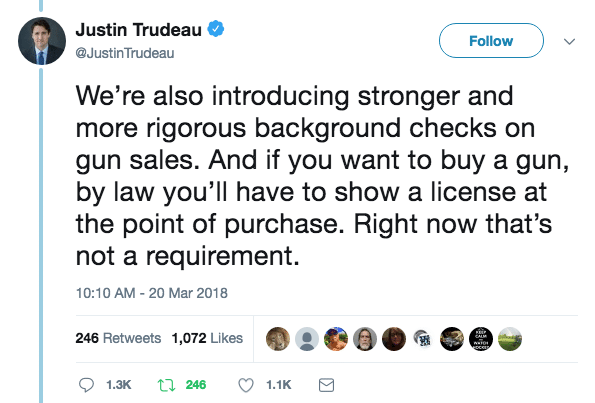 TheGunBlog.ca — Canadian Prime Minister Justin Trudeau drew a flood of criticism after saying on Twitter that you can legally buy a gun without showing your firearm licence. But Trudeau is correct. Sort of.
He made the comment yesterday as part of several tweets pushing Bill C-71, a law he proposed to limit rights for shooters and hunters beyond the current Firearms Act that his party passed in 1995.
"And if you want to buy a gun, by law you'll have to show a license at the point of purchase," Trudeau said. "Right now that's not a requirement."
About 1,100 people have retweeted the post, and almost 250 have "liked" it. But many of the 1,300 replies mock the Liberal Party leader and his familiarity with the gun laws he wants to change.
"Current CDN firearms law is that ALL firearm purchases in Canada require a licence be shown," replied @BobZimmerMP, a Conservative member of parliament and a leading advocate for gun owners. He called the prime minister "ridiculously" uninformed.
Zimmer is right in reality. Trudeau is right in theory.
The Firearms Act doesn't require a buyer to show their firearm Possession and Acquisition Licence, exactly as Trudeau said. It says only that the buyer must have a licence, and that the seller mustn't have a reason to doubt its validity.
Here's what Section 23 of the act says about transferring ownership of "Non-restricted" firearms, which include many rifles and shotguns owned by the more than 2 million PAL holders:
Authorized Transfers
23 A person may transfer a non-restricted firearm if, at the time of the transfer,

(a) the transferee holds a licence authorizing the transferee to acquire and possess that kind of firearm; and

(b) the transferor has no reason to believe that the transferee is not authorized to acquire and possess that kind of firearm.
In the real world, where Zimmer lives, many stores won't show you a firearm until you've shown your licence. It may not be a legal requirement, but it's their requirement. If you buy the gun, you'll probably have to show your licence again, and there's a good chance the seller will record your details. For many guns, they have to.
Even the Royal Canadian Mounted Police in charge of enforcing the Firearms Act and the licensing system get the law wrong.
"The transferor is nevertheless required to verify that the transferee has a valid PAL," says the RCMP web page about selling firearms. The datestamp on the page shows 2018-02-14.
Besides helping us see some of the flaws in Liberal gun laws, Trudeau's tweet shows why the half-truths of anti-gun activists are so sinister.
They might not be totally false, just totally misleading.
© 2018 TheGunBlog.ca
---
The most important part of gun rights isn't "gun," it's "rights."
---