Dear Prime Minister: No Gun Ban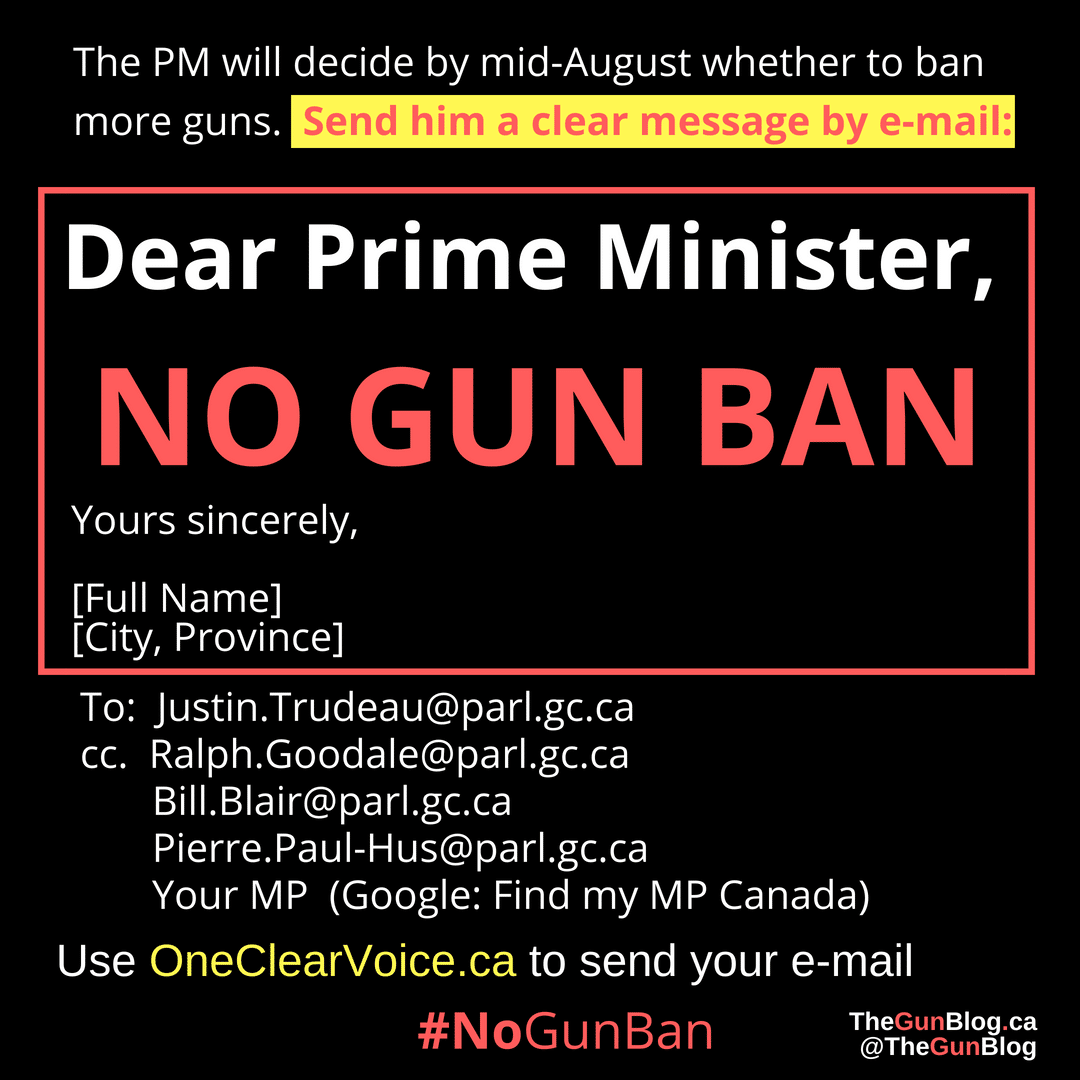 TheGunBlog.ca — Canadian Prime Minister Justin Trudeau will decide in mid-August whether to ban handguns across Canada, the Globe and Mail reported last week.
Contact the PM today. Don't let him turn you into a "former" gun owner.
Intro
You can send an e-mail, write a letter, make phone calls, or all three.
Share this widely with your gun club, family, friends, etc. Anyone and everyone can stand up and speak up for their rights and their interests, and the rights and interests of their family and friends. You don't need a PAL to be a pal.
Thank you to the people who helped with this. You made it better.
For the background, see at the bottom under Related Information.
Who to Contact
E-Mail
What to Write
Subject: No Gun Ban
Dear Prime Minister:
I'm writing to express my opposition to any firearm ban.
Yours sincerely,
Full Name
City, Province
Postal Code
You can write as little or as much as you like about how bans would affect you, and why you oppose them. A couple paragraphs is usually enough.
Be courteous and respectful. You are giving an image of all gun owners. Don't send a letter from a goofy e-mail address.
Français: Je vous écris pour exprimer mon opposition à toute interdiction d'arme à feu.
Phone
What to Say

"Hi. This is _____ _____ from [City, Province, Postal Code]. I'm calling to express my opposition to any firearm ban. Thank you."
That's it. Don't explain, don't justify, don't argue.

If they ask you to elaborate, you can say: "Thank you for asking, but that's all I have to say for now." You can say as much as you want.
If you get voicemail, leave a message as per the script.
Canada Post
No stamp required
Address
Right Honourable Justin Trudeau
House of Commons
Ottawa, Ontario
K1A 0A6
Send copies to: Ralph Goodale, Bill Blair, Pierre Paul-Hus (so he can keep count)
More Action Steps
Share this widely (gun club, friends, family, …). Tell them what's at stake.
Join or renew with your favourite shooters'-rights organization.
Make sure you are subscribed to TheGunBlog.ca. (We also welcome your support.)
Related Information
© 2018 TheGunBlog.ca
---
The most important part of gun rights isn't "gun," it's "rights."
---