'Restricted' Firearm Ownership Rose to Record in June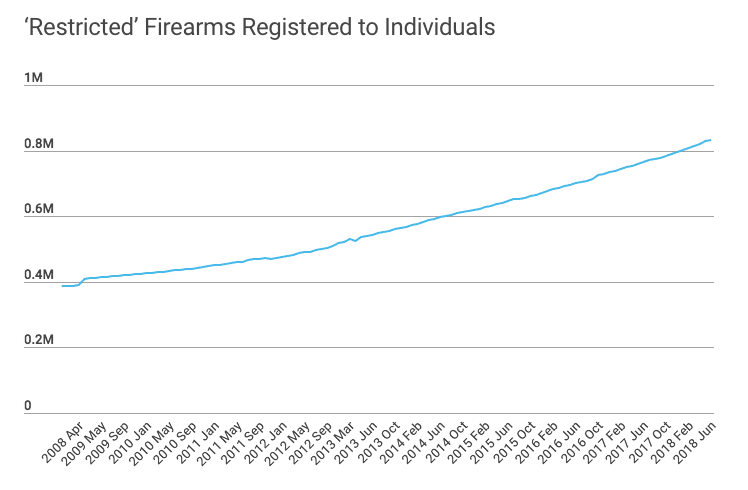 TheGunBlog.ca — The number of so-called "Restricted" handguns and rifles owned by Canadian individuals rose to a record in June after more than five years of uninterrupted monthly increases, as federally licensed gun owners bought semi-automatic pistols and rifles for plinking, recreation and competition.
Target shooting is one of Canada's safest and most-popular sporting activities.
833,170 "Restricted" firearms were registered to individuals at 30 June 2018, according to RCMP data provided to TheGunBlog.ca.
154,538 "Prohibited" firearms were registered to individuals at that date.
See the interactive charts and explanations below.
What Is a 'Restricted' Firearm?
All firearms and licensed firearm owners in Canada are tightly restricted.
All gun owners must apply to be licensed by the federal police and be registered with the federal police.
Even though all firearms are restricted, the law classifies them under three labels: "Non-restricted," "Restricted" and "Prohibited." All are legal to own with the right licence.
"Restricted" firearms are uniquely registered to their owners by the federal police.
They require specific permission from the police to buy, own and take to the target range.
They may be transported only between specific locations authorized by law and by the police (e.g. home, target range, gunsmith, airport).
The law says you may use a "Restricted" firearm only for sport shooting or collecting, not for hunting.
© 2018 TheGunBlog.ca
---
The most important part of gun rights isn't "gun," it's "rights."
---