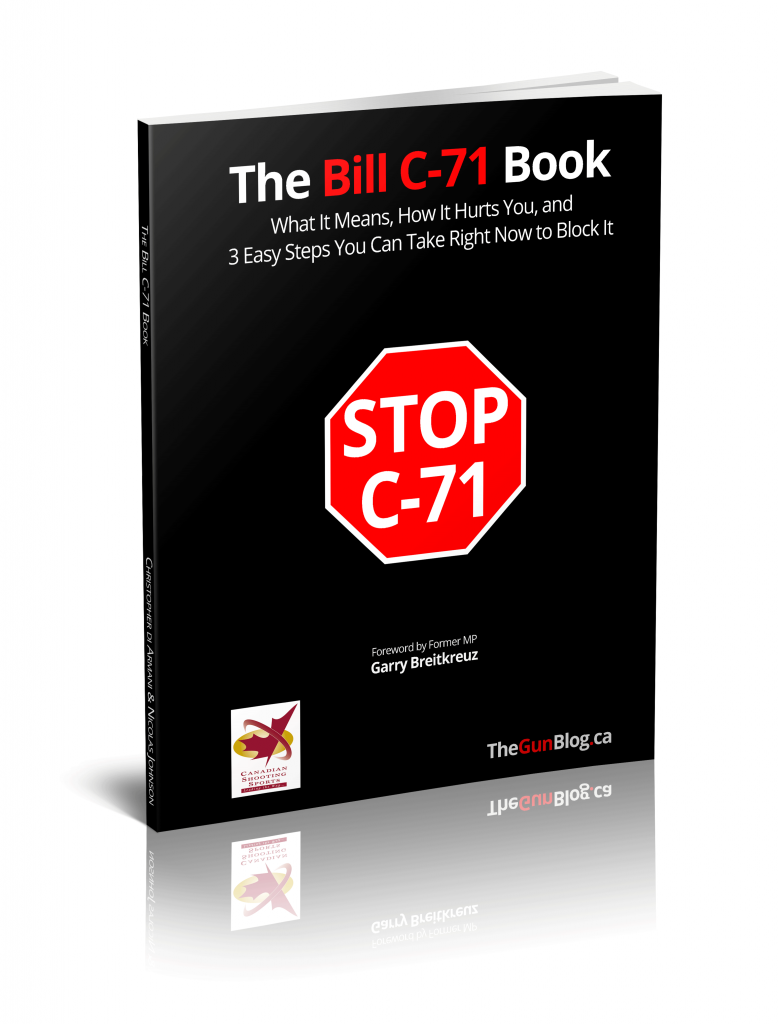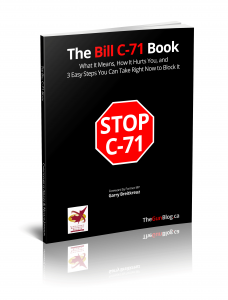 Download the PDF: The Bill C-71 Book

Note: Downloading the book doesn't automatically subscribe you to TheGunBlog.ca's e-mail updates.
We suggest downloading the free PDF and making a donation if you appreciate our work.
You can also buy the paperback or Kindle from Amazon.ca.
The book was a No. 1 Bestseller in its category.
Every senator and many members of parliament were given a copy or downloaded their own copy.
Screenshot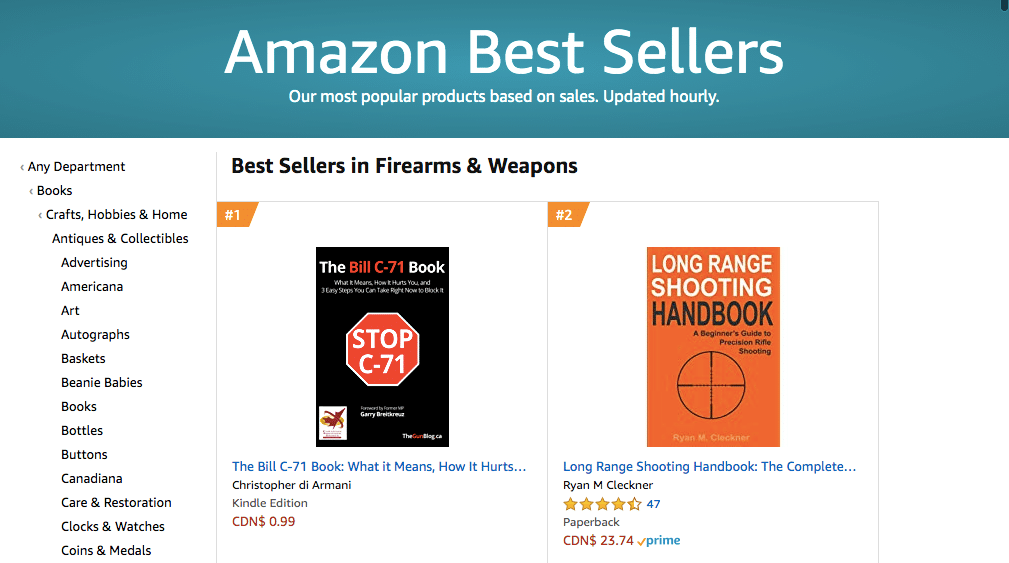 ---
Most Recent Update of This Page: Friday 17 May 2019 at 12:00 noon Toronto time.
Contact: If you see an error or an omission, please contact us.
---
Want Updates? Subscribe.
The best way to get the newest info, intel and insight on Bill C-71 is subscribing to our e-mail updates and alerts.
If you want only the Bill C-71 news we publish online: Here.
---
Government Sources for Bill C-71
Why Is This Page So Long?
Bill C-71 is a multi-headed monster.
It's complex, technical and intricately woven into the fabric of Canada's convoluted legislative framework on firearm ownership and use, in particular the Firearms Act and the Criminal Code.
Canada doesn't have fines if you break a firearm law. Any violation can land you in jail as a first step.
Bill C-71 might appear simple on the surface if you read the mass media. But it isn't.
We've done our best to explain the most sinister aspects of this monster in plain language.
Do you think it's accurate and fair to describe Canada's Bill C-71 against honest gun owners as "harassment"?#TheGunBlogPoll#StopC71#KillBillC71

— TheGunBlog (@TheGunBlog) March 7, 2019
What Is Bill C-71?
Draft legislation proposed by the government of Canada on 20 March 2018.
It will almost certainly be passed into law by June 2019.
Aimed at more than 2 million men and women with a federal firearm Possession and Acquisition Licence (PAL), such as hunters, farmers, recreational shooters, competitors and firearm collectors.
Will make it easier to ban guns, increase tracking of licence holders, and increase restrictions to get or keep a licence and to buy, sell or transport firearms. For example, it would become a crime to take a lawfully owned handgun to an airport, border crossing or a gunsmith without specific police permission.
Introduced with no evidence of benefit, no evidence of need, no estimate of cost, and no plan to inform gun owners who would be affected directly.
Government is promoting it as "legislation that prioritizes public safety and is practical for firearms owners."
Gun owners oppose it: The Shooting Federation of Canada (non-political organization for high-level competitors such as Olympic athletes), the industry association, every national gun-rights association, major provincial hunting associations and hunters, plinkers and sport shooters across Canada.
Status as of 17 May 2019
Passed in House of Commons, Passed second of three readings in Senate, completed review by a Senate committee, debate for Third Reading began on 08 May. Could pass final Third Reading on May 27. Detailed timeline below.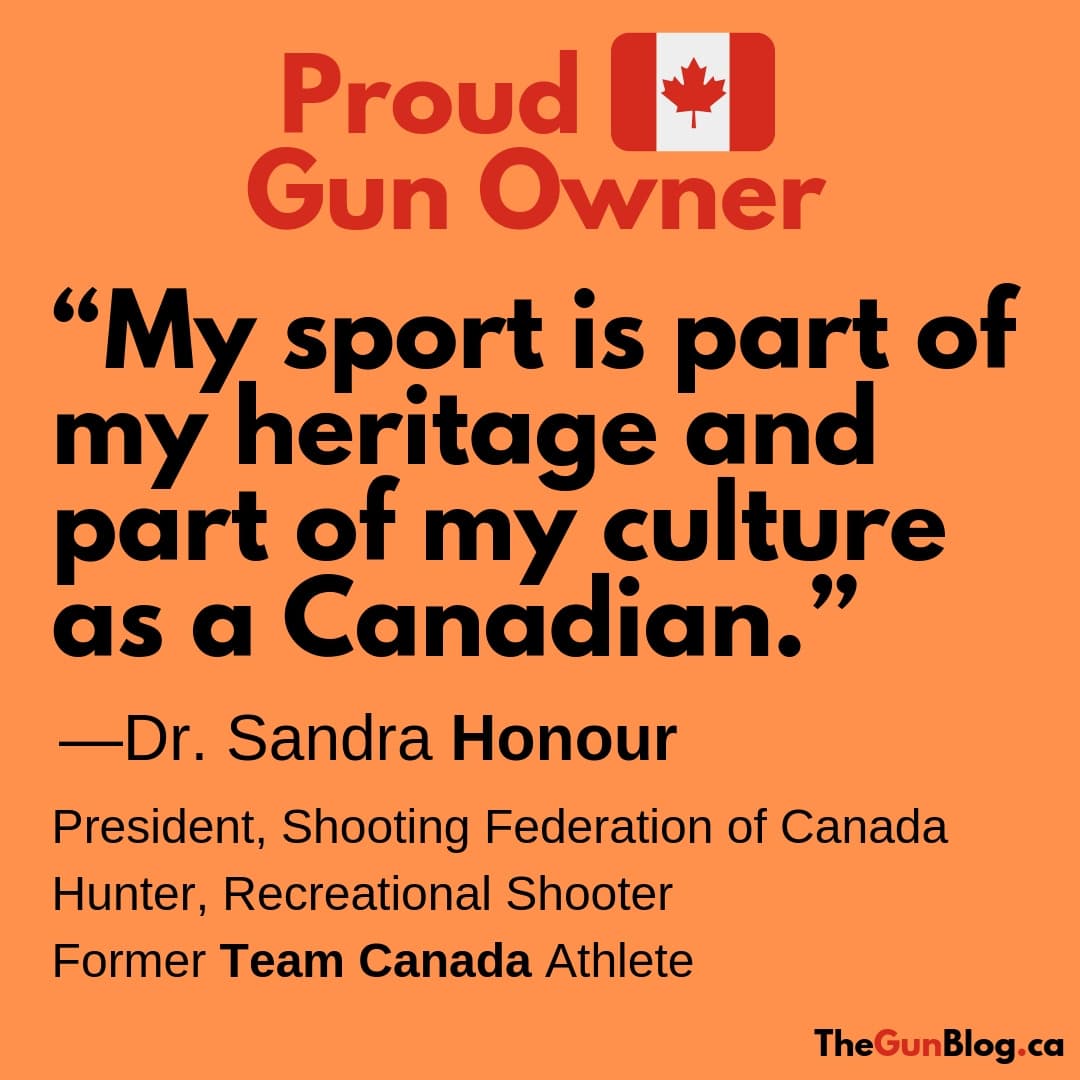 Political Context
Bill C-71 is one element in a broader plan to prohibit, restrict and penalize lawful gun owners in Canada.
The Liberal Party is pushing the measures as it seeks to win the 2019 election.
Besides the prohibitions included in Bill C-71, a major part is to facilitate future bans. The

Bill C-71

Book explains how the bill does this by creating a new Section 12(9) in the Firearms Act to allow delayed gun confiscation that is promoted as "grandfathering."
Besides Bill C-71, another type of registry system is also in the works to link every firearm to its owner.
Gun owners are taking action. You are reading one of the Internet's most-popular pages on Bill C-71.
TheGunBlog.ca's leadership against Bill C-71 with stores, associations and tens of thousands of individual gun owners has made it one of the highest-profile bills of this government and a political hot potato.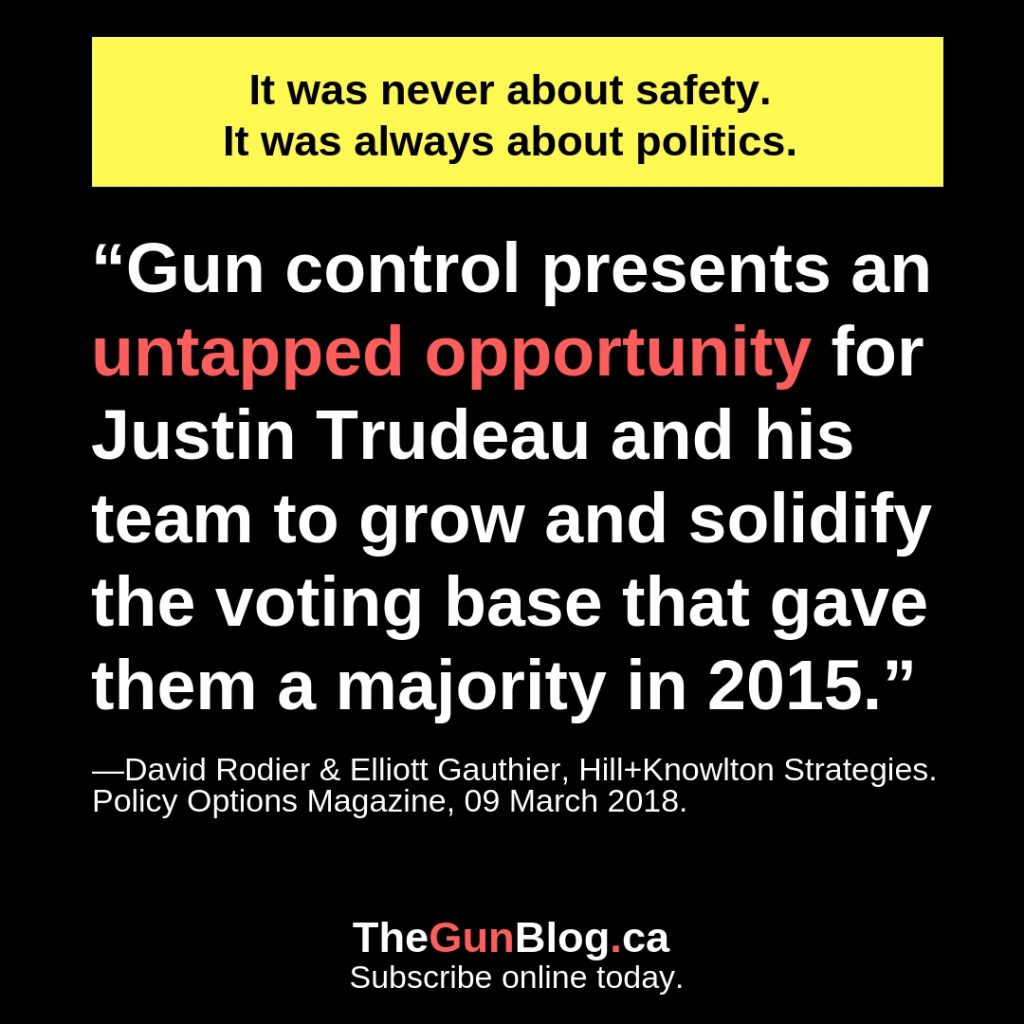 How Bill C-71 Hurts Gun Owners
In Short
Makes it easier for the government to ban guns.
Makes it easier for the federal police (RCMP) to prohibit any firearm.

Makes it harder to obtain and keep your gun licence (PAL).

Bans rifles that have been sold in Canada for a decade and are owned by 10,000 – 15,000 people. Imprisons those owners if they don't meet new ownership requirements, but includes no plan to inform the owners of the new requirements. Even if they fulfill the requirements, police will confiscate the firearms after the owners die. (Some people call this confiscation after death "grandfathering.")

Tracks PAL holders who plan to buy, sell or give away guns, even if the transfer isn't completed (connections registry). You want to sell me your old shotgun? You need to reveal your details and my details to the federal police even if we don't close the deal.

Requires stores to register you and your guns (firearm registry).

Removes government power to easily override incorrect or unjustified RCMP firearm classifications.

Stops you from transporting your guns to and from airport, border, gunshow, gunsmith without special permission (Authorizations To Transport). Want to take a pistol to the gunsmith on the way home from the range? Forget it.
A Bit Longer
Prohibition. Bill C-71 immediately reclassifies 10,000 to 15,000 legally bought and legally owned rifles as "Prohibited," including some models that cost more than $4,000 and are used for hunting. (These are the CZ 858 and Swiss Arms.) The law applies retroactively, meaning you could go to jail for something that was legal when you did it. This violates fundamental principles of law in any democracy.
Read: RCMP Counts 683 Registered CZ 858/SA Rifles, Reviewing C-71 Info
Criminalization. Bill C-71 turns 10,000 to 15,000 owners of newly prohibited firearms into instant criminals facing 10 years in prison unless they comply with new ownership requirements. The government hasn't outlined any plan to notify them.
Confiscation: When the government prohibits your firearms, you might be allowed to keep them until you die, after which they must be sold abroad, turned in to police or confiscated. You cannot pass them on to family or friends. The wealth your family invested goes to zero. (Price of guns and related gear: mags, sights, accessories.)
Read: Handgun, Semi-Auto Ban Could Wipe Out $2 Billion From Gun Owners
More Gun Bans. Bill C-71 is a warning that more gun bans are coming. It creates Section 12(9) in the Firearms Act, a new catch-all category for people who own guns that will be banned in future. The only reason to include Section 12(9) is to ban more guns.
No Oversight. Bill C-71 gives the RCMP greater leeway to prohibit firearms by removing the government's ability to easily un-prohibit firearms, fuelling concern of more bans and of police overreach.
Registration. Bill C-71 makes it a crime to buy, sell or give away any gun without an authorization and a reference number for each potential or actual transaction from the RCMP Registrar of Firearms.
Connections Registry. 

The federal police already know who has a PAL.

Bill C-71 creates a new connections registry 

of PAL holders who are in contact with each other.

You must get RCMP permission to sell a rifle or shotgun by telling them your PAL number and the buyer's PAL number, even if you never complete the sale.
Read: Bill C-71 Creates PAL Holder 'Connections Registry' on Transfers
No Transport: Bill C-71 immediately revokes Authorizations To Transport (ATT) firearms, except from store to home and between home and target range. Gunshows, gunsmiths, border crossings and airports require special permission. If you want to pick up your gun from the gunsmith on your way to a match, you'll need an ATT. How about dropping off your gun at the gunsmith after a range session? Another ATT. If you want to take a gun from the store to the gunsmith, another ATT. From the gunshow to a gunsmith? Another ATT.

The Canadian Shooting Sports Association nicknamed Bill C-71 the "Federal Firearms Owners Harassment Act."

Gun Registry, Costs: Bill C-71 forces gun stores to keep detailed transaction records on every firearm buyer and every firearm purchase for 20 years. This will increase costs that will be passed on to customers. It also makes a great hit list for thieves if the registry is stolen or hacked.

PAL Refusal and Revocation.

Bill C-71 forces ba

ckground checks to go from five years to your whole life. 

More people applying for a new gun licence or a renewal could be rejected, and some will decide to not renew rather than disclose private info from long ago. 

No More PAL = No More Guns.
Paperwork and Penalties for Violent Criminals: Zero.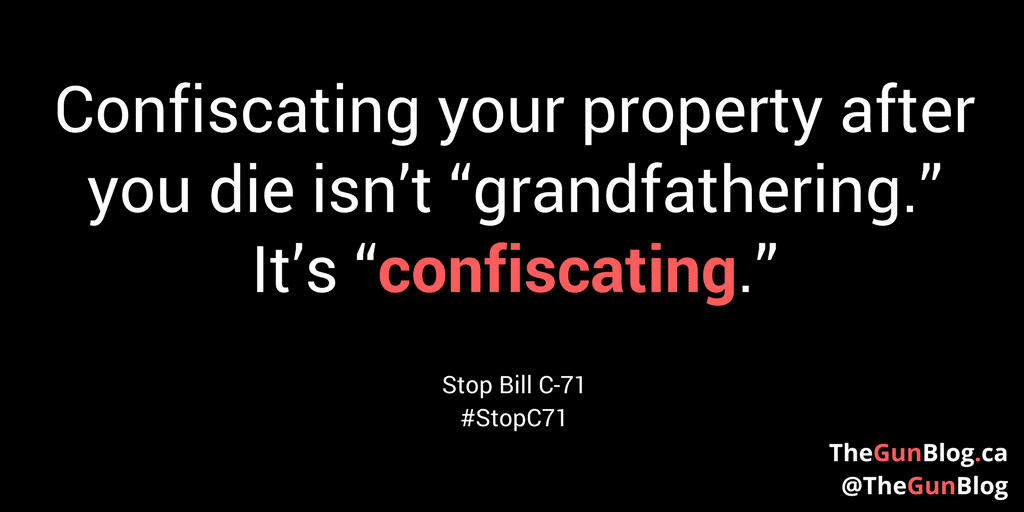 Subscribe to TheGunBlog.ca for updates, info and the latest tools and resources. Please consider supporting us if you like what you're reading.
Write to your elected officials at all levels: federal, provincial, municipal.
If appropriate in your situation: Invite people shooting to share your joy, write letters to the editor of newspapers, invite politicians and media to visit your club or range.
Read: How Quiet Gun Owners Become Former Gun Owners
Looking Beyond Bill C-71
Bill C-71 may pass easily because the Liberal Party has a majority in the House of Commons and strong support in the Senate. (The Liberals promised to strip away gun rights in the last election, and they won a majority.)
The Liberals are now examining a "full ban" on more than a million handguns and other firearms owned by PAL holders. They're also considering bans on home firearm storage. The Young Liberals of Canada, the youth wing, is calling for handgun bans. Remember: Today's youth are tomorrow's government.
We need to look beyond Bill C-71 to where we can act next.
Contact political candidates who support your rights and help them get elected. It's never too early to get on their mailing list.
Join your favourite gun-rights association, hunting association or renew your membership.
Support TheGunBlog.ca if you like our work.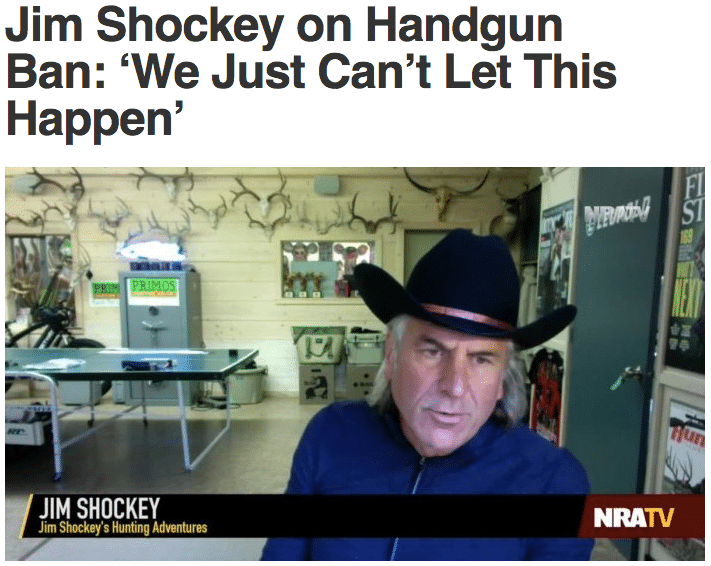 Read: Jim Shockey on Handgun Ban: 'We Just Can't Let This Happen'
More Info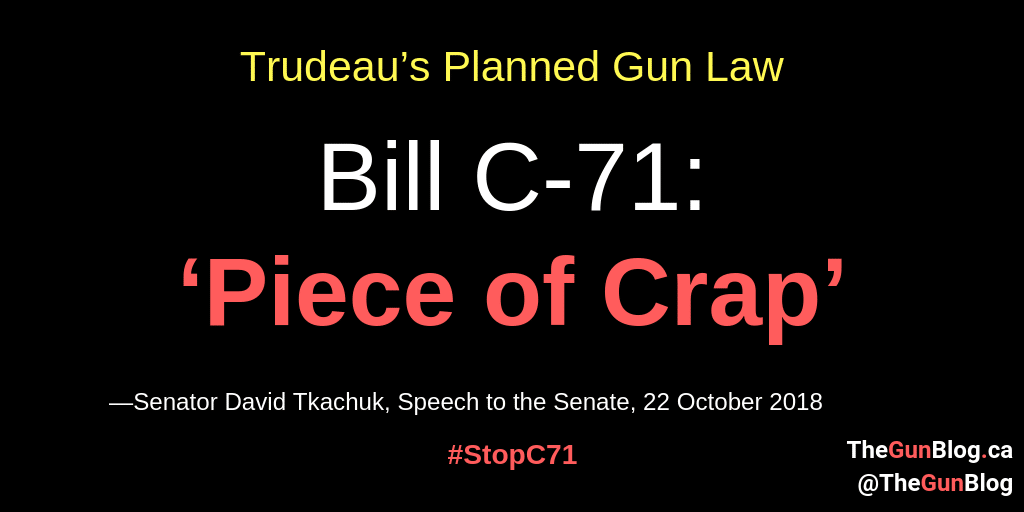 What Do Shooting and Hunting Associations Say?
Shooting Federation of Canada (Official Body for Ministry of Sport)
Canadian Coalition for Firearm Rights
Canadian Shooting Sports Association
National Firearms Association
Canadian Sporting Arms and Ammunition Association
Ontario Federation of Anglers and Hunters
British Columbia Wildlife Federation
If you are a firearms owner, it is important to stand with us as we do everything in our power to influence meaningful changes before it becomes law.

Visit https://t.co/xA7UMQ0T5b for information on Bill C-71.

— OFAH (@ofah) September 25, 2018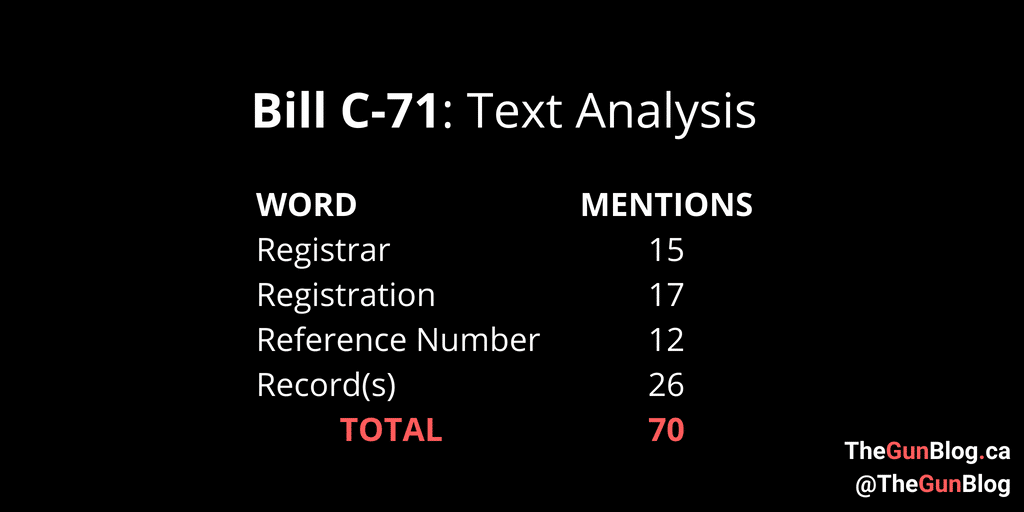 Bill C-71 Timeline
See also: LEGISInfo
2018
Mar 20: Introduction and first reading in House of Commons
Mar 28: Vote on second reading in House of Commons
May 08 – Jun 07: Review by House of Commons Standing Committee on Public Safety and National Security (SECU)
Jun 12: SECU report with amendments
Sep 24: Third reading and vote in House of Commons
Sep 25: Introduction and first reading in Senate
Sep 27: Second reading in Senate, 1. (André Pratte)
Oct 03: Second reading in Senate, 2. (Tony Dean)
Oct 16: Second reading in Senate, 3. (Pierre Dalphond)
Oct 23: Second reading in Senate, 4. (Raymonde Gagné, Response: David Tkachuk)
Nov 07: Second reading in Senate, 5. (René Cormier)
Nov 08: Second reading in Senate, 6. (Ratna Omidvar, Response: Dennis Glen Patterson)
Nov 20: Second reading in Senate, 7. (Marc Gold)
Nov 21: Second reading in Senate, 8. (Éric Forest, Response: Pierre-Hugues Boisvenu)
Nov 22: Second reading in Senate, 9. (Mary Jane McCallum)
Nov 28: Second reading in Senate, 10. (Chantal Petitclerc)
Nov 29: Second reading in Senate, 11. (Pamela Wallin)
Dec 11: Second reading in Senate, 12. Vote. (Don Plett, David Richards)
Dec 11: Referral to Standing Senate Committee on National Security and Defence (SECD).
2019
Feb 18: Senate Committee on National Security and Defence. First Meeting.
Feb 25: Senate Committee on National Security and Defence. Second Meeting.
Mar 18: Senate Committee on National Security and Defence. Third Meeting.
Apr 01: Senate Committee on National Security and Defence. Fourth Meeting.
Apr 03: Senate Committee on National Security and Defence. Fifth Meeting.
Apr 08: Senate Committee on National Security and Defence. Sixth Meeting.
April 10: Senate Committee on National Security and Defence submits its report to Senate.
May 07: Senate rejects proposed amendments by Committee on National Security and Defence.
May 08: Senate began debate on Third Reading and considering amendments. This has continued through May 16.
May 27 (Pending): Senate may hold final vote on Third Reading. Could also happen May 28. Timing is fluid.
What Happens Next
Senate is now considering amendments before a vote on Third Reading.
House of Commons debates any Senate amendments
House of Commons votes on any Senate amendments
Senate debates whether or not to accept House of Commons decision, then votes (Unlikely that bill would go back to House of Commons)
Royal Assent to become law
Coming Into Force of the new law (Some sections could take several months before they take effect.)
About The
Bill C-71

Book
The

Bill C-71

Book represents a significant milestone in the history of Canada's firearm community.
First time that a book is published on a draft gun law.
First major collaboration between TheGunBlog.ca, Canada's leading gun-rights media, and the Canadian Shooting Sports Association (CSSA), the leading gun-rights advocacy group.
CSSA gave paperback copies of The

Bill C-71

Book to more than 100 Members of Parliament and staff, and sent one to every Senator.
MPs and Senators quote The

Bill C-71

Book in their speeches or mention it.
Thousands of individuals have downloaded the PDF and/or bought the book on Amazon.
Ad by Wanstalls in Calibre Magazine
---
If you're reading this, please consider supporting TheGunBlog.ca so we can continue supporting you. You can also subscribe to our e-mail updates.
---
© 2019 TheGunBlog.ca
---
The most important part of gun rights isn't "gun," it's "rights."
---