Liberals Reiterate Goal to Eliminate Handguns Via Municipalities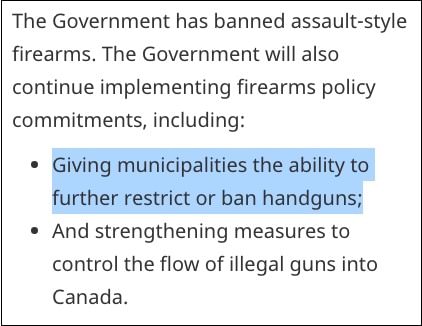 TheGunBlog.ca — Canada's governing Liberal Party reiterated its goal to eliminate handgun ownership via municipalities, as it works to weaken citizens, cripple the firearm industry and kill modern shooting sports.
The Liberals repeated the prohibition plan in today's outline of policy priorities known as the Speech From the Throne.
'Further Restrict or Ban Handguns'
"The Government will also continue implementing firearms policy commitments, including: Giving municipalities the ability to further restrict or ban handguns," Governor General Julie Payette said in today's speech from the Senate in Ottawa.
No Surrender
The Liberals didn't say if the new municipal powers will allow cities and towns to improve policy and restore justice for firearm users.
TheGunBlog.ca isn't aware of anyone who intends to surrender their liberty or their property.
National to Municipal
A municipal crackdown would add to the national mass criminalizations of rifle and shotgun owners since May 1.
Under the pretense of "public safety," the Liberals suddenly threatened hundreds of thousands of Canada's safest citizens with jail, instantly wiped out many target sports, and drove several gun stores and trainers out of business.
Conservatives Reject Liberal Plan
Prime Minister Justin Trudeau needs the support of the New Democratic Party to stay in office and proceed with his Throne Speech proposals, dominated by driving the country deeper into debt.
Promises Vs. Delivery
"Trudeau needs NDP support to win the confidence vote," Gary Mauser, a firearm-policy researcher and retired professor at Simon Fraser University in British Columbia, told TheGunBlog.ca. "He's making promises hoping to do that. Promises, if believed, are cheaper than actually delivering."
The Throne Speech reinforces the Liberals as the most-hostile political force against the millions of individuals and families who have firearms for protection, hunting, plinking, competing, collecting or any other beneficial purpose.
'Full Ban'
Trudeau outlined his goal of "handgun-free" municipalities a year ago in the 2019 election campaign.
He instructed Blair to study a "full ban on handguns and assault weapons" in 2018.
Bypass Provinces
The Liberals have said they will bypass provincial opposition from the likes of Alberta, Saskatchewan, Manitoba and Ontario, which support residents who hunt and shoot safely and responsibly.
'Very Strong Restrictions'
"We are committed to giving municipalities the ability to further restrict handguns and will strengthen measures to control the flow of illegal handguns into Canada," Bill Blair, the Liberal minister in charge of confiscation, said today on Twitter.
"We are going to impose very strong restrictions on the possession, the storage and the use of handguns everywhere in Canada," Blair told the Toronto Star in May.
One measure Blair favours is criminalizing home handgun owners and forcing them to keep their gear in government-approved remote storage.
300,000 Handgun Owners
Everyone is banned from buying, selling or having any gun unless they pass safety and proficiency tests to get a firearm Possession and Acquisition Licence (PAL) authorized by the federal police.
About 300,000 licensed Canadians own handguns registered with the police. They represent 14% of all permit holders, and about 1% of the country's adults.
Police Chiefs Oppose Bans
The Canadian Association of Chiefs of Police, a lobby group that often works against gun users, said last year it opposes mass handgun seizures targeting licensed owners.
The mayors of Toronto and Montreal, Canada's largest cities, are among the most-vocal activists for nationwide prohibitions and confiscations.
Vote Out Confiscators
The Liberals are also preparing a new "evergreen" firearm-classification system to "quickly" ban any gun, any time, as well as new restrictions on ammunition magazines and imports.
Everyone in Canada lives in a municipality. One way to keep your guns is to vote out confiscators at every level of government, and elect politicians who respect you.
Growing Resistance
The more the Liberals suppress liberty, the more opposition grows.
---
Want to support TheGunBlog.ca without getting our premium reports for members only? Donate.
---
Related
—
Update Sept. 24: Adds that Conservative Party opposes Throne Speech.