Airbnb Pledges $300,000 to Group Campaigning Against PAL Holders
TheGunBlog.ca — Airbnb Inc. just became one of Canada's top activists against hunters, farmers and sport shooters.
The U.S. lodging company pledged $300,000 to Canadian Doctors for Protection From Guns, which lobbies the government to ban guns from the country's 2.2 million adults with a federal firearm licence.
'A First Step'
"I view this partnership — it's a three-year partnership — really as a first step," Chris Lehane, San Francisco-based Airbnb's head of policy, said at a press conference in Toronto today. CP24 shared a video of the briefing.
Team Canada competitors, hunters, plinkers and other gun users canceled their Airbnb accounts. Examples here, here, here, here, here.
Reader Poll
(The poll below is closed. You can temporarily ease your browser settings if you don't see it.)
Doctors Against PAL Holders
Airbnb will be financing a year-old lobby group that promotes mass confiscations against some of Canada's most lawful, safe and responsible men and women.
It's backing activists who use their positions in hospitals and medical organizations to campaign against adults with a firearm Possession and Acquisition Licence (PAL) authorized by the federal police.
All guns are banned already for everyone else.
Anyone who buys, sells or has any firearm without police permission risks jail.
Account Deleted
"No more Airbnb for me, I just canceled my account," said Nicolas Johnson, the editor of TheGunBlog.ca. "I really hope they review their pledge as they learn more about their new high-risk partner."
The company didn't respond to a request for comment from TheGunBlog.ca after business hours in Toronto.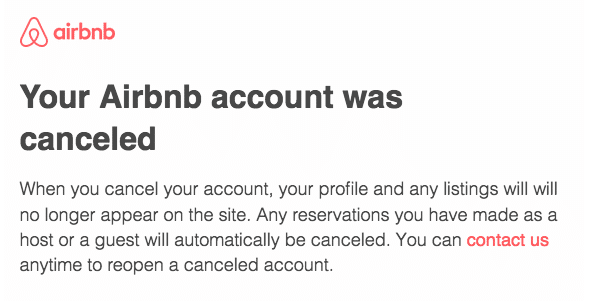 Guns & Lodging
Roughly 7% of adults have a PAL.
Millions more family and friends of all ages use firearms safely and responsibly under the control of permit holders.
Hunters, firearm collectors, recreational shooters, competitors and many of the 50,000 workers in the firearm industry need places to stay as they travel the country and the world to and from the bush, matches, training courses, gun shows, or for personal trips.
'No Civilian Access'
Najma Ahmed, the lobby group's founder, joined Airbnb's Lehane at today's media briefing.
"No civilian needs access to guns," Ahmed said on Twitter on Jan. 15, 2019, as she was setting up her organization.
Screenshots From Websites of Airbnb's New Partner

More Canadian Than Hockey
Hunting and shooting are at the heart of Canadian culture, heritage and tradition.
More adults have a firearm licence than play golf or hockey.
Millions more family and friends of all ages hunt and shoot safely and responsibly under the control of permit holders.
Provincial premiers and police leaders across Canada have rejected bans against honest citizens.
The federal firearm regulator said in a report published last month that there are no public-safety reasons to deny PAL holders access to guns.
A petition against Trudeau's plans to order mass gun confiscation just became the No. 1 e-petition in Canadian history.
'Troubling' Partnership
Lehane said Airbnb is paying the prohibitionist lobbyists to raise awareness of violent criminals who use firearms, after a triple homicide-by-bullet at an Airbnb rental last week.
"This partnership is troubling in many ways," Silence the Violence and Shun the Guns said in the first of seven Twitter replies to Lehane. "1) These are a group of doctors. Not anti-youth gang and gun violence specialists. If they claim they are, they should quit their professions and focus on this problem full time. Our founder did."
Airbnb wants to expand its partnership with the prohibitionists, Lehane said.
"We were already talking upstairs about other ideas and thoughts in terms of how we could extend and expand the type of work that we could be involved with together," Lehane said at the press conference.
---
Related