Coalition for Gun Control Starts Flashiest Campaign to Ban Guns
TheGunBlog.ca — The Canadian Coalition for Gun Control kicked off its flashiest and maybe its priciest campaign to eliminate firearm ownership today with new high-contrast websites, videos, posters, billboards and a sculpture in front of Toronto City Hall.
The association wants an "immediate ban on civilian ownership of handguns and military assault weapons," the Toronto-based group said in a press release distributed by Cision.
Ban, Disarm, Criminalize
Wendy Cukier, the president of the coalition of more than 200 unidentified people and organizations, acts to disarm women and criminalize the millions of Canadians who use guns lawfully for protection, hunting, recreation and competition.
She advocates for police to increase monitoring of hunters and sport shooters and to seize their lawful property.
All firearms are banned already for everyone under the threat of prison unless they get temporary permission from the federal police after passing safety courses, background checks and reference checks.
Cukier's newest gun-ban effort coincides with the government examining new prohibitions in one of the country's safest and most-popular sporting activities. More Canadian adults have a gun licence than play golf, hockey, soccer or who ski.
New Twitter Look
"The Canadian Coalition for Gun Control is pleased to announce 'Trigger Change,'" the group said on Twitter with a new design of white and red letters on a black background. "Your voice is ammunition. Sign the petition."
The editor of TheGunBlog.ca wasn't consulted on the design.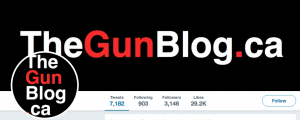 The national campaign began with a 4-metre-tall (13-foot) sculpture of an ammunition cartridge next to the "Toronto" sign in front of the municipal head office. It includes posters to share online and a video that will play in movie theatres.
Toronto Mayor John Tory was re-elected three weeks ago after urging the seizure of all handguns and all semi-automatic rifles and shotguns from all gun owners in Canada.
Cukier told her Twitter followers to support the municipal councillor who proposed the confiscations. The mayor, who asked sport shooters to leave Toronto, renewed the push for a country-wide ban last week.
Website Redesign
The coalition website was redesigned last week with a stark and dark theme.
It points to a petition to the House of Commons that lists anecdotes on murder, suicide, violence and crime as reasons to confiscate firearms from lawful citizens and potential victims rather than helping them stay safe.
It doesn't mention that hunting is at the heart of Canada's heritage and that millions of Canadians of all ages shoot safely and responsibly as a hobby or for sport.
About 600,000 Canadians have handgun licences and own almost a million pistols and revolvers. Statistically, a person without a permit is a much higher threat to public safety than someone with a licence.
Ban on Ownership
"We, the undersigned, Canadian citizens, call upon the Government of Canada to implement a ban on the civilian ownership of handguns and military assault weapons," said the petition initiated by Cukier and sponsored by Julie Dzerowicz, a member of parliament for Toronto from the Liberal Party.
The Conservative Party is running a petition to oppose gun bans.
Bans for Votes
New restrictions on gun owners present an "untapped opportunity" for the Liberal government to win votes in the next election, a public-relations firm that advises the government said in March.
The Liberals are planning to immediately prohibit as many as 15,000 rifles and create new penalties for hunters and sport shooters under Bill C-71.
Pricey Project
Professional writers, graphic designers and web developers could easily charge more than $10,000 before tax for Cukier's websites and posters alone, based on estimates by TheGunBlog.ca. The sculpture, displays and videos could multiply that by several times.
The coalition didn't provide financial information in its press release, and didn't respond to an e-mail from TheGunBlog.ca sent after business hours.
Read: We Paid $380,600 to Coalition for Gun Control in 2002: Hoplite
The United Way contributes, at least indirectly, to the Coalition for Gun Control by funding YWCA Toronto and other direct supporters. Jasmine Rezaee, who handles communication for the YWCA, was the first Twitter user to share one of the coalition's new posters with the coalition's username. The YWCA Toronto was the second.
Record-High Licences
The number of men and women with a firearm licence authorized by the federal police rose to a record 2.2 million in June after 21 quarterly increases. Millions more unlicensed family and friends use guns properly under their supervision.
Success for Cukier would kill thousands of jobs, end the athletic careers of Lynda Kiejko and other Olympic pistol shooters and hopefuls, and wipe out hundreds of millions of dollars in wealth from families across the country.
A week ago Kiejko won Team Canada's first spot to shoot air pistol in the 2020 Olympics. A handgun ban would prevent Canada from hosting the Olympics or Pan Am Games.
Read: Lynda Kiejko's Gold Wins Spot for Canada to Shoot in Olympics
.@TeamCanada 🇨🇦 teammate Lynda Kiejko (@Cdnshootingstar) wins women's 10m pistol event at 2018 Championship of the Americas! …with that she also wins Canada a 2019 Pan Am Games AND a 2020 Olympic Games quota spot! #TeamCanada #Tokyo2020 pic.twitter.com/pcGUCRtaGR

— Allan Harding (@allanharding) November 4, 2018
Transport Restrictions
To transport any handgun or AR-15 rifle requires an advanced gun licence and an Authorization To Transport from the police.
It also means keeping the gun unloaded, disabled with a trigger or cable lock, placed in a locked container, and following a route deemed "reasonably direct" between destinations that were pre-approved by the government and police. Violating any condition leads to prison.
Read: How to Buy a Handgun in Canada: Regulatory and Procedural Steps
Bataclan, Polytechnique
Today also coincides with the third anniversary of terrorist attacks at the Bataclan Theatre and other sites across Paris in what remains the deadliest shooting this millennium in an industrialized country. The targets were chosen in part because they were unarmed.
Read: Paris Attacks Show How Gun Laws Get People Killed
Cukier set up her coalition to disarm Canadians after the most-lethal shooting in Canada's history, an attack on Dec. 6, 1989, at Montreal's Ecole Polytechnique.
https://twitter.com/TheGunBlog/status/1062187544832557056
© 2018 TheGunBlog.ca