Trudeau May Decide to Ban Handguns Next Month, Globe Reports
TheGunBlog.ca — Canadian Prime Minister Justin Trudeau will decide in mid-August whether to ban handguns, possibly by including the measure in Bill C-71, the Globe and Mail reported late yesterday, citing an unnamed senior official.
The government told TheGunBlog.ca it's "open to all possible options."
A proposal to prohibit pistols and revolvers is under "serious consideration," said the online report by the Globe's Ottawa bureau chief.
Minister of Public Safety Ralph Goodale and senior civil servants are reviewing the idea of a ban, the paper reported. The Liberal government doesn't expect much opposition if such a law is proposed, the newspaper said, citing the official.
"When it comes to keeping communities safe from gun violence, we are open to all possible options," Hilary Peirce, a spokeswoman for Minister of Public Safety Ralph Goodale, told TheGunBlog.ca today by e-mail. "The truth is there's a growing problem with gun crime, especially in Canada's largest cities. This is a dangerous trend, and we must stop it."
Read: Government Says 'Open to All Possible Options' on 'Gun Violence'
Trudeau's Liberal Party won a majority of seats in parliament after campaigning to further impede federally licensed gun owners.
Since the 2015 election the government has proposed Bill C-71 to ban more guns, said it will restrict gun imports and phase out lead in ammunition. A major public-relations company said in March that Trudeau could strengthen his majority in the next election by imposing more limits on gun owners.
The Firearms Act, passed by the Liberals in 1995, already allows cabinet to prohibit any and every firearm at any time, but doing so is complicated.
Governments often use the media to float policy ideas and assess the response from voters. They may abandon ideas if enough people express their opposition often enough and loudly enough to threaten defeat in future elections.
"If we don't speak up then we can't be heard," Allan Harding, the 2018 Canadian National Pistol Champion, said on Twitter to Toronto Mayor John Tory and others on July 25. City Council passed a motion the night before asking the federal government to ban the civilian ownership of handguns and semi-automatic firearms in Canada.
Action Steps
Click here to find your member of parliament.
Join or renew your membership with your favourite shooters' rights group.
See bottom of this page for Related Information
Subscribe and Donate to TheGunBlog.ca to stay in the loop.
Criminalizing the sale and ownership of handguns would kill jobs, destroy businesses, dispossess more than 550,000 people and end the sporting careers of athletes like Harding and Lynda Kiejko, an Olympic pistol shooter.
"Winning gold(s) on home soil at Pan Ams Toronto 2015 will always be a highlight of my athletic career," Kiejko tweeted July 25.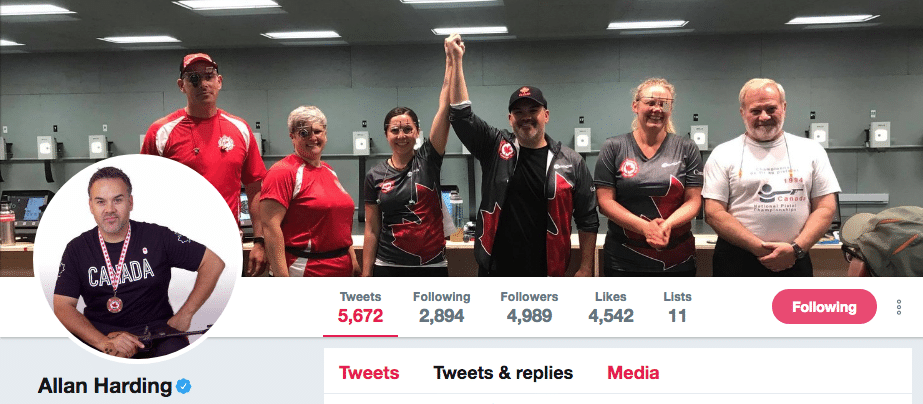 The athletes were shooting north of Toronto this month with more than two dozen other competitors as they try to qualify for matches including the 2020 Olympics.
A handgun ban would affect men and women who have federal firearm licences authorizing them to buy and own pistols and revolvers. If potential customers hold off making purchases for concern of future prohibitions, it could force gunshops to lay off workers or close their doors.
"The CSSA will oppose any firearms ban with every resource at our disposal," Tony Bernardo, the executive director of the Canadian Shooting Sports Association, told TheGunBlog.ca. "Our members have not committed any crime or transgression against Canadians and we refuse to shoulder the blame for the deeds of madmen. Any attack upon our community by the Trudeau Liberals will be aggressively responded to."
Read: Voices: Sport Shooters, Groups Respond to Possible Handgun Ban
The Globe didn't say how a law would be enforced, such as whether police would go door-to-door to seize guns, order owners to turn them in, or allow them to keep the guns until they die before police come to confiscate the firearms.
"Even considering such a ban shows this government's contempt for the rights and property of Canadians," National Firearms Association President Sheldon Clare said in a press release on the group's website.
The paper also didn't specify if a possible ban would apply to murderers, robbers, rapists and gangs, or only to people with firearm Possession and Acquisition Licences.
Trudeau is also considering whether to prorogue parliament before Aug. 22, when members of parliament from the governing Liberal Party meet in Nanaimo, the Globe reported. If he chooses to do so, then all bills under review would be suspended, the paper said. There is a way to pick them up, the Globe said.
If Trudeau decides to prorogue, Bill C-71 would be updated to include the handgun ban, the paper said.
Goodale said July 24 he will consider new handgun classifications, The Canadian Press reported at the time, suggesting the government will explore new restrictions beyond Bill C-71.
"Emotions run high in any high-stress situation and lawmakers are under pressure to 'do something,'" said Tracey Wilson, the vice president of public relations for the Canadian Coalition for Firearm Rights. "That something doesn't have to be targeted at gun owners."
Related Information
—
Correction 06:40 Toronto time: Corrected first sentence and article to say ban could be included in Bill C-71.
---
The most important part of gun rights isn't "gun," it's "rights."
---