Glock Says New 19X Pistol Is Arriving in Canada Next Week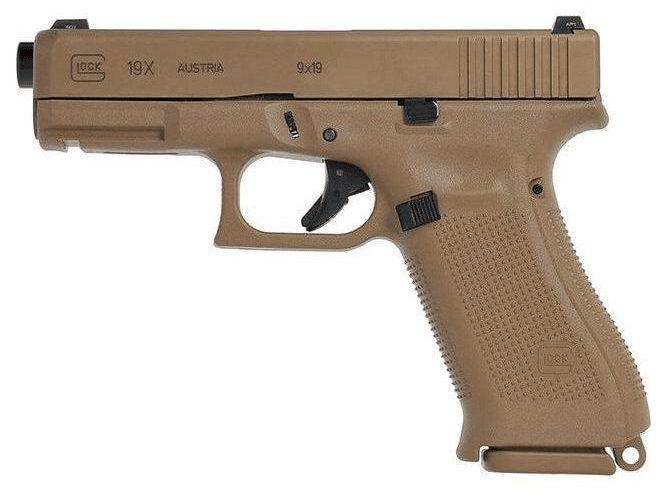 TheGunBlog.ca — Glock GmbH, the maker of the world's bestselling handgun, said the first thousand Canadian versions of its new model 19X pistol will start arriving in Canada next week, en route to sport shooters across the country.
The arrival of the so-called Gen 5 crossover, with the grip of the model 17 and the slide of the smaller model 19, means Glock will probably wait to import a Canadian model 19 Gen 5, said James Cassells, Glock's director of sales for Canada.
Customer orders for the 19X Canadian have exceeded the expected supply for the $805 firearm, and many stores are showing they're sold out.
'All Gone'
"The 19X is shipping to Canada next week," Cassells told TheGunBlog.ca today in a telephone interview. "They'll be at distributors within 7 to 10 days. We're shipping the first thousand and they're pretty well all gone."
The 19X is the second pistol the Austrian company modified for Canada after shooters snapped up the Canadian 19 Gen 4 this year. Glock almost never tailors a product for a country or client, but Canada is one of the company's largest recurring markets each year.
Shooting is one of the country's most-popular sporting activities. More than 2 million men and women have federal firearm licences and millions more without licences shoot while supervised. Individuals, police and government agencies buy about a thousand rifles, shotguns and handguns on average every day.
Barrel, Magazines, Licence
Glock adapted the standard 19X to Canadian law by extending its barrel to 106 mm from the standard 102 mm and limiting its cartridge magazines to 10 rounds instead of 17. The Canadian model 19 Gen 4 has a longer barrel and reduced mags, and also has a laser-engraved maple leaf on the slide.
Buying any firearm or ammunition legally in Canada requires a licence authorized by the federal police. Even with a permit, having a standard model 19 or 19X pistol or standard-capacity magazine can lead to 10 years in prison.
The government is working to expand restrictions on lawful hunters and shooters with Bill C-71 and by phasing out lead in ammunition. Despite the hurdles, sport shooting with semi-automatic rifles and handguns like the 19X is "exploding."
Distributors to Retailers
The 19X will travel from Glock's U.S. factory in Georgia to the company's three distribution partners in Canada, who will then deliver the firearms to stores.
Red Deer Shooting Centre Inc. of Red Deer, Alberta, was the first retailer to advertise the new pistol, a civilian version of a product designed for the U.S. army. The store said April 25 on Twitter that the gun was coming.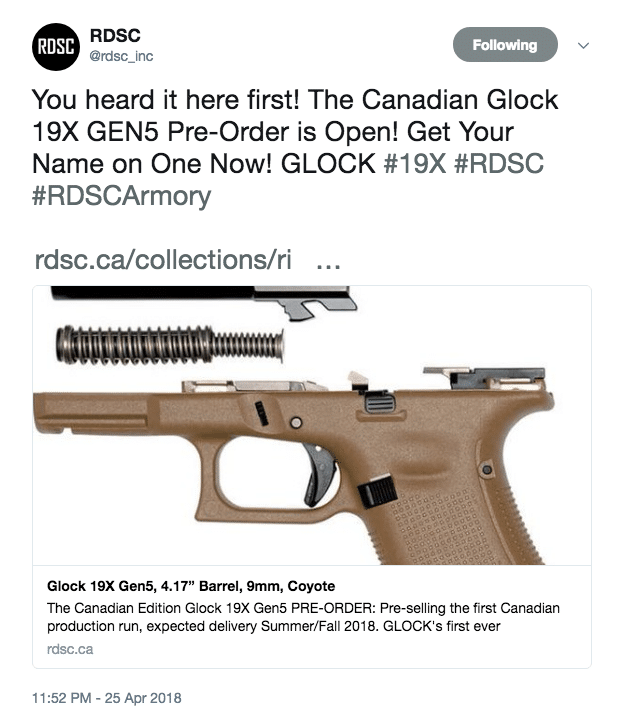 Glock said in a press release yesterday that it has sold more than 100,000 of the new pistols in the U.S. since announcing the gun in January.
"Orders for the 19X are strong," said Derek Bostock, the owner of Red Deer Shooting Centre, which specializes in parts and customizations for semi-automatic rifles, as well as handguns and precision rifles. "Glock is always really strong in Canada, and anytime you bring in a new model, people jump on it really quick."
Bostock said U.S. collectors have called him to buy the Canadian 19X and the 19 Gen 4, but his contract prevents him from selling abroad.
They "are exclusive to the Canadian market," said Bostock, who also co-founded Gun Owners of Canada Inc., a discussion forum.
'Sold Out'
The websites of many stores have shown "sold out" or "out of stock" for both the 19X and the 19 Gen 4 for weeks.
Glock initially planned to make 3,000 model 19 Gen 4 pistols for Canada. It also sells several larger models with low-capacity mags and standard barrels that comply with local laws.
"The Gen 4 is our first gun for Canada, and it's still selling well," Cassells said. "It will probably be the only one that has a maple leaf."
SHOT Show Exclusive
Demand for the 19X will help Glock decide whether to bring in a Canadian model 19 in Gen 5. Cassells first told TheGunBlog.ca he was considering importing the 19X at SHOT Show in January.
"We've got the 19 Gen 4, we've got the X, and if we brought the 19 Gen 5, that's a lot for the market to bear," Cassells said. "I'm not sure in Canada whether we'll do a 19 Gen 5 right away, because the 19X is a Gen 5."
Police Boost
Glock is also shipping handguns to police, and Cassells estimates the company equips about 80 percent of departments in Canada.
The manufacturer is supplying the model 17M as the new handgun of the Ontario Provincial Police. Agencies in Calgary, Alberta, and Barrie and Guelph in Ontario are among those switching to 9 mm Glocks from .40 calibre models, he said.
"This will be a great year for Glock," Cassells said. "A large part of it is law enforcement."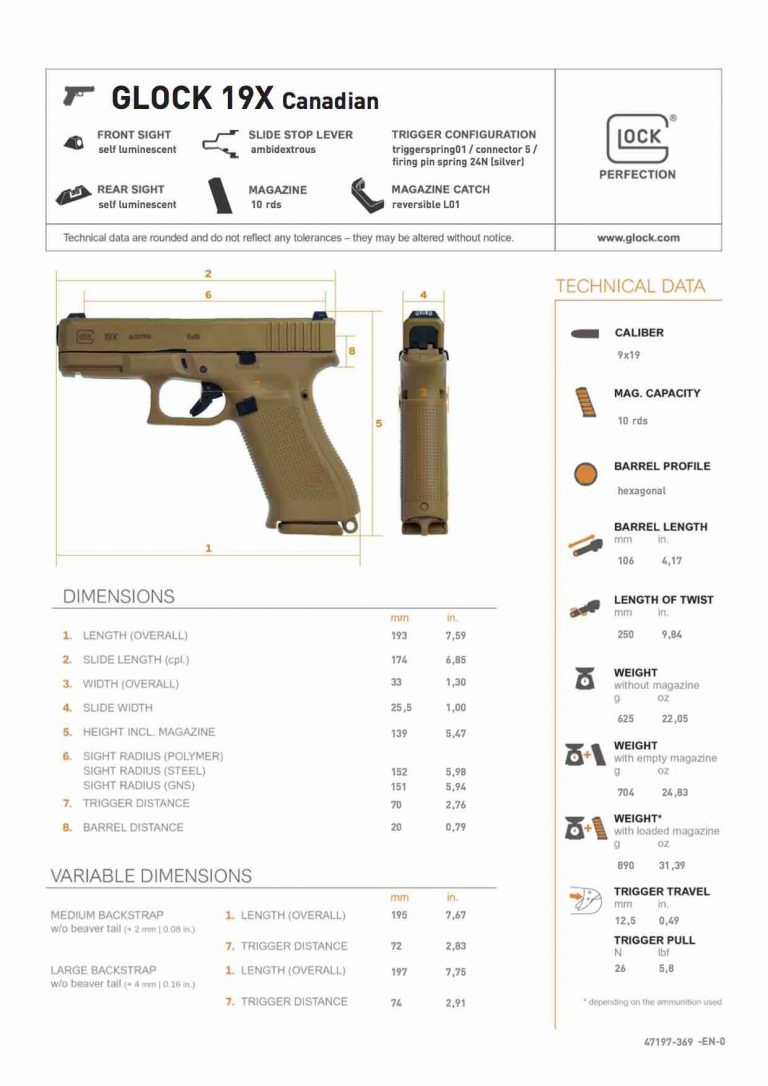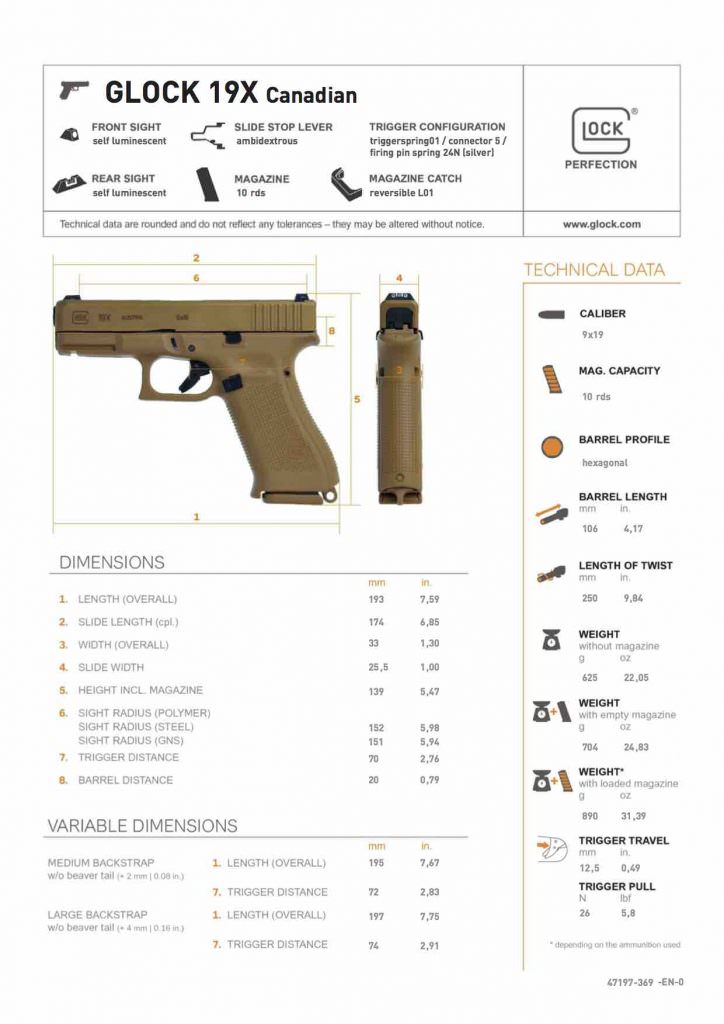 ---
Related