Glock Says G19 Canadian First Batch Is Sold, Considers 19X Next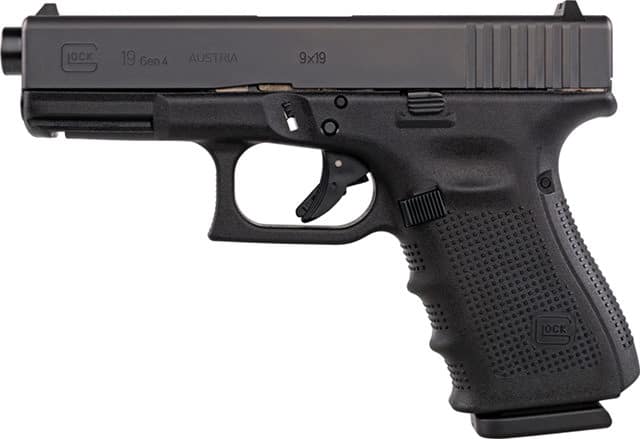 TheGunBlog.ca — Glock GmbH said its first batch of model 19 pistols made for Canada was bought up by distributors and is heading to stores, in what a retailer described as one of the hottest new handguns in more than a decade.
The Austrian company said it plans to make more and is leaning toward a Canadian version of the new model 19X pistol next.
The three companies that distribute Glocks from the factory to stores across Canada purchased all of the first run of 3,000 customized Glock 19 Gen 4 guns, James Cassells, director of Canadian sales for Glock, said today. Individuals can order them from stores.
'All Snapped Up'
Wanstalls Online Ltd. in Vancouver said it hasn't yet received the guns it ordered, but that people paid deposits before seeing the firearms to make sure they get one.
"They're all snapped up," said Craig Jones, the store's co-owner. "Demand has been really strong."
The Glock 19 chambered in 9 mm is the world's most-popular pistol and used by everyone from private individuals to police and the U.S. Navy SEALs.
But most Canadians have never seen one because it's banned except for police.
The 102-mm barrel is 3 mm too short to be legal, and the 15-round magazine holds 5 cartridges too many for the government. So Glock made a version with a 106-mm barrel and a 10-round mag, and laser engraved a maple leaf on the slide.
Maple Leaf
"It's one of the hottest introductions since we began selling handguns," said Domenic Saverino, the owner of Toronto-based Al Flaherty's Outdoor Store, which started selling pistols and revolvers in the early 2000s.
Saverino, who declined to say how many he ordered, said demand for the pistol has been higher than the larger Glock 17 Gen 5.
"The maple leaf is a big appeal," Saverino said. "The fact that the Navy SEALs picked up a similar gun gives it a lot of credibility."
---
"It's one of the hottest introductions since we began selling handguns." — Al Flaherty's
---
Some Glock managers questioned a made-for-Canada firearm at a company that almost never tailors products to a particular country, let alone engrave the national emblem.
Cassells pitched the product in mid-2016 after seeing shooters pay more than $1,300 to specially import a Canada-legal G19 made with non-Glock barrels from non-Glock partners.
Cassells, who already cut prices a year ago, bet he could boost sales and attract more buyers with a cheaper gun straight from the factory. The Glock 19 sells for $710.
'Lean Towards 19X'
"This would be the most successful pistol we've launched in Canada since we started commercially," Cassells said by telephone today. "We've shipped about 1,500 so far. We're still shipping."
The Glock 19X has the larger frame of the model 17 and the same-sized slide and barrel as the standard 19, plus a similar trigger mechanism, barrel type and finish to the G19 Gen 5. Cassells is considering a Canadian 19X with a longer threaded barrel "because it was designed for the military."
"The 19X is probably more popular than the Gen 5 in the U.S. as far as sales go," Cassells said. "I'd probably lean towards doing the 19X before the Gen 5, just to catch that wave."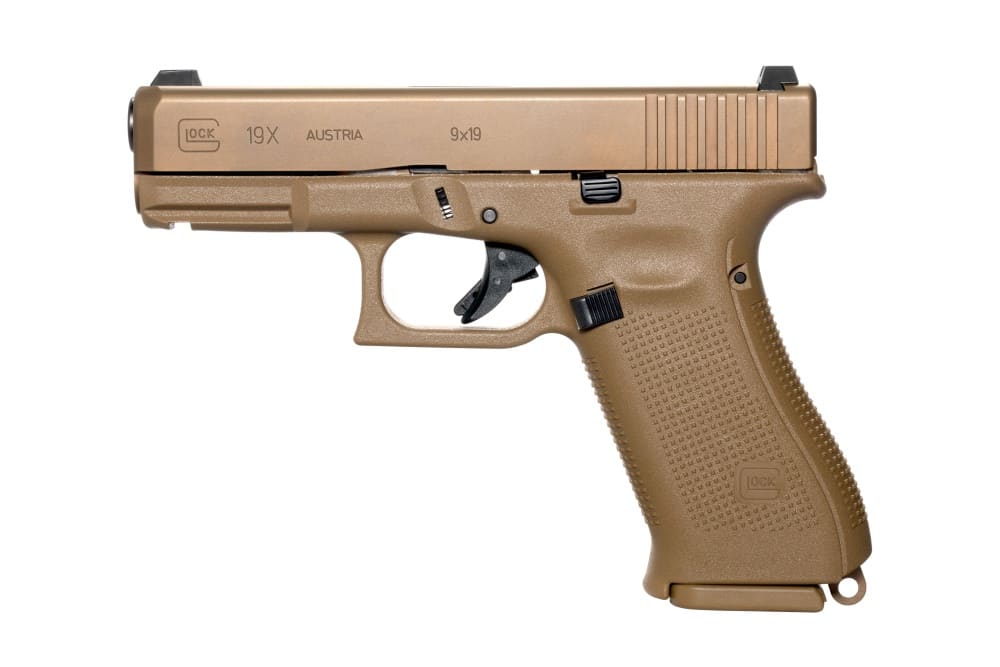 Cassells said the maple leaf was an important symbol for him to show that Glock appreciates and listens to its customers. Canada is one of Glock's top recurring markets year-over-year outside the U.S. with pistols like the model 17, 21, 22 and 34. The versions sold to Canadian recreational shooters have their magazine capacity reduced to 10 rounds.
The company sells 4,000 to 5,000 firearms each year to Canadian sport shooters on average. Most peace officers carry Glocks, including a standard model 19 for police in Montreal.
"Whatever we do, we want to make it unique for Canada," said Cassells.
TheGunBlog.ca was the first to report plans for the Canadian Glock 19 last September. The post was one of the most-viewed articles of 2017. The gun's official debut was in January at SHOT Show.
The Canadian unit of U.S-based AmChar Wholesale Inc. and Vancouver-based European Arms Distributor (1982) Ltd. both ship Glocks to retail stores. Ottawa-based Rampart International Corp. distributes them to police and government buyers.
Jason Meilleur, the e-commerce manager at Calgary Shooting Centre, said he's seen lots of orders for the G19 Gen 4 and expects the pistols to arrive next week.
"It's been very solid in our store," said Meilleur. "There's a lot of excitement over a Canadian-edition Glock."
Correction, March 17: Corrects Glock 19 magazine capacity.
---
The most important part of gun rights isn't "gun," it's "rights."
---