Glock 19 Canadian Version Coming With Special Barrel, Maple Leaf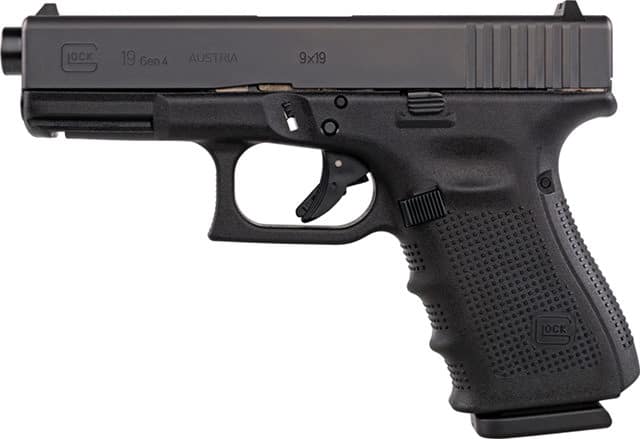 TheGunBlog.ca — Glock GmbH is designing a special version of its model 19 compact pistol for Canada, with a unique barrel and a laser-engraved maple leaf on the slide.
It will be a Gen 4 edition with a barrel of 106 mm, in between the standard 102 mm and the 115 mm threaded barrel that some Canadian shooters have bought, James Cassells, Glock's sales manager for Canada, said today by telephone from Austria. It will be offered at the regular price of a Glock 17 Gen 4, currently about $780.
Crime at 105
A barrel length of 106 mm is critical because Canadian firearm laws make it a crime for almost everyone to have a barrel of 105 mm or less, including most of the 2 million men and women with police-issued gun licences.
Some of the world's most popular and iconic firearms are off limits as a result, and being caught with a copy of James Bond's Walther PPK, a standard Glock 19 or a Smith & Wesson Shield can land you in jail.
'Late 2017'?
"This is a big deal for Glock in Canada," said Cassells, who has spearheaded the project for more than a year. "This is a gun that's going to be available only in Canada. I'm hoping we'll have it in late 2017."
The model 19 is a smaller version of the original Glock 17 handgun in 9 mm and one of the Austrian-based company's most-popular models worldwide. It's a favourite for personal defence among private civilians and police, and is used by the U.S. Navy SEALs.
'Truly Amazing'
Although Glock develops special editions or modifications for some clients, it's rare for the company to make a country-specific model and laser-engrave the national emblem.
"For Jim to pull this off is truly amazing," Edward Morgis, director of AmChar Canada Inc., said in an interview. "We're trying to get as many as we can."
Toronto-based AmChar, whose U.S. parent handles 10 percent of Glock's sales globally, is ramping up operations as one of the two main distributors that get new Glocks from the factory to Canadian stores. Vancouver-based European Arms Distributor (1982) Ltd. is the second. Ottawa-based Rampart International Corp. distributes Glocks to law-enforcement.
Made in U.S.A.
The Canadian G19 will come with three 10-round magazines, Cassells said. Mags holding the standard 15 cartridges are illegal for most Canadians.
The firearm will be made at Glock's factory in Smyrna, Georgia, Cassells said. All Glocks are produced to identical specifications and standards in both Austria and the U.S., he said.
Glock began selling Gen 5 editions of its model 17 and 19 pistols last month, but the Canadian model 19 will come only as a Gen 4, Cassells said. It will be a regular offering as opposed to a limited edition, and it won't be possible to buy only the barrel, he said.
'Depth of Interest'
Cassells pushed for the Canadian model 19 after seeing thousands of buyers pay more than $1,200 to unapproved Glock distributors for versions with the threaded barrel made by Lone Wolf Distributors Inc.
"To me that showed the depth of the interest in the G19," he said. "Glock has a tremendous amount of respect for our Canadian customers."
Related Information
---
The most important part of gun rights isn't "gun," it's "rights."
---
© 2017 TheGunBlog.ca