Federal Court Upholds May 2020 Liberal Attacks Against Gun Users

TheGunBlog.ca — Canada's Federal Court today upheld the governing Liberal Party's mass criminalizations and gun confiscations ordered on 01 May 2020, a blow to citizens advocating for ethics, justice and good governance.
Justice Catherine Kane dismissed all six cases brought by firearm users. They had applied to the court to nullify cabinet's arbitrary "order in council" (OiC) that instantly criminalized honest citizens and began the seizure and destruction of our property.
Judge: 'The Applications Are Dismissed'
Kane concludes her 266-page opinion:
This court's judgment is that: (1) The Applications are dismissed. (2)The Attorney General of Canada did not seek costs and no costs are ordered.

—Catherine Kane, Federal Court, 30 October 2023
Why It Matters
Gun Owners Plan Appeal
Christine Generoux, an applicant who represented herself in court, told TheGunBlog.ca she will appeal.
"Nothing is over. We'll take this all the way to the Supreme Court if need be," the Canadian Coalition for Firearm Rights said on X (Twitter).
Context
Kane: OIC Is 'Not Ultra Vires'
Kane rejected a pillar of their challenge that the crackdown was ultra vires, a Latin legal term meaning it was beyond the power of law, specifically Section 117.15(2) of the Criminal Code.
An "order in council" is an executive decree by cabinet. The formal name for cabinet is the "Governor in Council."
The Order in Council and Regulations are not ultra vires. The Governor in Council did not exceed the statutory grant of authority delegated to it by Parliament pursuant to subsection 117.15(2) of the Criminal Code. The Governor in Council formed the opinion that the prescribed firearms are not reasonable for use in hunting and sport and the opinion and decision to prescribe the firearms as prohibited are reasonable.

—Catherine Kane, Federal Court, 30 October 2023
LeBlanc Welcomes Opinion
"We welcome today's decision," Dominic LeBlanc, the Liberal minister overseeing the crackdown, said on his personal account on X (Twitter).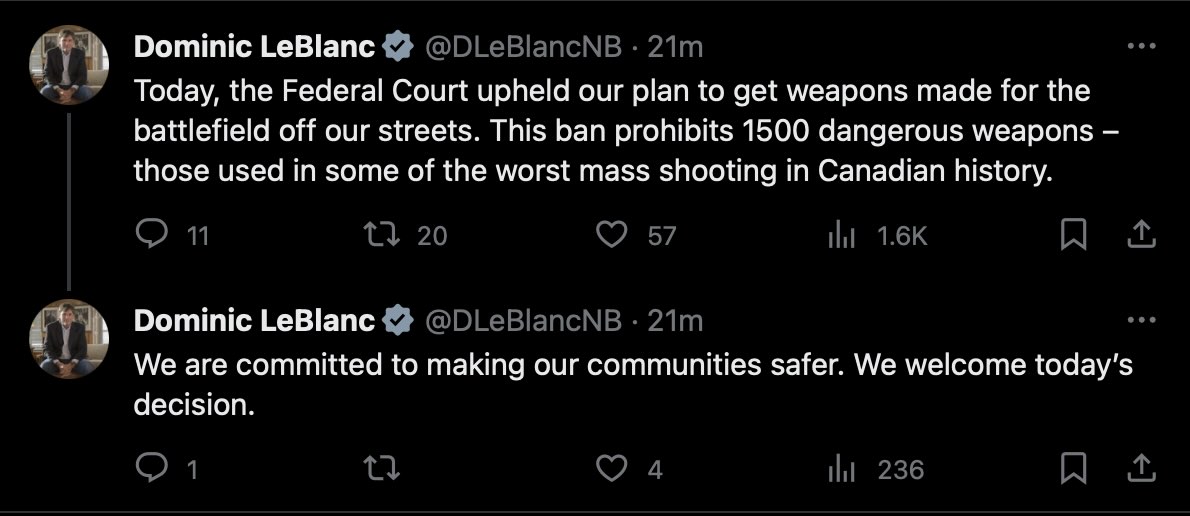 Expropriation Will Be Slow
Although Kane's judgment keeps the forced expropriations alive, they will take years or decades to complete, if they occur at all.
Kane's Opinion (PDF)
Source: Federal Court, 30 October 2023
Federal Court Summary Table
| Court Number | Date Filed (2020) | Lead Party | Lead Rep/Lawyer |
| --- | --- | --- | --- |
| T-569-20 | May 21 | Cassandra Parker | Solomon Friedman |
| T-577-20 | May 26 | CCFR | Michael Loberg |
| T-581-20 | May 27 | John Hipwell | Edward Burlew |
| T-677-20 | Jun 29 | Michael Doherty | Arkadi Bouchelev |
| T-735-20 | Jul 10 | Christine Generoux | Christine Generoux |
| T-905-20 | Aug 11 | Jennifer Eichenberg | Eugene Meehan |
---
Related