Canadians Bought 30,000 AR-15 Target Rifles in Lead-Up to Trudeau's May 2020 Attacks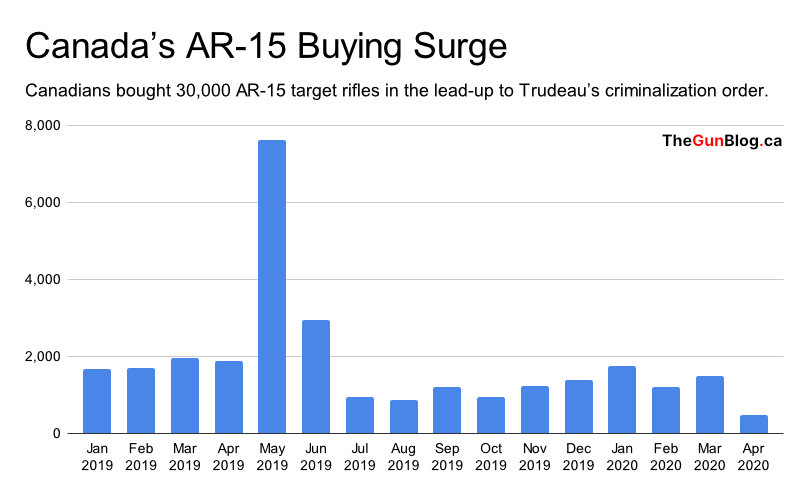 TheGunBlog.ca — Canadians bought roughly 30,000 AR-15 target rifles in the lead-up to Prime Minister Justin Trudeau's political and regulatory attacks of 01 May 2020, according to documents shared with TheGunBlog.ca.
This is the first data on the shopping spree, and shows the magnitude of the buying surge to counter the crackdown.
Details
Adults with a government-issued firearm Possession and Acquisition Licence (PAL) bought 29,176 AR-15 target rifles from government-licensed sellers from January 2019 to 19 April 2020.
"This data refers to records of new registration certificates issued to transferees (recipients) of firearms."
Source: Department of Public Safety, undated internal report based on data from RCMP Canadian Firearms Program (CFP), obtained via ATIP by Joey Gilliland in November 2021.
Why It Matters
This marks the first publication of data on the buying surge, including the May 2019 spike. The numbers bolster anecdotal reports from buyers, sellers, and regulators.
It's a victory anytime anyone shares any data on Canada's millions of safe and responsible gun users, given efforts by hostile politicians and their allies to hide or distort statistics.
The data show the strength of the shopping spree to counter Trudeau's crackdown.

Gun owners bet they'd be "grandfathered" and allowed to keep their new guns after any prohibitions.
They aimed to thwart confiscations by making them too costly. (More people with more guns means more confiscation victims to be compensated.)
Department of Public Safety ATIP Response
Following is Page 1 of 68 pages of internal memos, reports, e-mails and other documents obtained by Gilliland via Access To Information and Privacy (ATIP) laws, and that he shared with TheGunBlog.ca.
Reports on AR-15 Buying Surge in Spring 2019
Clement Sparks May 2019 Buying Spike
Conservative MP Tony Clement's warning to the House of Commons on 09 May 2019 triggered an AR-15 buying spike.
Hundreds of thousands of people learned from Clement that Trudeau was preparing to attack, just as Bill C-71 was being signed into law to further suppress licensed gun owners.
It's notable that purchases soared in the days and weeks after Clement's warning, but not after Trudeau and Minister Bill Blair detailed their crackdown starting in June 2019.
AR-15 Bestseller
The semi-automatic AR-15 is one of the world's most-popular firearms.
It's a bestseller for its high accuracy and reliability, medium power, low weight, and soft recoil.
It's a favourite of everyone from recreational shooters, competitors, collectors and hunters to police and the military.
Trudeau Crackdown
Trudeau worked in secret with the Royal Canadian Mounted Police to turn every government-licensed AR-15 buyer, seller, and owner into a criminal starting on 01 May 2020, and is now working to confiscate the goods. (He will fail.)
Every AR-15 owner before then had been approved by the RCMP Canadian Firearms Program and provincial Chief Firearms Officers.
Trudeau and his allies are specifically targeting the country's 2.2 million adults with a government-issued gun licence.
Assumptions and Limitations
The AR-15 data are a useful indicator of the direction and magnitude of buying, rather than a precise measure.
It's hard to get data on AR-15 ownership, and different reports seem to generate contradictory results because they don't include the same criteria.
The RCMP Firearms Reference Table (FRT), their private gun database, wasn't designed to provide the info, and getting it requires custom searches.
RCMP Response to TheGunBlog.ca
TheGunBlog.ca asked the RCMP for AR-15 data in an effort to verify the information in the ATIP.
Caroline Duval, a spokesperson for the Ottawa-based controller of firearm ownership, e-mailed us the following response:
The information you requested is not available at this time. The Canadian Firearms Program receives numerous requests for statistics and are not able to accommodate one-off requests for new data due to other operational priorities at this time. What we can offer is the most recent statistics that are currently available to us, and refer you to the annual Commissioner of Firearms Report. The most recent version of this report is expected to be tabled soon. Here are the latest statistics that we have available on AR15s.

The following table outlines the number of AR-15 –type firearms newly* registered to businesses and individuals annually, since January 1, 2017:

Year** Count
January 1, 2017-December 31, 2017 13,088
January 1, 2018-December 31, 2018 12,375
January 1, 2019-August 5, 2019 6,521

*These firearms have never been registered previously in the Canadian Firearms Information System. These numbers do not include transfers or firearms in existing inventories.

**The year is based on the date that the registration became valid.

All restricted firearms must be registered, whether they are owned by an individual, or a business.

Note: These stats were taken as of August 5, 2019.

Source: RCMP, Response to TheGunBlog.ca, 08 December 2021
---
Related