Bill Blair Says Mass Gun Confiscations Won't Be Run By Police; Ministry Q&A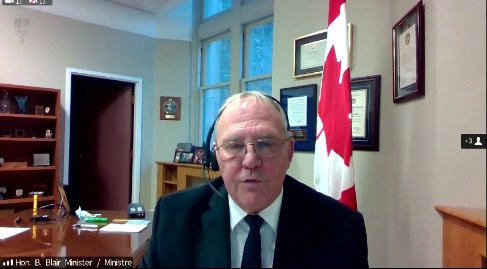 TheGunBlog.ca — Bill Blair, Canada's minister for the mass gun confiscations against hunters, farmers and sport shooters, said this week it's too expensive and inefficient for police to run the seizures. He didn't say who will.
The Liberal Party member of parliament was responding to Conservative MP Glen Motz on Nov. 25 at the House of Commons Standing Committee on Public Safety and National Security (SECU).
Multi-Billion-Dollar Boondoggle?
Blair was at SECU by video to discuss the budget of the Ministry of Public Safety that he oversees in Ottawa.
He refused repeatedly to answer Motz about the price of his latest crackdown against Canada's 2.2 million federally licensed firearm users and 4,500 businesses.
The Liberal attacks — planned in secret with the Royal Canadian Mounted Police — have already wasted millions of taxpayer dollars and could drain billions more.
The growing grassroots, political and police rejection of Prime Minister Justin Trudeau's plans mean he will almost certainly fail.
Motz Vs. Blair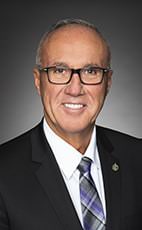 Here is a snippet of Motz's back-and-forth with Blair, starting at 16:06:35 in the House of Commons video replay.
Motz: OK, you're not answering my question. Sorry, Minister.

I'm talking about costs, and you're not answering my question on costs, so I'm going to move on to my next question.

If you're going to put a budget together, obviously you're going to have some idea of what these things are.

Can you provide us an estimate of what the administration costs for the RCMP and your Public Safety Department will be to run this program? Any idea whatsoever?

Blair: Yeah, thank you very much, Glen. Actually, some really good ideas on that.

It isn't my intention to have law enforcement administer that program. That would be a very expensive and — in my opinion — a very inefficient way to do it.

Glen Motz and Bill Blair, SECU, 25 November 2020
Canadian Taxpayers Federation
The Canadian Taxpayers Federation, which is working to fight the confiscations in Federal Court, urged its supporters today to ask the Ministry of Public Safety to stop its unjust and wasteful attacks against honest Canadians.
Costly Crackdown
The Liberals will charge taxpayers for all expenses, including:
Paying government and RCMP staff who are already working to force the surrender of rifles and shotguns they suddenly prohibited on May 1.
Paying lawyers to defend against more than 130 challenges in Federal Court and provincial courts across the country.
Paying to collect, transport, store and destroy the hunting and sporting gear.
Paying off owners who surrender their equipment.
Paying to prosecute and possibly jail those who don't, and paying to raid their homes and seize their gear anyway.
Paying a private contractor to design the payoff system.

The National Post said Nov. 24 the Liberals hired a consultant for $78 million.

Possible: Paying a private contractor to administer and execute the confiscations.
Motz on Twitter
"$2 billion? $5 billion? How much will the firearm confiscation plan cost?" Motz said on Twitter on Nov. 26. "@BillBlair won't say, probably cause he has no idea!"
Alberta-based Motz and Ontario-based Blair both spent their careers as policemen before entering politics.
Broken Trust
Beyond the staggering dollar amounts as the Liberals drive Canadians deeper into debt is the cost of destroyed trust in a federal government and federal police who attack honest citizens, and the resulting risks to social and political stability.
Hill+Knowlton Strategies advised the Liberals in 2018 to further restrict gun owners as a tactic to win votes. The company's clients include the government.
---
Ministry Q&A
Separately, The Globe and Mail newspaper quoted a Blair spokeswoman in a Nov. 23 report about the RCMP labour union opposing the Liberal-RCMP confiscations.
A spokeswoman for Public Safety Minister Bill Blair said the rifle ban won't deplete RCMP resources. "The police have not been tasked with anything related to the prohibition and the proposed buy back will not involve law enforcement," MaryLiz Power said in an e-mailed statement.

The Globe and Mail, 23 November 2020
Request for Details
TheGunBlog.ca asked Power for more information on Nov. 24, before Blair's comments to SECU.
Zarah Malik, a spokeswoman for the Ministry of Public Safety, responded to our questions by e-mail yesterday.
Ministry Responds to TheGunBlog.ca
Q. Does that mean a private company is doing the administration, planning, booking, record keeping, collecting, storing, transporting, destroying … the confiscated guns?
A: We are currently in the process of refining requirements and developing options for program design and follow-on implementation. As such, we are not in a position to make a determination and a follow-on announcement on a buyback program's envisaged structure.
---
Q. For people who are already surrendering their guns, who do they call if not the police?
A: Shortly after the May 1, 2020, prohibition, the Canadian Firearms Program issued a bulletin with guidance to firearms owners on the options available to them while a buyback program is being developed :
Wait for further instructions to participate in the buy-back program
Have your firearm deactivated by an approved firearms business and advise the Registrar of Firearms once completed
Legally export your firearm which case you can engage businesses with proper firearms license privilege. Once exported you are requested to advise the Registrar of Firearms.
While surrendering a firearm to a local police of jurisdiction is still a possibility, it is highly recommended that concerned firearms owners follow one of the above-mentioned 3 options, keeping in mind that newly prohibited firearms or devices relinquished before the announcement of a buyback program would not be eligible for compensation. Furthermore, it is important to note that an individual should never deliver a firearm to a police station without first making arrangements with a police officer for a safe and scheduled delivery or pick up. Finally, no one at this time should attempt to surrender their prohibited firearms while physical distancing requirements are in effect during the COVID-19 pandemic.
—
Source: Ministry of Public Safety, Response to TheGunBlog.ca, 26 November 2020
---
Related