Canadian Taxpayers Federation to Join Lawsuit Against Gun Bans
TheGunBlog.ca — The Canadian Taxpayers Federation is joining the fight to stop the governing Liberal Party's mass gun confiscations targeting licensed firearm owners and businesses.
Support Lawsuit
The citizen-advocacy group said today it needs to raise $21,000 by June 30 to support the first court challenge against Prime Minister Justin Trudeau's May 1 confiscation order.
The owner of TheGunBlog.ca donated. (Donate here.)
The lawsuit was filed last month by Cassandra Parker, a gun-store owner, through her lawyer, Solomon Friedman of Friedman Mansour.
'Jump Into the Court Fight'
"We want to jump into the court fight as interveners to support her," the Regina, Saskatchewan-based taxpayer association said today in an e-mail to subscribers.
"The Trudeau government's gun ban won't make Canadians safer, but it WILL waste hundreds of millions of taxpayer dollars," the federation said.
235,000 Supporters
The advocacy group would bring the clout of its 235,000 supporters to oppose a confiscation decree that violates fundamental principles of ethics, justice, governance, and financial responsibility.
The federation is asking the Federal Court for permission to join the Parker lawsuit.
CSSA, NFA Backing
The fundraising is for James Plotkin, a lawyer for the association.
The National Firearms Association and the Canadian Shooting Sports Association support or recommend the Parker lawsuit.
Wasteful Spending
In addition to the ban order, Trudeau promised to pass a new law to pay off confiscation victims who surrender their suddenly prohibited rifles and shotguns by his two-year deadline.
He refers to the possible payoff as "buyback."
The program may cost billions of dollars to plan and administer, to seize and destroy the firearms, and to prosecute or jail potentially tens of thousands of people who won't participate.
The federal police has already spent about $3.2 million to mail confiscation warnings to Canada's 2.2 million licensed firearm users, according to an estimate shared on Reddit.
Screenshot of Canadian Taxpayers Federation Web Page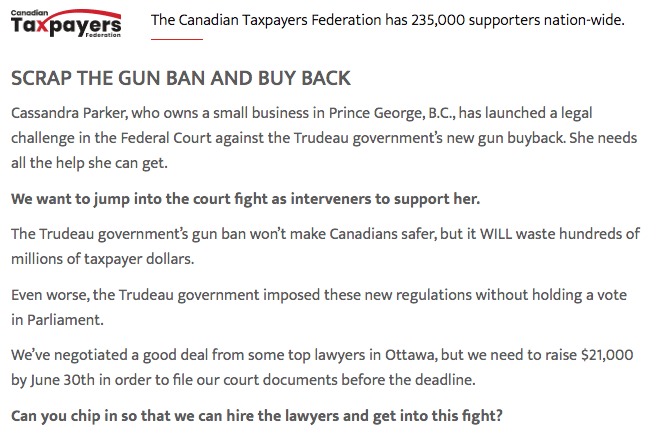 ---
Related