Gang Shooting Homicide Rate Doubles Since Liberals Took Office
TheGunBlog.ca — Fatal gang shootings rose in Canada for a third straight year in 2017, Statistics Canada said today. They almost doubled as a share of total homicides since 2015, the year the Liberal Party was elected to government.
"The proportion of gang-related homicides committed with a firearm has been steadily increasing since 2015," the Ottawa-based statistics agency said today in its annual homicide report. "Gang-related homicides committed with a firearm represented 12 percent of all homicides in 2015. By 2017, this proportion had grown to 21 percent."
430 Active Gangs
The government of Prime Minister Justin Trudeau promised a year ago to channel more tax revenue to police to fight the swelling wave of attacks by more than 430 active gangs in cities and rural areas.
None of it had been shared as of June 1, Trudeau's crime minister said in a filing to parliament on June 4 and published on Twitter this week by a policy advisor to the opposition party leader.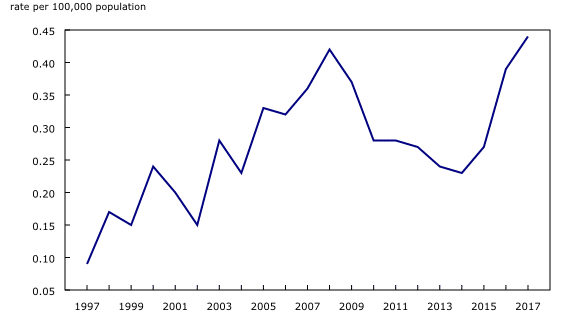 Last Resort
The failure of the federal, provincial and local governments to keep residents safe has led many to rely on their firearms for protection, even though the law doesn't allow buying guns for personal defence.
Read: Albertans Seek Info on Armed Defence, Edmonton Journal Reports
The 266 shooting homicides last year out of 660 total homicides represent less than 0.08 percent of police-reported violent crime in Canada, according to calculations by TheGunBlog.ca. All homicide was less than 0.2 percent, StatCan said.
The homicide rate has been declining since the 1970s and remains near a 2013 low.
Stabbings Exceed Shootings
Total firearm-related offences, including those related to paperwork or storage, represent "less than one half of one percent" of all crimes, StatCan said in March.
Even after a 49 percent jump in shooting homicides in the past two years, the 3,371 killings by stabbing this millennium exceed the 3,292 deaths by bullet, according to calculations by TheGunBlog.ca based on StatCan data.
Firearm users in Canada fall into two broad groups with almost zero overlap.
Many "Good Guys"
The first group is the safe and responsible users who are authorized or required to use guns for personal and public safety, hunting, recreation and competition.
It includes more than 2 million civilians approved by the federal police to own guns, millions of unlicensed family and friends who shoot under their supervision, and some 180,000 military, police and law-enforcement officers.
Few "Bad Guys"
The second group is an unknown number of unauthorized individuals who obtain or use their guns illegally. They use their weapons for self-protection, or with the intent to threaten, hurt or kill others.
Trudeau is using the rising gang murder since he took office as a pretext to impose gun bans and other restrictions on hunters and sport shooters in the lawful group.
Read: Oops: Liberals Show Gang Crime Surging Since They Took Power
All guns are banned already for everyone under threat of prison unless they obtain temporary waivers from the federal police. The second group doesn't request or obtain the authorizations.
Toronto's Murder Record
Toronto alone had 58 homicides by bullet in 2017, more than any other city and representing 21 percent of the total firearm-related homicides. This year marks a record number of homicides in Canada's largest city, led by an attacker who killed 10 people with a van.
The mayor is driving a national campaign to eliminate many hunters and sport shooters from Canada.
Read: Toronto Asks Feds for Canada-Wide Ban on Handguns, Semi-Autos
More From Statistics Canada
"Homicide in Canada hit its highest rate in almost a decade in 2017. Much of the increase was the result of more firearm-related and gang-related incidents."
"The firearm-related homicide rate increased 18 percent from 2016 to 0.72 per 100,000 population—the highest rate since 1992."
"After declining 37 percent from 2009 to 2014, the gang-related homicide rate rose for a third consecutive year in 2017. Overall, there were 0.44 gang-related homicides per 100,000 population, the highest rate since comparable data became available in 2005."
"Handguns accounted for about 6 in 10 firearm homicides in 2017. Prior to 1990, rifles or shotguns were used far more frequently than handguns. However, a shift toward an increased use of handguns can be seen starting in the early 1990s."
Source: Homicide in Canada, 2017 (21 November 2018). Infographic.
---
Related Information
© 2018 TheGunBlog.ca