Poll: If Your City Banned Guns, Would You Leave?
TheGunBlog.ca — More than two-thirds of Canadians want to ban guns in cities, The Canadian Press reported today, citing the results of a poll it ordered. How about you? Take the poll below by TheGunBlog.ca.
The Ekos Poll
69 percent of those surveyed agreed with the statement: "I think that there should be a strict ban on guns in urban areas," The Canadian Press reported today in an article published by Global News. Ottawa-based Ekos Research Associates ran the poll for The Canadian Press.
The poll surveyed 2,287 Canadians by land line and mobile phone from Nov. 10 to 30, and is considered accurate within 2.1 percentage points, 19 times out of 20, The Canadian Press said.
(Update Dec. 5: Ekos Doesn't Only Run Polls About Gun Bans, It Promotes Gun Bans)
How about you?
TheGunBlog.ca Poll
After you answer, please share this poll with fellow gun owners and shooters (PAL holders or not), and subscribe to TheGunBlog.ca if you haven't yet (see below).
Update Dec. 6: TheGunBlog.ca ran a fun poll on Twitter: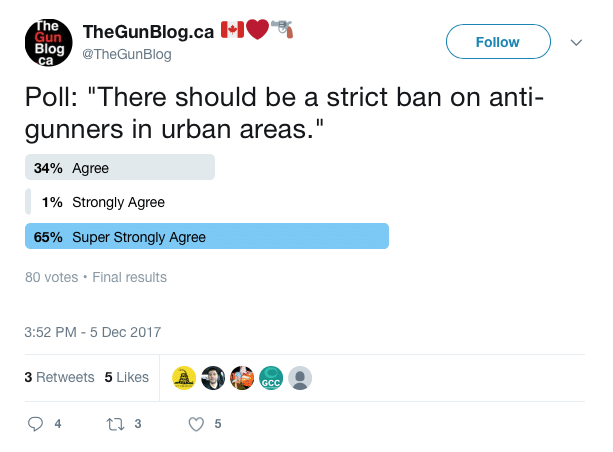 Related Information
© 2017 TheGunBlog.ca