SHOT Show 2017 Roundup: From Aimpoint to M&P 2.0 to Tikka Arctic
SHOT Show 2017 was one of the biggest trade shows in Las Vegas and I visited only a small number of booths. Here are a few personal highlights, in addition to these, these and this. Thank you to everyone who described their products or business, and who "liked," shared, reposted, retweeted or followed TheGunBlog.ca (Twitter: @TheGunBlog).
Disclosure: Short Version: I didn't get any money or freebies for this article. The opinions are my own. Long Version: See at bottom.
Aimpoint
Open Both Eyes and Focus on the Target, Not the Dot. When aiming at a target through a red-dot sight, open both eyes and focus on the target, not on the dot. That was the advice of a representative at the Aimpoint booth, who acknowledged with a shrug that many so-called experts advise differently. (With notch-and-post sights, it's recommended in most cases to focus on the front sight, not the target.) Why a dot, rather than a cross, circle or other aiming pattern? To create a single point of attention with the least distraction or confusion, he said.
Beretta
TheGunBlog.ca's Most Popular Tweet of SHOT Show: Beretta M9A3
Cadex Defence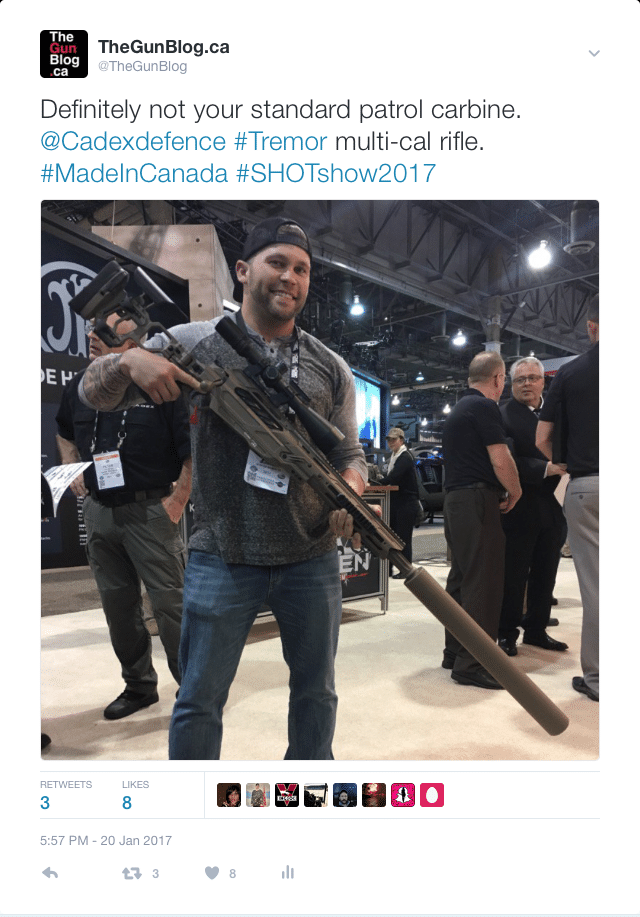 Canadian Sniper Rifles. Cadex was the only Canadian company that I saw at SHOT Show. If there were others, I'm sorry I missed them. The rifle maker is based near Montreal and its staff and associates include former members of the Canadian Special Operations Forces Command (CANSOFCOM), and former snipers like Rob Furlong. The outlook is good, one rep told me, and they're attracting clients away from some of their competitors.
Crimson Trace LINQ
Wireless Laser Sight & Tactical Light System. The Crimson Trace LINQ is a laser and light system for AR- and AK-type rifles. The on-off switch on the grip connects wirelessly to the laser-light on the handguard. Lasers can help shooters get on target much faster than iron sights. I guess this would be especially good for close quarters. MSRP USD 649.
CSSA & CSAAA
Canadian Industry Reception. The Canadian industry reception organized by the Canadian Shooting Sports Association (CSSA) and the Canadian Sporting Arms and Ammunition Association (CSAAA) was one of the highlights of the week for me, and I went as their guest. Some 220 people attended, including executives from Canada's biggest manufacturers, distributors and retailers of guns, gear and ammo, plus gun-rights organizations, gunsmiths, gun lawyers, gun-range developers and gun media. The Tactical, Practical & Fantastical blog has photos and a write-up.
The bad news of the evening: A huge risk for the industry and for consumers is Canada's plan to comply with UN firearm-marking rules, which would increase the cost of guns and threaten some companies with collapse. The good news: Our gun industry is small and faces challenges, but we have some top-notch people among us.
Glock
Prediction About the Glock 17 by TheGunBlog.ca Centre for Strategic Foresight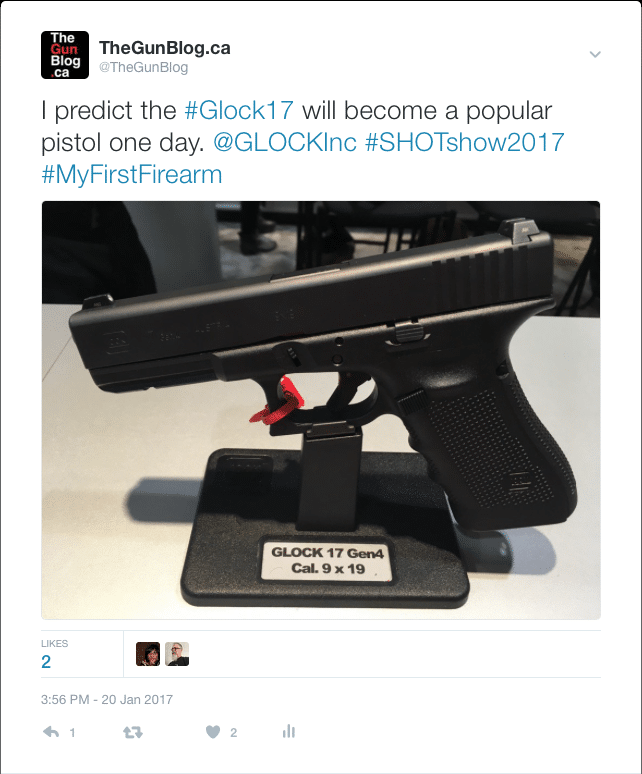 Most Valuable Souvenir From SHOT Show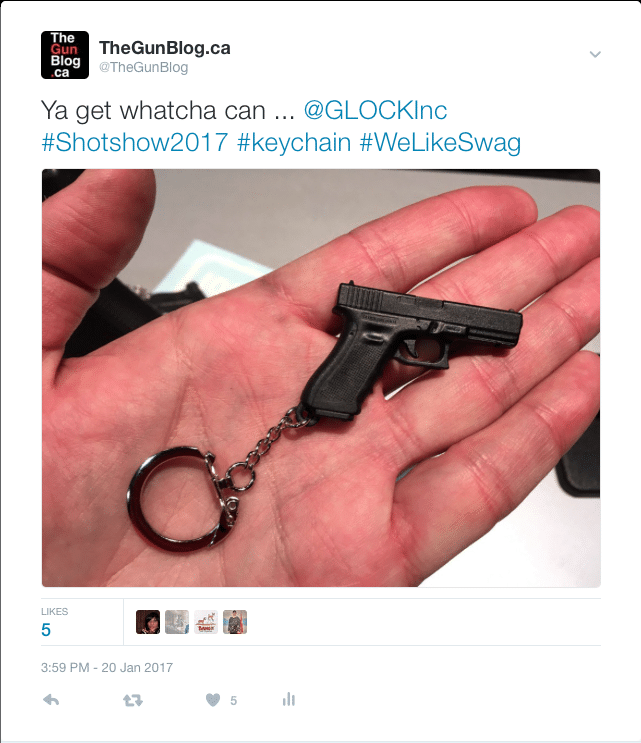 Gun Mount
Gun Mounts and Lockboxes for Vehicles. Gun Mount makes gun mounts and lockboxes for inside vehicles, and displayed its products inside a prototype 2017 Ford Raptor at the Springfield Armory booth. Their gear could interest anyone from police and military to hunters and recreational shooters.
SMART Simulator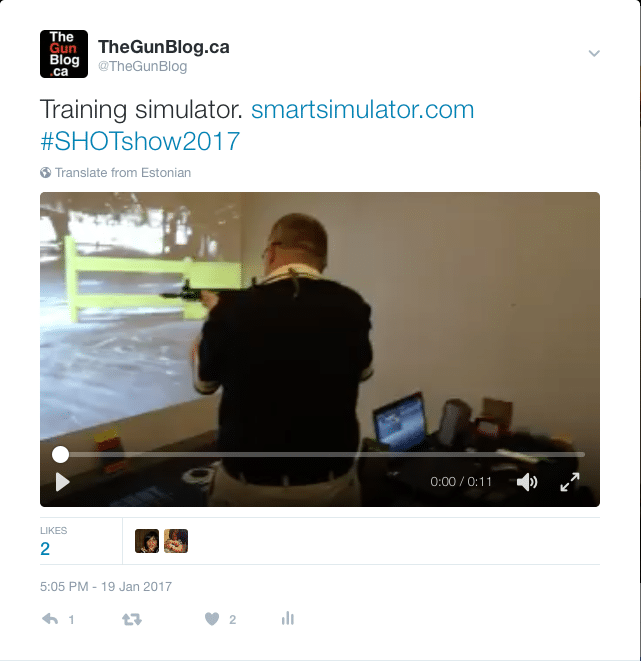 Shoot for Fun, Skill and Judgment. Trying the SMART Simulator was my first time shooting a real firearm at a screen, and I loved it. The AR-15 ran like normal (minus bullets, noise and recoil) using special cartridges from a special magazine to cycle the action.
I got to try three out of the hundreds of simulations: static targets at a range, defending myself under a zombie attack, and me as a police officer knocking on someone's door. Each scenario has a different goal or outcome: entertainment, gun handling, marksmanship on static or moving targets and judgment in "shoot/no shoot" decisions.
The website lists versions from about USD 15,000 to USD 125,000. I would like to see a bunch of these around Toronto, Montreal, Vancouver, Calgary, Ottawa, and elsewhere. They'd fit anywhere from a living room to a store or gaming hall to a classroom in a shooting range or police academy.
Smith & Wesson M&P 2.0
Good Pistol With Abrasive Grip Texture. The Smith & Wesson M&P 2.0 pistol was one of the highest-profile new products of this year's SHOT Show. Its 10-year-old predecessor has a reputation as a good alternative to Glocks. The redesigned handgun looks good, has a crisper trigger break than the original with an audible and tactile reset, and aggressive grip texturing. The grip so abrasive that handling the pistols for just a few minutes in the showroom left my hands feeling raw. (See my short, shaky, raw video.) Other manufacturers had aggressive texturing on their new models, so this could be a trend. MSRP USD 599.
Tikka T3x Arctic
Good Looks, Great Sights, Heavy Weight, High Price. The Tikka T3x Arctic, the civilian version of the new rifle for the Canadian Rangers, looks good, has fantastic iron sights from what I could observe in the exhibition booth, and is designed to be rugged. It also weighs 4 kg (8.1 lbs) naked, and retails for about $2,700, or twice the price of some T3 models.
Disclosure: Short Version: I didn't get any money or freebies for this article. The opinions are my own. Long Version: I arranged my own travel, lodging and logistics to attend SHOT Show. I was a guest of the CSSA and CSAAA at their reception (see above). Neither I nor TheGunBlog.ca has any financial or other relationship or commitments with any company mentioned here or with any of their competitors.
© 2017 TheGunBlog.ca