Canadian Personal Guns Registered With RCMP Rise Above 1 Million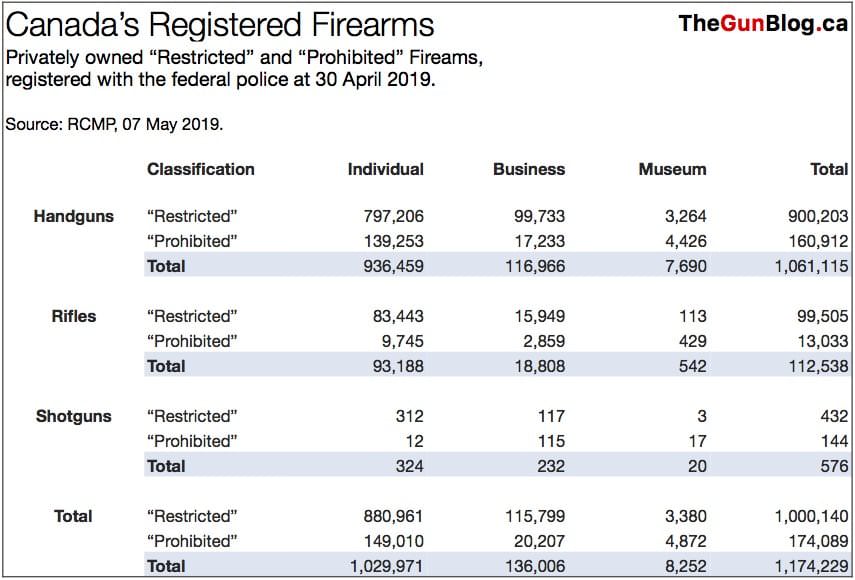 TheGunBlog.ca — Canadian men and women own more than 1 million personal guns registered with the federal police, according to RCMP data, exceeding the symbolic threshold for the first time as shooting sports rise in popularity.
Individuals with RCMP-authorized firearm licences owned 1,029,971 so-called "Restricted" and "Prohibited" handguns, rifles and shotguns as of April 30, Marie Damian, a spokeswoman for the Ottawa-based Royal Canadian Mounted Police, told TheGunBlog.ca by e-mail on May 7 in response to our request for the data. That compares with 989,450 at June 30, 2018.
Many of Canada's 1,400 target ranges are at maximum capacity as shooters join fast-paced action disciplines like 3 Gun, IPSC and IDPA, or stationary precision events like Olympic bullseye.
'More and More People'
"Overall, there is no question that the sale of 'Restricted' firearms has grown each year for the last five years as more and more people join clubs with active sections in handgun-related sports," said Scott Patience, the owner of Bulls Eye London, a gun store in London, Ontario.
Read: Bulls Eye London Owner Scott Patience Comments on Bans, Business
Bans for Votes
The sports, the guns and the industry are now threatened with destruction as the government of Prime Minister Justin Trudeau explores mass gun confiscation to win this year's election.
He is preparing to pass Bill C-71 as a new law to ban many rifles and make it easier to confiscate any firearm, and formally began examining broad gun bans in August.
Tony Clement, an independent member of parliament who used to be with the opposition Conservative Party, said yesterday Trudeau will order a "sweeping gun ban" in less than a month.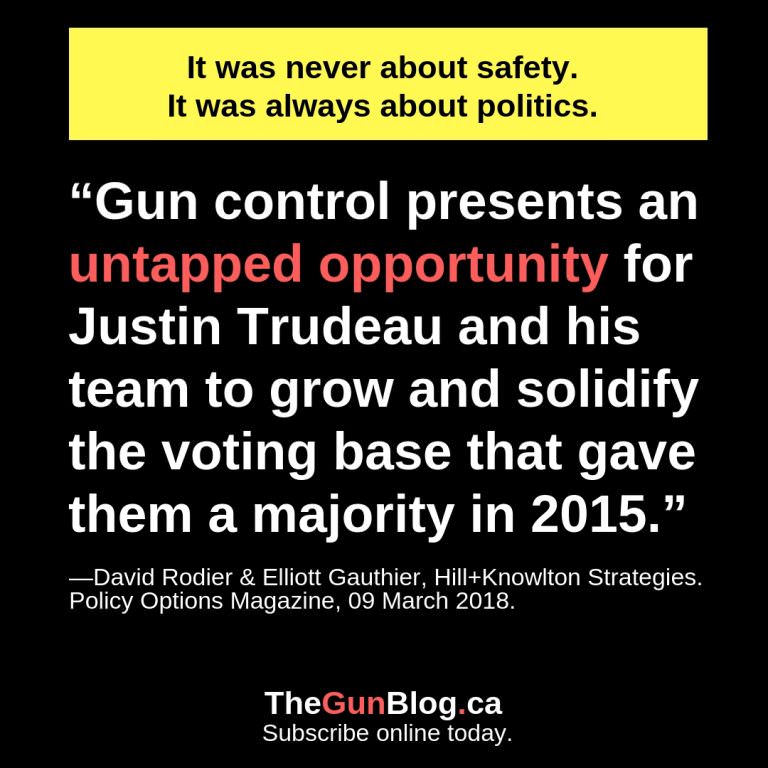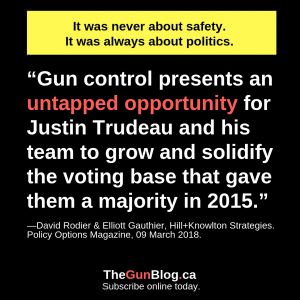 Canadian Culture
Hunting and sport shooting are at the heart of Canadian heritage, culture and tradition, but owning any gun is tightly restricted by law.
All guns in Canada are banned already for everyone under threat of prison unless the owner has a firearm licence authorized by the RCMP.
The laws classify firearms under three labels:
"Non-restricted"
"Restricted"
"Prohibited"
Buying a "Restricted" or "Prohibited" requires special police permission for the purchase beyond having a gun licence, and the RCMP keeps a registry of who owns each one.
Read: How to Buy a Handgun in Canada: Regulatory and Procedural Steps
A Thousand Guns Per Day
The country's 2.2 million police-approved shooters buy a thousand "Restricted" handguns and AR-15 or similar rifles each week, bringing the number of such guns close to 1 million and adding to the roughly 15 million total guns they already own.
Including firearms with the legal label of "Non-restricted" that can also be used for hunting, customers buy a thousand new guns per day.
'I Love Shooting Sports'
"I love shooting sports," Allan Harding, a Canadian national pistol champion training to qualify for the next Olympics, said on Twitter this week. "I'll happily take anyone to the range to hopefully gain a better understanding of competition target shooting and why these sports are so popular around the world."
"It has taught me so much about focus, discipline, and given me so many opportunities," Harding said in a related tweet. "I apply it in all aspects of life."
Read: Harding Wins Canada's First Shooting Spot for 2019 Pan Am Games
Ontario friends, I will be at the following locations. Come on out and shoot some targets, meet up, AMA about precision shooting!

May 20th: Target Sports Canada
Jun 5th: Toronto Revolver Club
Jun 6th: @GunSilverdale pic.twitter.com/VoCJ801ig0

— Allan Harding (@allanharding) May 7, 2019
Related