One Person in Canada Has Authorization To Carry Guns, RCMP Says
TheGunBlog.ca — One person in Canada has a so-called "Authorization To Carry" (ATC) loaded guns for personal protection against human attackers, Dennis Young reported today, based on a special filing he obtained from the federal police.
That's one person less than the Royal Canadian Mounted Police said in October. The Ottawa-based RCMP's Canadian Firearms Program (CFP) oversees firearm-owner licensing and tracking, including requests to carry guns for self-defence.
"CFP advised that there is one ATC issued for the protection of life in Canada," the RCMP said in its filing to Young dated April 25 and published on his website today. The federal agency didn't identify the permit holder or their home province.
Possession vs. Carry
Hunting for food and shooting for recreation and competition are among the safest and most-popular outdoor and leisure activities in Canada, and many people also have guns to control predators on a farm or as part of a collection. The country is home to 2.2 million men and women with police-issued licences to possess and transport firearms.
The permits don't allow carrying them on one's person loaded or unloaded. Doing so is punishable by prison.
The law says all handguns must be transported unloaded, disabled (such as with a trigger lock), and in a locked case. When traveling, departure and arrival points and travel routes are also strictly controlled, and deviations can land you in jail. Some travel, such as between provinces, requires special police permission.
RCMP Filing to Dennis Young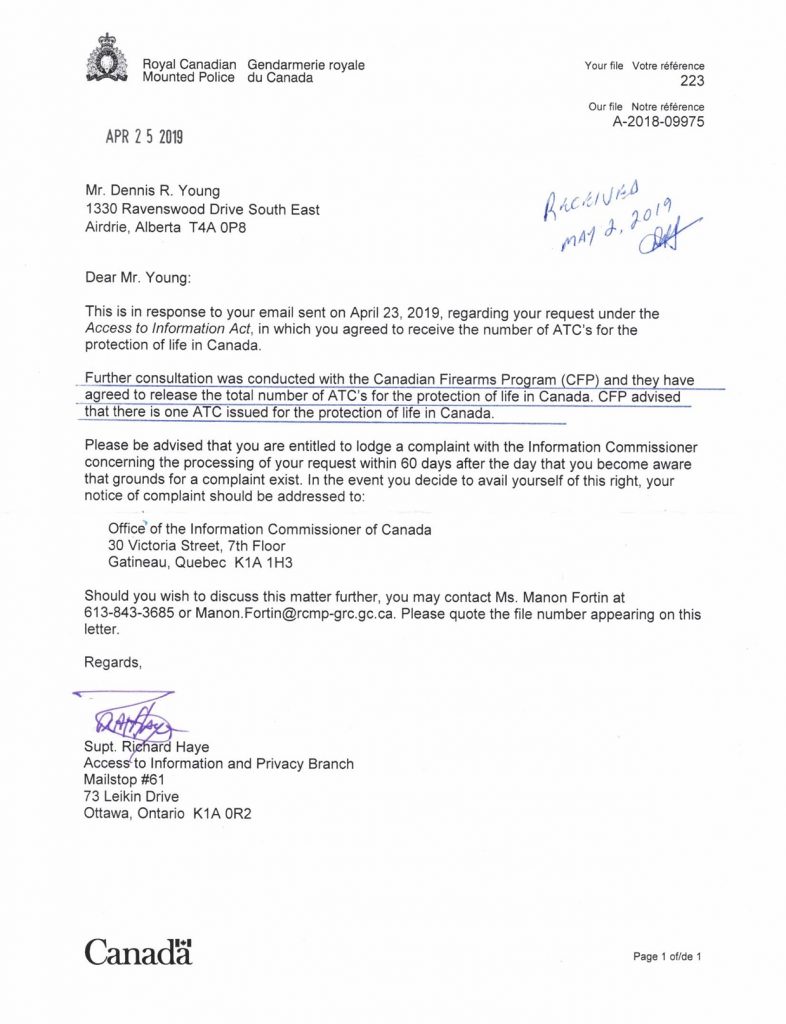 Police help keep honest people vulnerable to attack by rejecting almost all requests to carry guns for self-defence.
More than 55,000 violent assaults were reported in Canada in 2017, 3,778 cases of forced confinement or kidnapping, 578 violent sex assaults, 738 killings and 826 attempted murders, according to Statistics Canada.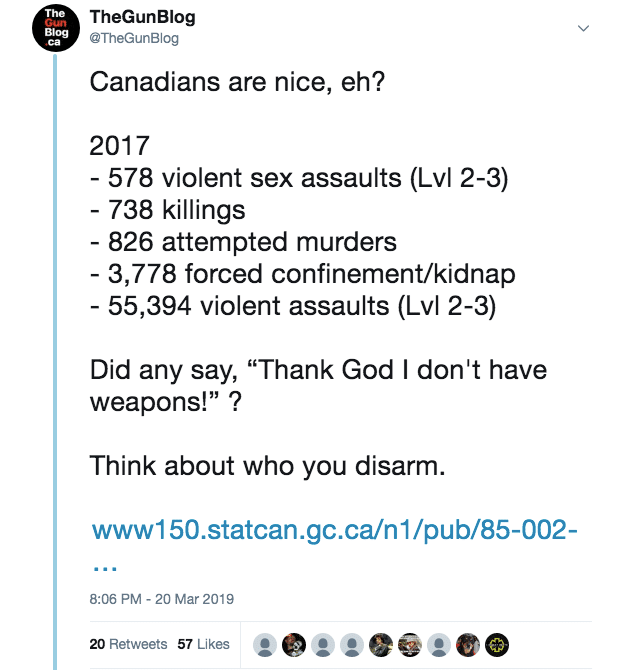 Over 17 million
The U.S. has more than 17 million men and women allowed to carry guns for safety, the Virginia-based Crime Prevention Research Center said in its latest annual report on the topic.
Young also posted RCMP data he obtained by special request in February on the number of people with an Authorization To Carry a handgun for work and for protection against wild animals:
Work: 6,688
Animal Threats: 224
Young, a former RCMP officer and parliamentary staffer, uses the federal Access To Information and Privacy (ATIP) program and similar provincial rules to obtain internal government and police reports, including memos that authorities have told him don't exist. He has filed more than 800 such requests as a gun-rights researcher and advocate over more than 25 years.
Related
—
Correction at 20:20 Toronto time: Corrects date of RCMP filing in third paragraph.