Pistol Champion Allan Harding Comments on Bill C-71, Competition
TheGunBlog.ca — Allan Harding, the 2016 and 2017 Canadian National Pistol Champion, is the only male pistol shooter competing to represent Team Canada in the 2018 International Shooting Sport Federation World Cup Series. He spoke to TheGunBlog.ca about competing around the world while managing a team of software engineers for Adobe Systems, the road to the 2020 Olympics, and Bill C-71, the Canadian government's proposed law to make it tougher for federally licensed gun owners to buy, own and use firearms.
---
Highlights
Age 42, lives in Gibsons, B.C., home of the Beachcombers TV show
Shoots in the 10 m air pistol (.177) and 50 m pistol (.22) events following ISSF and Olympic rules: 1 hand, 1 shot at a time
Competing to be Canada's first Olympic male pistol shooter since 1992
---
Harding just returned from Fort Benning, Georgia, where he shot his second-highest World Cup score and the most Xs he can remember. The X is the smaller ring within the 10 ring at the centre of the target.
The 42-year-old travels to Cookstown, Ontario, next week for the Shooting Federation of Canada (SFC-FTC) High Performance Team Trials to qualify for matches later this year in South Korea and Mexico.
He spoke to TheGunBlog.ca by e-mail over several days in early May in between work, training, matches and airplanes. The interview was edited for clarity.
I love the Beachcombers anecdote.
Haha. That show is awesome. 🙂 I eat at Molly's Reach quite often.
How did you get into shooting?
My brother convinced me to go to the range one day, and I finally decided to go and tried shooting .22 rifles and that was fun.
It wasn't long after going that the coach there, Karl Haerthe, had me try air-pistol shooting. He had been competing at provincial and national events and I enjoyed it right away. I started competing later that year at some local matches around Vancouver.
I shot for six years before stopping, and life kind of got in the way as I figured things out, and didn't get back into it until many years later.
What events do you shoot?
I shoot Olympic 10-metre pistol events (individual and mixed gender) as well as 50-metre pistol. Unfortunately, the latter was removed from the 2020 Tokyo Olympics. It was my main focus in 2015-2017 and I've since got back to focusing on the 10-metre indoor event again.
I love shooting the 50-metre event. There's something special about aiming a single shot .22 pistol with one hand and shooting at a 2-inch 10-ring that's 50 metres away.
What else do shoot, or do you even enjoy other shooting activities?
I primarily focus on my Olympic events these days, but when it's off season I definitely like to take some of my other firearms out to the range and introduce more people to target sports.
What are some of your major competitions and wins?
I've represented Canada at the 2014 Commonwealth Games in Glasgow, Scotland, the 2015 Pan Am Games in Toronto, Canada. I was the 2016 Olympic 50-metre Canadian National Pistol Champion and the 2017 Olympic 10-metre Canadian National Champion.
This year I am competing in the 2018 ISSF World Cup Series and recently competed at the Mexico stage in March in Guadalajara. I will be competing at the U.S. and Germany stages of the Series in May.
After that I will focus on Nationals in July and then the "big" event for me this year will be the 2018 Championship of the Americas in Guadalajara, Mexico, in November.
I call it my "big" event since that's a crucial event for my Olympic journey to Tokyo. That's the championship that will set up Canada with quota spots for the 2019 Pan Am Games in Lima, Peru, next year.
You're going to be on 15 planes in the next 40 days. How typical is that?
Not very typical. I tend to have concentrated busy times. I figure if I'm going to have a busy travel schedule, I might as well pack the schedule. It's not always ideal but often will work out better given my work and competition travel.
There are two ISSF World Cups this month and Team Canada's selection match lands right between them. The selection match is for selecting the team to represent Canada at the quadrennial 2018 ISSF World Championships in September in South Korea and the quadrennial 2018 Championships of the Americas in Guadalajara, Mexico. So three competitions and I'll tack on some work travel at the same time.
I've got to meet with one of our software-development teams in Bucharest, Romania, this month so the timing with me in Munich works out well, other than I have a lot of planes, trains, hotels, and car rentals between the two.
On average I have around 40 flights per year and am usually away from home 130 days out of the year. I collect lots of points. 😉
You posted on Twitter this week that you couldn't access the ISSF website at the airport. What happened?
I was in the Air Canada lounge at Vancouver airport and couldn't access the ISSF website. This is the International Shooting Sport Federation website and it was being blocked. Air Canada was very quick to address this and it has now been resolved. What happens is there is a filter that a third party uses and looks for generic keywords, etc. Unfortunately, due to the "shooting" word it got flagged and blacklisted. It has since been resolved though. Air Canada was really good about it.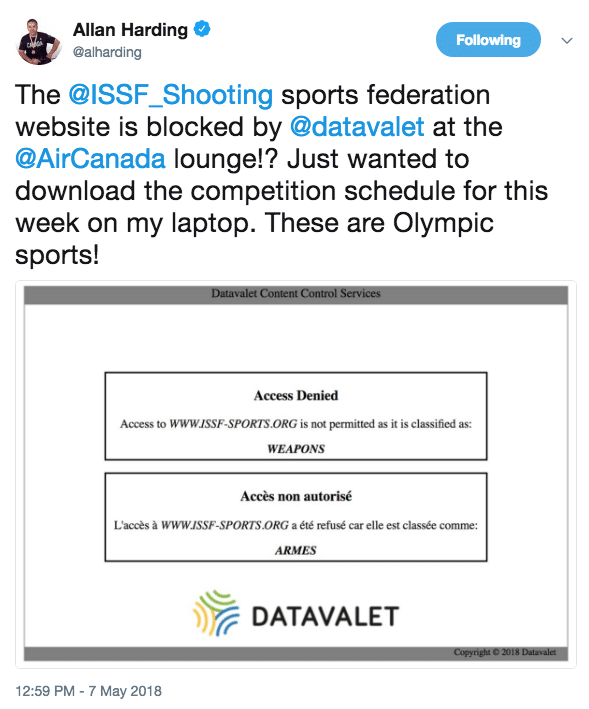 How important is each event to get you to the 2020 Summer Olympics in Tokyo?
They're all important and part of the journey. The selection match this month in Cookstown, Ontario, is critical to me attending the 2018 Championships of the Americas in November, and that is key for the Pan Am Games next year, which is Canada's best shot at getting quota spots for the 2020 Olympics.
Canada hasn't won a quota spot and sent a male pistol shooter to the Olympics since 1992 in Barcelona, Spain.
How supportive is your employer, Adobe Systems, in terms of giving you time?
Very supportive! Quite often though I am writing emails, catching up with the team, and doing video calls while I'm away on competition trips. It's only been a few times in the last six years of competing internationally where I've completely taken time off and been 'out of office' from work.
How do the qualifications work? Is the ISSF World Cup the lead up to the Olympics?
Each year you qualify for next year's National Team. I was the only male pistol shooter who qualified in 2017 and I want to get all the experience I can on the 2018 ISSF World Cup Series.
The ISSF World Cups are one way to win quota spots for Canada to attend the Olympics. There are also the Pan am Games in Lima, Peru, next year and at this year's ISSF World Championships in September, and the Championship of the Americas in November.
I didn't know that different genders shot together.
This year, other male shooters in Canada may qualify for the 2019 Team which would be great because then at least Canada has more chances to win a quota spot for Tokyo.
There are quite a few female pistol shooters currently on the team including Olympian Lynda Kiejko. The scoring format in female events has changed and is now equal to male events. It's great to see that there is parity across gender, that was long overdue.
With that, the ISSF also introduced mixed-gender events, and I'll be shooting that for the first time at the upcoming ISSF World Cup Series stop in the U.S.A. next week. My teammate will be Kim Britton.
What gear do you shoot in competition?
10-metre Air Pistol, .177
Pistol: Steyr evo 10 E
Ammunition: H&N and Qiang Yuan .177 pellets. I use a rifle .177 H&N pellet in my Steyr pistol. I've been using the Qiang Yuan in competitions.
50-metre Pistol, .22 LR
Pistol: Pardini FPM
Ammunition: Fiocchi Exacta Winter .22 LR. This was actually designed for biathletes and has a slightly higher velocity. I live near Vancouver, and doing a lot of my 50-metre pistol training outdoors it works great in the colder seasons.
Both are single shot and have custom grips. I've done a bit of extra work with some wood epoxy on both grips to remove some gaps between my palm and the grip (not shown in the product photo of the FPM).
Do you need a firearm Possession and Acquisition Licence (PAL) for air pistol?
No, it's the easiest way to get started in Olympic shooting disciplines. I say it's easiest because you definitely don't have all the gear requirements of air rifle shooting.
I'm sure my rifle teammates will argue this but I'd get out of earshot pretty quick while they haul their rifle case, leather clothing, boots, stands, etc etc. Haha. In all seriousness though both air pistol and air rifle are the easiest way to get into Olympic-style shooting. No PAL required and a lot of clubs usually have some that people can try out.
An airgun in Canada _can_ be classified as a firearm if it has a muzzle velocity of over 500 feet per second and muzzle energy greater than 5.7 joules. I believe any sold in Canada all are under those specifications so you don't need any extra paperwork.
How much does it cost to compete at this level? How do you get the funds?
Can you really put a price tag on it? I mean you can, let me rephrase … It costs a lot. I try not to think about it. I've found something I not only enjoy, but am really good at. I invest the money that I feel comfortable putting into it. I may not buy new competition pistols every year, but if I had the means I probably would.
I love the Ted Roosevelt quote, "Do what you can, with what you have, where you are."
I'm primarily self-funded and work a lot. On average with travel costs, depending on the number of international competitions I attend, it can easily be over $10k in a year.
If I could, I would love to spend more time in Europe competing. Any weekend there is a competition with some amazing competitors. In Canada, we have a few, there are more and more happening, which is great. We have the legacy Pan Am Games shooting venue in Ontario, which has been a great permanent venue for Canadians to train and compete at. My only issue is it's so far away. Near Vancouver, I'm actually very limited to do any ISSF-style Olympic shooting.
I've got memberships at a few ranges. My home range is in my hometown on the Sunshine Coast, in B.C. I'll also go out to the range in Port Coquitlam if I need some extra distraction on their public range. (It gets really busy … It's perfect for training my focus to tune it all out.)
You also coach youth at your club?
I started a junior target-sports program at my local gun club. I didn't realize how rewarding it would be to pass on knowledge and help develop some youth to hopefully follow in my steps to compete.
The program is still new and so I've got the kids (aged from 6 to 15) starting in prone position with .22 club rifles, and I've got them doing the Recreational Target Shooting program from the Shooting Federation of Canada. My plan is to give those who get to the "Gold" level in the program an opportunity to try out air-pistol shooting.
I'm hoping to get a small junior team to a local match in B.C. later this year.
What do you think of Bill C-71? What concerns you the most?
I think there are lots of problems with it. My main concern is how it affects responsible firearm owners.
My competition .22 pistols are all "Restricted" firearms and I already have a lot of paperwork to deal with, not only with transporting domestically in Canada, but competing internationally has a whole host of other challenges. Every country is different.
In Canada competing outside of my province I have the Authorization To Transport (ATT) paperwork to go through, where a complete travel itinerary is outlined in advance of getting authorized.
This gets even more complicated when I need to tack on a work trip, but usually I'll leave in storage at the airport. Some won't allow this.
I appreciate the intent with some of what is proposed, but some of it doesn't do anything to stop criminal use of firearms. That seems like it should be the main focus.
How would Bill C-71 affect you as a gun owner and competitor?
Since I'm focusing my competition shooting on 10-metre pistol, it doesn't affect it too much. Although, with domestic travel I still fill out all the appropriate firearm paperwork at airports (even though it technically isn't a firearm).
I still train and shoot with my .22 "Restricted" firearms and have to stay current with all my paperwork and licensing.
I don't think there is any other other Olympic sport that has as much paperwork and licensing to go through to get started than the current Olympic 25-metre men's and women's pistol events that are shot with .22s.
Where can we follow you online?
You can follow my blog at www.allanharding.com and on Twitter @alharding and Instagram @alharding.
What else do I need to know?
Let's see, what else … Front sight, pull the trigger straight back, follow through. 10!
That's it! 😉
---
Enjoy this? You can't find it anywhere else. Subscribe.
---
Related Information
© 2018 TheGunBlog.ca
---
The most important part of gun rights isn't "gun," it's "rights."
---