Top Guns of YouTube: Rankings by Subscribers, Views and Growth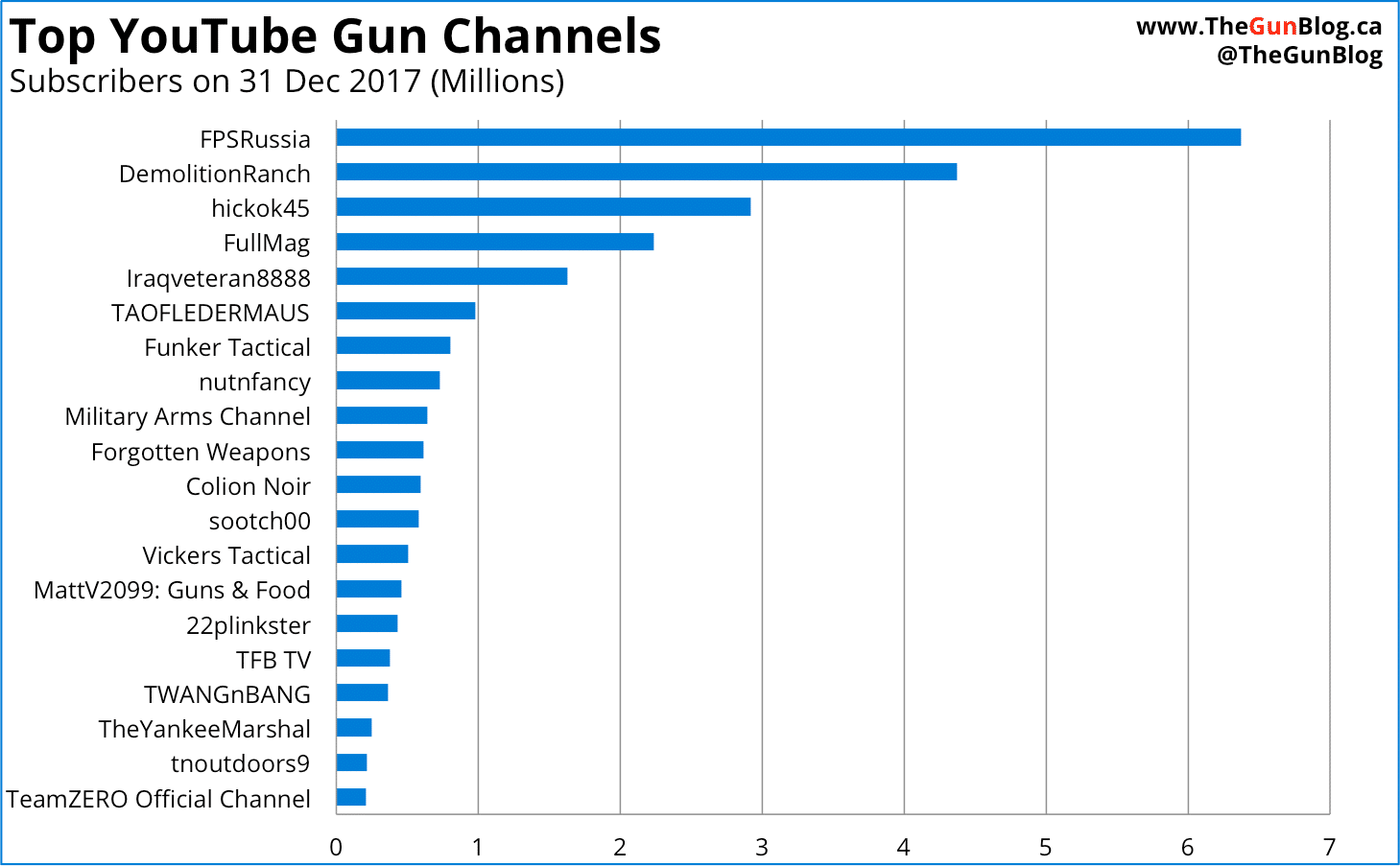 TheGunBlog.ca — Following is the third annual ranking of YouTube's top gun channels by subscribers, growth, views and more.
Whether you're looking for gear reviews, tactical analysis, profiles of historic guns or just want to watch things explode, YouTube has channels to inform and entertain.
Highlights of 2017
DemolitionRanch continues to attract more subscribers and views than any peers. (You might enjoy his video on Canada's gun laws.)
FPSRussia continues to attract subscribers, despite having published nothing since April 2016. Other popular channels also became inactive.
Forgotten Weapons, and its partner, InRange TV, are surging.
TFB TV, part of TheFirearmBlog.com, exceeded 100 million views.
James Yeager was banned by YouTube, and now publishes at Tactical Response. (Update Jan. 10: He also created a new James Yeager channel on 31 Dec. 2017.)
My Most-Watched in 2017 (Alphabetical)
Chris Bartocci
Forgotten Weapons
hickok45
James Yeager (defunct)
Lucky Gunner Ammo
Military Arms Channel
nutnfancy
sootch00
TheYankeeMarshal
Tiborasaurus Rex
Past annual rankings:
Almost all the channels below are based in the U.S. The HuntingGearGuy published a list of Canadian YouTube channels.
For the first time, I'm including second-tier channels, the last two charts below.
The data for the rankings were recorded last night, Dec. 31, around midnight Toronto time. The charts are based on English-language gun channels that I know about, and the list might be incomplete. The top 20 are based on subscribers, including active and inactive channels.
See a mistake or omission? Please contact me.
Updates
James Yeager created a new channel on Dec. 31, 2017.
Channels that were unknowingly left out of past rankings
Active Self Protection, with 650,000+ subscribers. That would have placed it behind nutnfancy.
Edwin Sarkissian, with 550,000+ subscribers. That would have placed it behind sootch00.
Subscribers at 31 Dec. 2017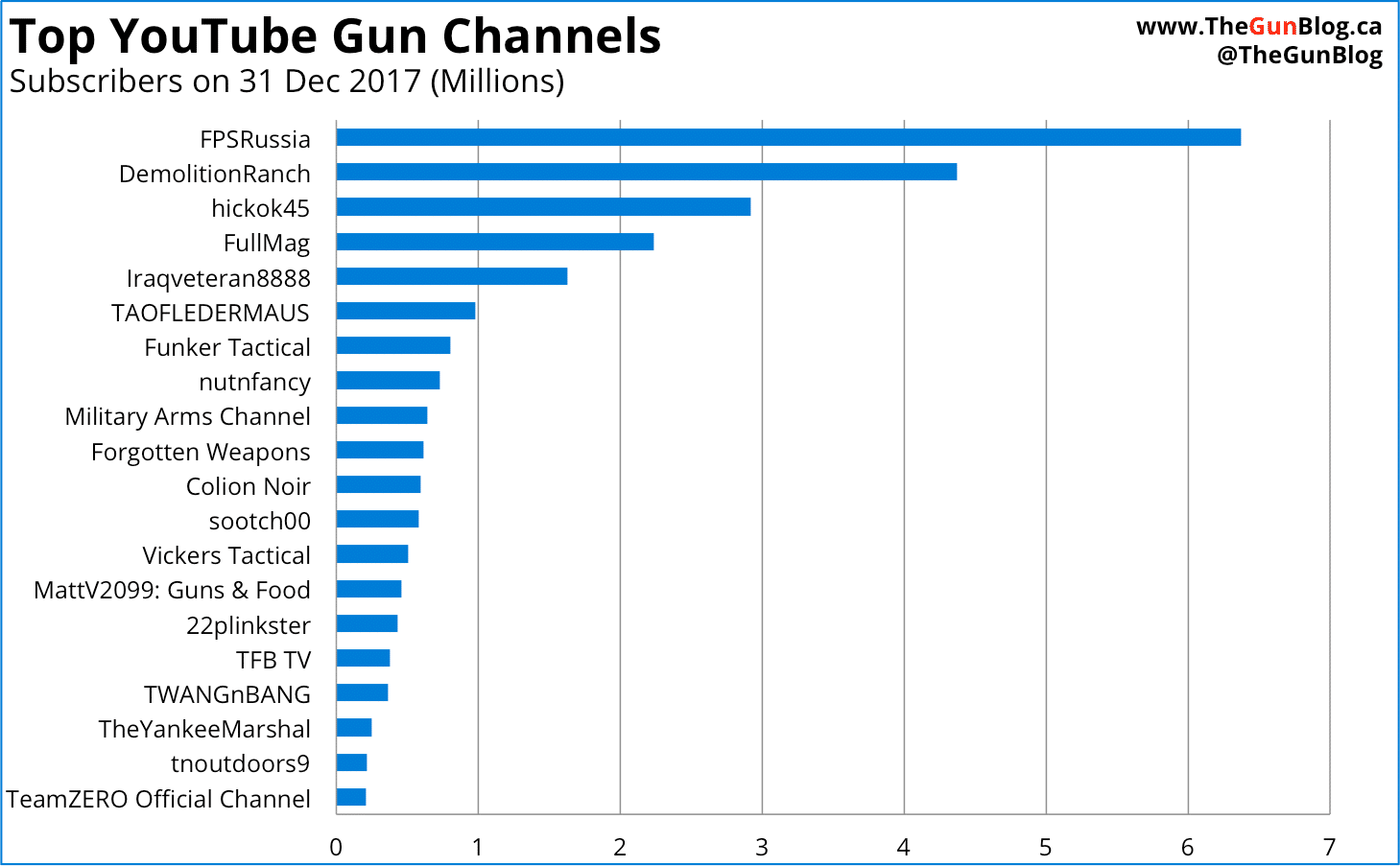 Subscriber Growth 2017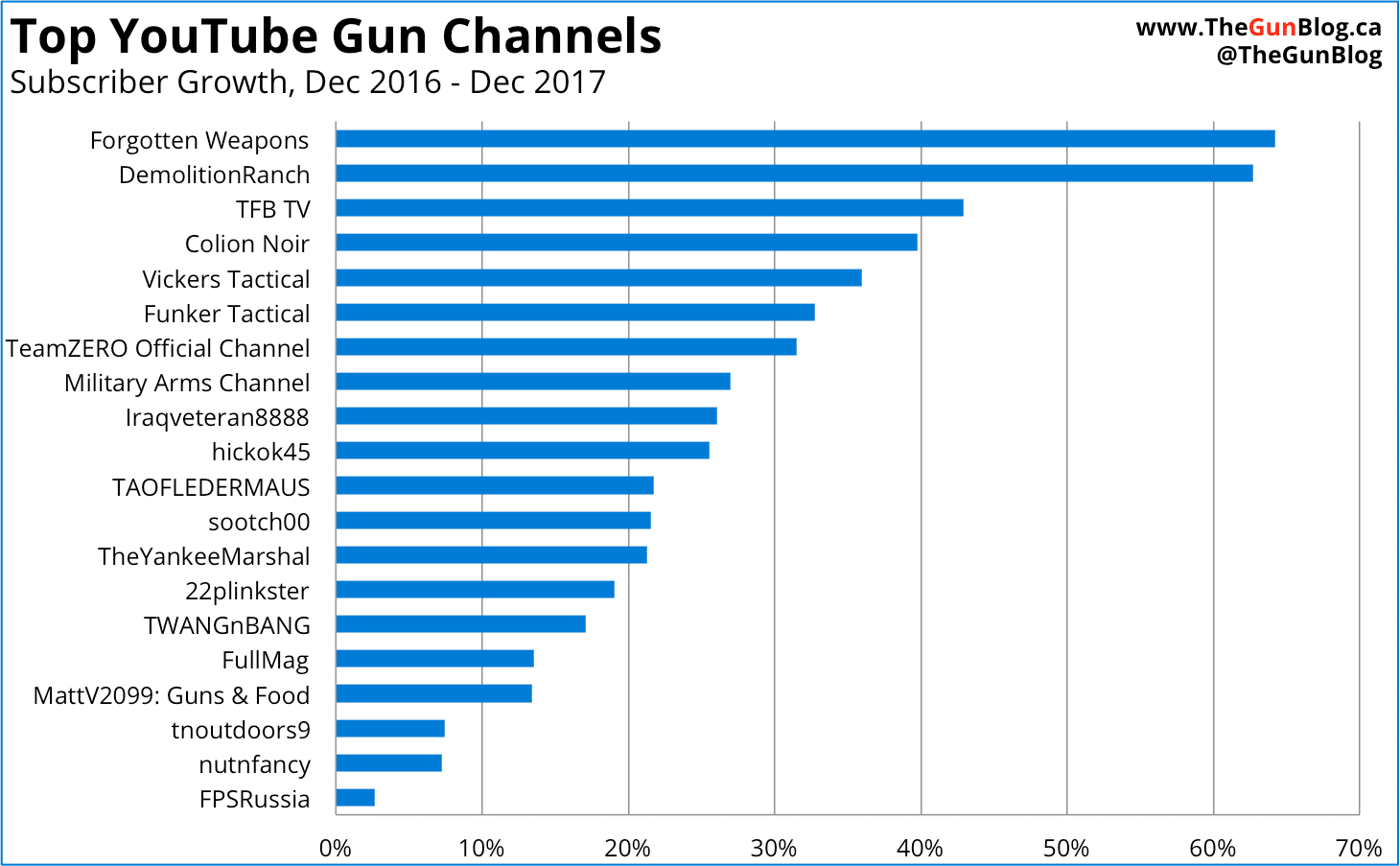 New Subscribers Per Day 2017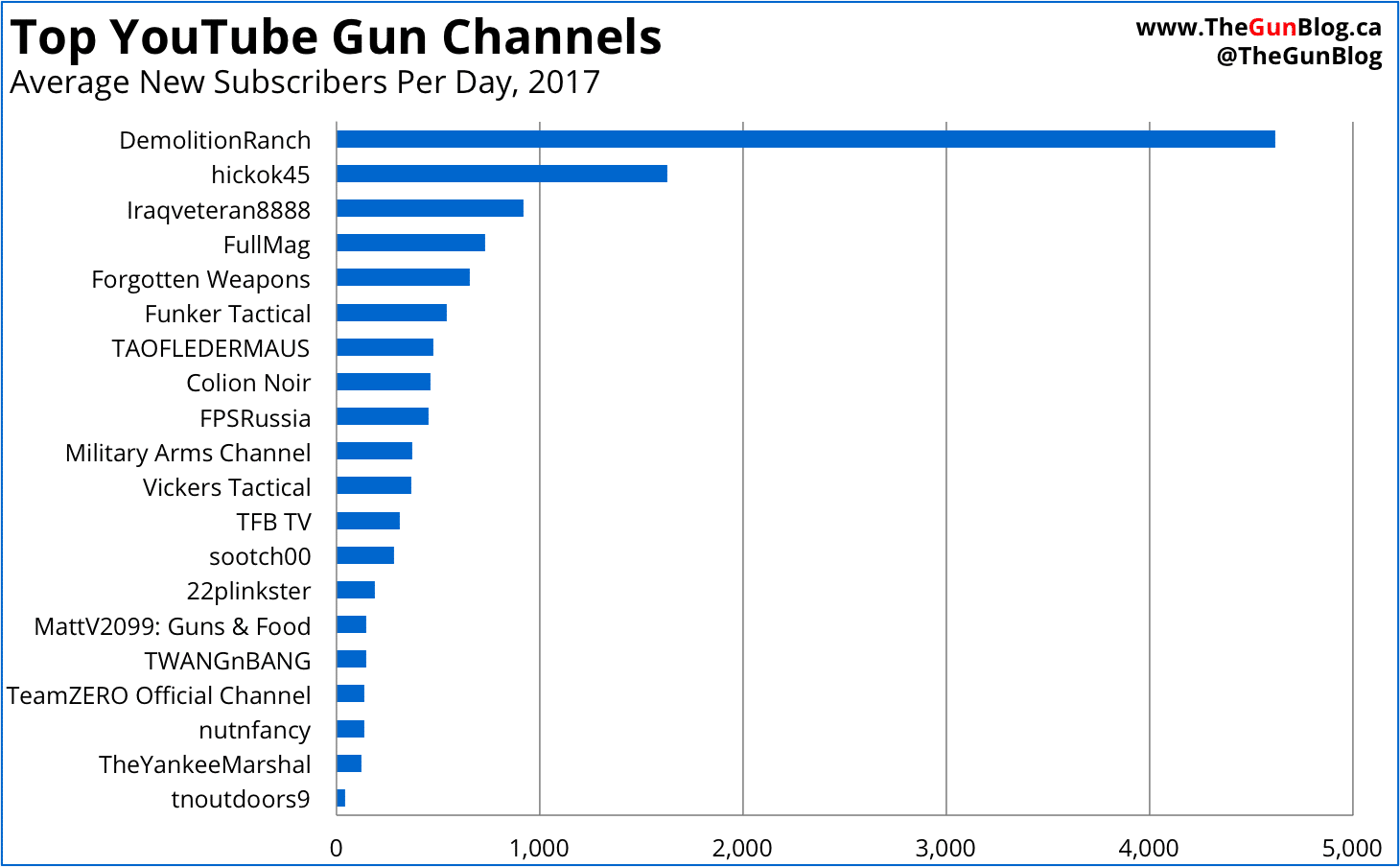 Views Per Day 2017
Views Per Subscriber
Total Number of Videos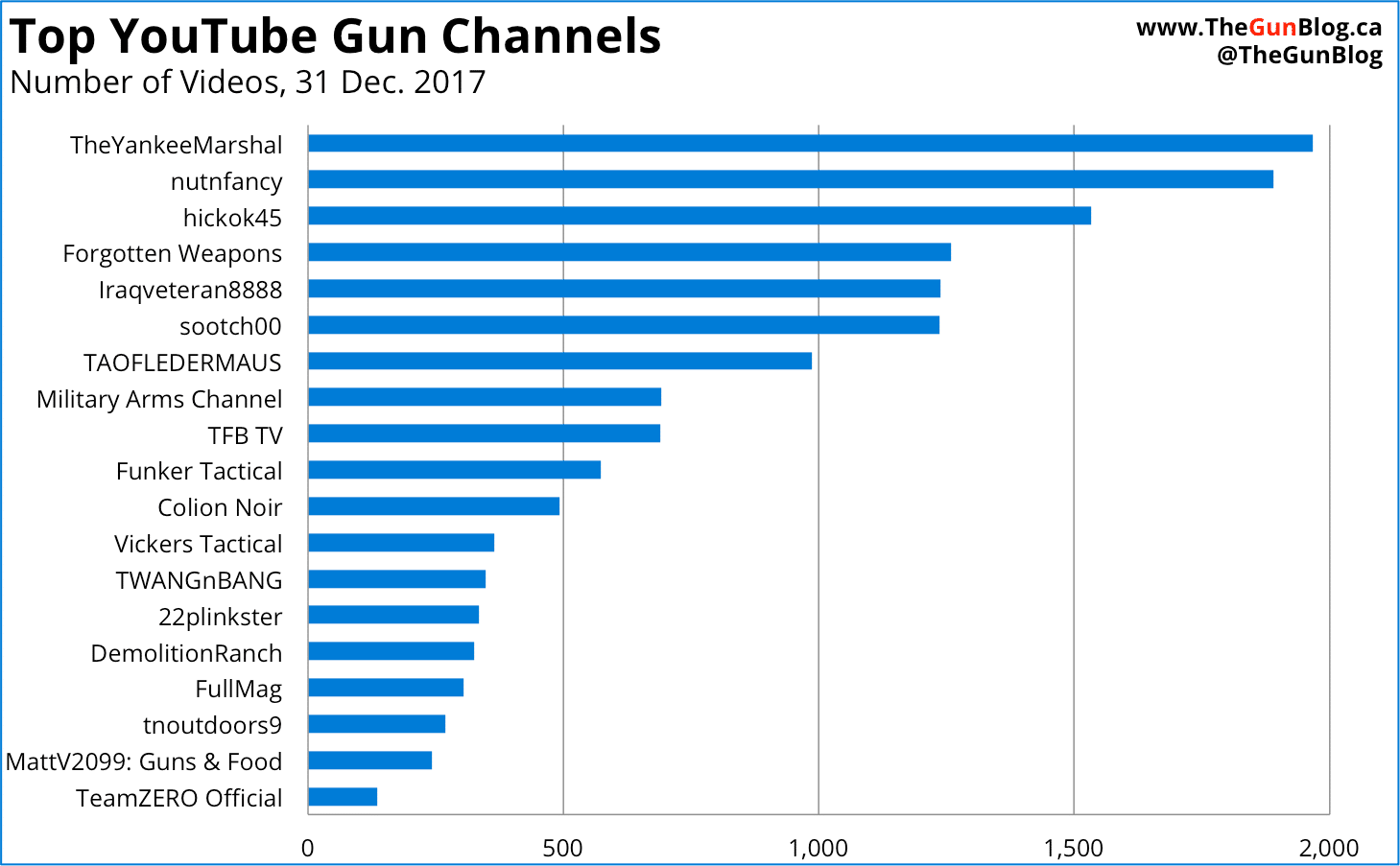 Second-Tier Channels: Subscribers at 31 Dec. 2017
Second-Tier Channels: Subscriber Growth 2017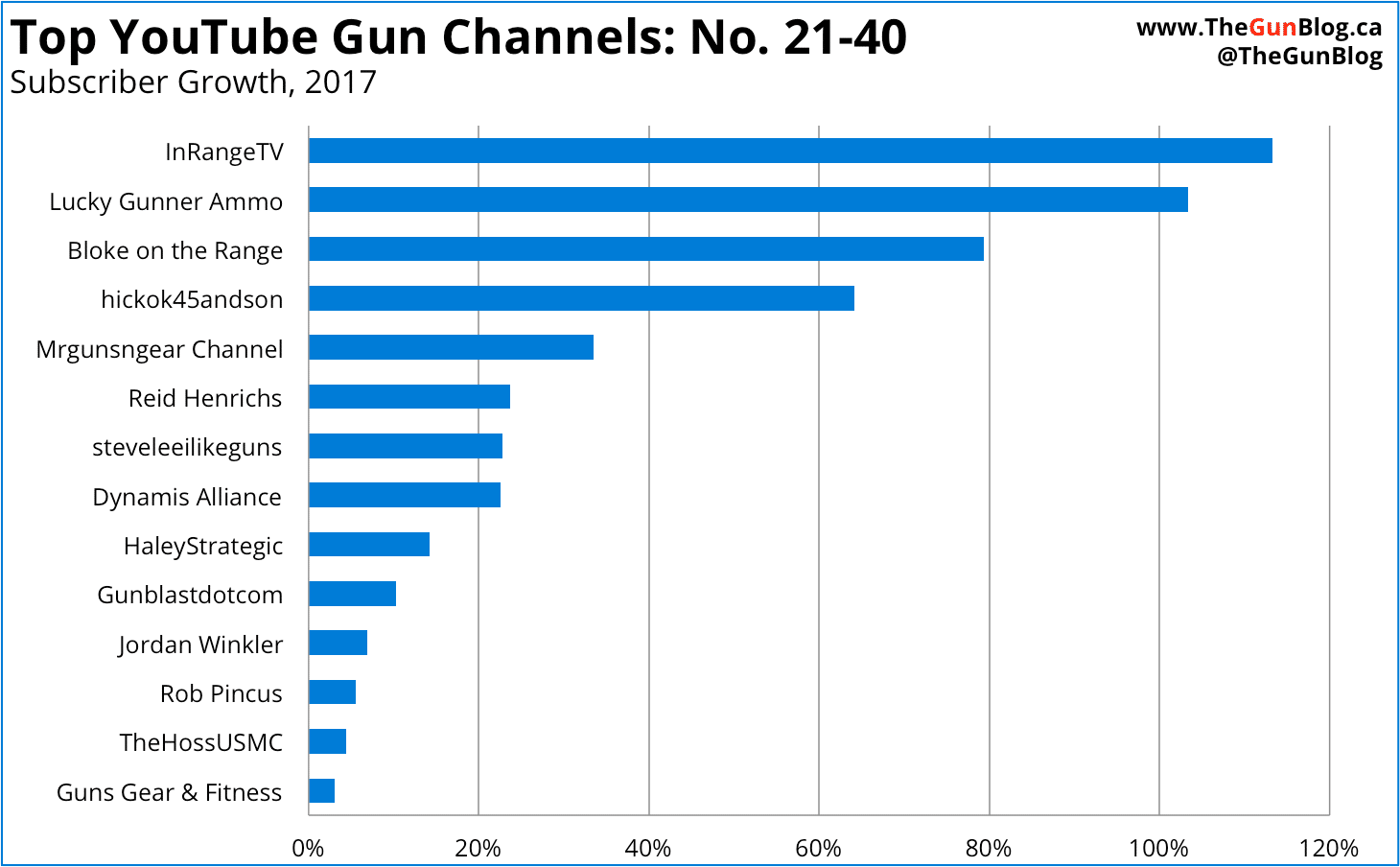 © 2018 TheGunBlog.ca