Canadian Gun Owners Fail Again to Show Up for Conservative Party
TheGunBlog.ca — Every political party in Canada's parliament is working to eliminate or further restrict private firearm ownership, except one: the Conservative Party.
It's beyond disheartening that the country's millions of gun users failed again to support the party and the candidates running to lead it.
Conservative Leadership Election
Party HQ said July 14 it had 269,469 members, a record high.
That's fantastic for the party, members, and the leadership candidates who recruited us. Bravo!
Many of us have mailed in our ballots and are eager for the results on or soon after the Aug. 21 deadline.
For gun owners, it's pathetic.
Playing With Numbers
To get a grasp of how checked-out we are, let's pretend a maximum scenario where every Conservative member owns, uses or likes guns.
(In reality, research by Angus Reid Institute shows about half of Conservative voters dislike guns.)
Based on 2.2 million adults with a federal firearm Possession and Acquisition Licence (PAL), 12% would be Conservative members.
Based on almost 4 million gun owners (with and without permits) suggested by Angus Reid, 6.7% would be party members.
Based on millions more people who own or use guns or might want their father, mother, son, daughter, brother, sister, spouse, colleague or friend to keep their gear, the percentage drops below 3%.
Source: Canada Gun Facts & Stats
In every case, the actual percentage is tiny. Barely any firearm fans are Conservative Party members.
Hostile Parliament
That's a scary sign as the governing Liberal Party — backed by the Bloc Québécois, the New Democratic Party and the Green Party — prepares mass confiscations and a legislative overhaul to further weaken citizens, cripple the firearm industry and kill modern shooting sports.
Liberal Attacks
Even though hunting and shooting are at the heart of Canadian culture, heritage and the economy, and even though gun users are in every party, the Liberals have weaponized private gun ownership as a so-called "wedge issue" to divide electors and win votes.
For decades, they have been the most-powerful and most-hostile force in the House of Commons against gun users.
It's baffling that so many firearm fans vote Liberal, or for fringe parties that get Liberals elected.
Conservatives Vs. Confiscation
It's also baffling that so many gun users refuse to back the Conservative Party, saying it isn't really conservative, or is Liberal Lite, or whatever.
Our choice isn't between Conservatives or some perfect ideal — which the party isn't.
Our choice is between a Conservative Party that isn't working to eliminate us, or a Liberal Party that is.
Mulroney-Campbell Injustice
Conservatives aren't always firearm friendly. Far from it.
In the early 1990s, Prime Minister Brian Mulroney and his minister of justice, Kim Campbell, invented all sorts of new paperwork and confiscations.
Because of them, we can go to jail for having standard-sized ammunition magazines for modern rifles and pistols.
Harper Betrayal
Many Conservatives feel betrayed by Prime Minister Stephen Harper for what they view as failing to deliver on his pledge to repeal the Liberal Firearms Act of 1995.
He barely touched it during his time in office from 2006 to 2015.
Four Good Candidates
Gun owners today are lucky.
All four leadership candidates say they respect our rights.
They all promise to repeal the May 1 Liberal confiscation order if they are elected prime minister before the confiscation deadline. Highly unlikely.
Some want to scrap last year's Bill C-71.
Some want to scrap the entire convoluted, wasteful and unjust legislative framework for firearm users and businesses.
Sample Ballot for Conservative Leader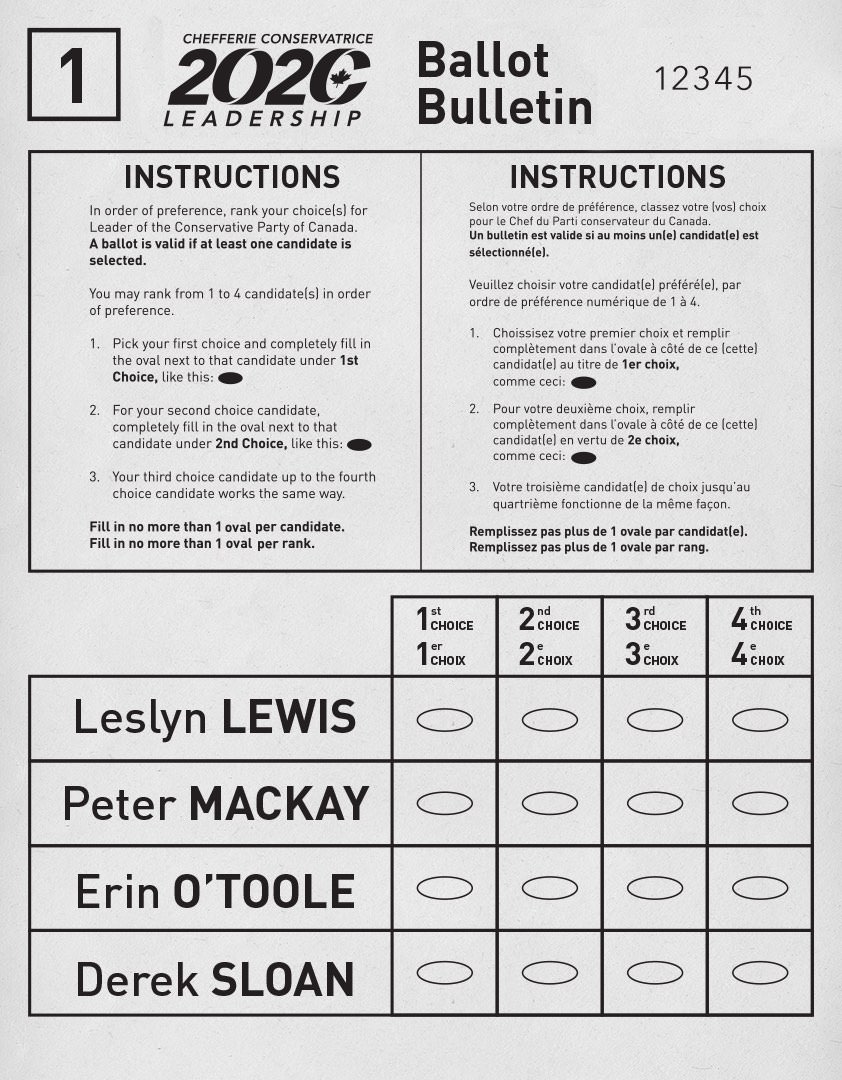 Right or Wrong, We Lose
The sad truth: Most gun owners don't deserve the support of the new leader.
We just showed — again — that we don't care about the party enough to elect the chief.
Maybe we're right.
As long as Conservative politicians fail to deliver on their promises, they won't get our support.
Or maybe we aren't.
As long as we keep showing we don't care about them, they'll keep showing they don't care about us.
In either case, we lose.
Silver Linings
If there's a sign of good news in the record-high Conservative membership, it's that maybe it was boosted by gun users.
Many people (including readers of TheGunBlog.ca) give generously to the party.
The other bit of good news is that we can show up for our only political ally in the House of Commons soon, as in every election.
Every time we don't, more gun owners become former gun owners.
---
Related
—
Update July 20: Adds context.
Correction July 19: Deletes comparison to 2017 membership.