Gun Licences Rose for 10th Straight Year in 2019 to New Record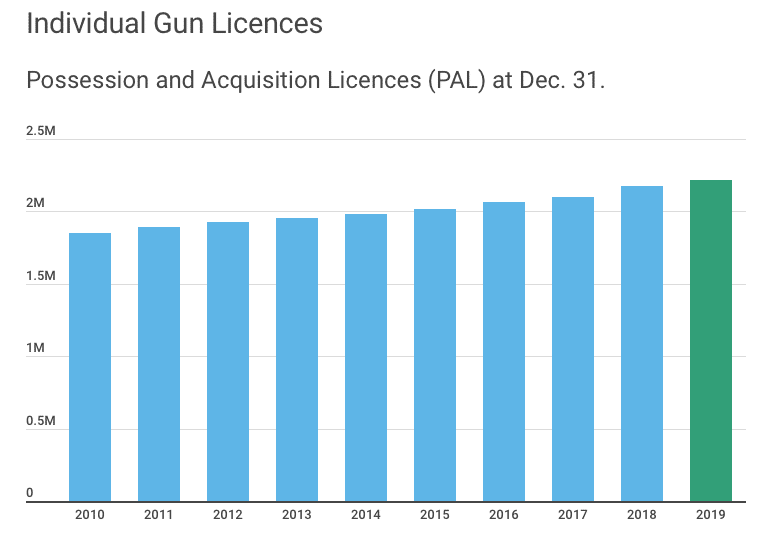 TheGunBlog.ca — The number of Canadians with a federal gun licence rose for the 10th straight year in 2019 to a new record, driven by demand for firearms for sport and collecting to home safety and hunting.
---
Why It Matters
The number of licence holders is the best indicator we have of:
private gun ownership in Canada
whether the market is expanding or shrinking
whether our community is getting stronger or weaker
---
The Royal Canadian Mounted Police had approved 2,216,509 adults for a firearm Possession and Acquisition Licence (PAL) as of Dec. 31, 2019, the RCMP told TheGunBlog.ca on March 23 in response to questions.
That compares with 2,174,725 PAL holders a year earlier, according to the 2018 RCMP Commissioner of Firearms report.
(See the new interactive charts on the Facts & Stats page.)
The Ottawa-based RCMP controls private gun ownership and the licensing system.
Soaring Demand
The decade of gains marks the longest stretch of increases since 2001, when new laws threatened jail for anyone who buys, sells or has any firearm without permission from the federal police.
Women have been getting permits at about four times the rate of men, drawn to fast-paced and precision sports using handguns and AR-15 target rifles.
The only Team Canada shooter to qualify for the next Summer Olympics is Lynda Kiejko, a female pistol champion.
Lynda Kiejko is headed to #Tokyo2020 🙌

She will compete for 🇨🇦 in the 10m air pistol event 💪

See all of #TeamCanada's qualifications 👉https://t.co/Xfip0UINau pic.twitter.com/0hQjhwia8z

— Team Canada (@TeamCanada) January 22, 2020
2020 Slowdown
After five consecutive record highs for new permits, closures related to the Covid-19 pandemic mean this year will almost certainly show slowing growth or a decline.
"The processing of applications for a new firearm licence is on hold until further notice," the RCMP said in a Covid-19 update on its website. Renewals by mail "have been significantly impacted."
The mandatory Canadian Firearms Safety Course to apply for a licence has been suspended in most of the country since March.
Covid-19 Spike
The shutdowns come as the virus leads to a surge in new people wanting guns and ammunition.
It typically takes three or four months to obtain a licence after passing the one- or two-day safety course, depending on the licence.
There's no indication of when classes may resume.
https://twitter.com/TheGunBlog/status/1250446407871447044
More Canadian Than Hockey
Gun ownership is at the heart of Canadian nature, tradition and the economy.
More men and women have a firearm licence than play golf, hockey or soccer.
Millions of unlicensed family and friends of all ages hunt and shoot safely and responsibly under the control of permit holders.
Hunters provide leadership, expertise and hundreds of millions of dollars each year for nature conservation, wildlife protection, habitat restoration and outdoor education.
Hunting and sport shooting contributed $5.9 billion to the economy in 2018.
The firearm industry employs almost 50,000 people.
Licensing Vs. Ownership
Many licensed adults don't own guns, and many families — especially seniors — have firearms for hunting and predator control from before the current licensing regime.
A survey last April by Angus Reid Institute showed 14% of respondents said they owned at least one firearm, double the roughly 7% who have a licence. (See Question QG17.)
That would represent 4.2 million owners, based on Canada's 30 million adults.
The Commissioner of Firearms estimated 2.2 million owners in their 2003 annual report, when it had granted 1.97 million licences. (See bottom of page 16.)
Gary Mauser reported the Angus Reid results previously.
https://twitter.com/TheGunBlog/status/1227994201406812161
Targeting Licence Holders
Having a licence can be a liability.
The governing Liberal Party is targeting permit holders for one of the biggest confiscations against honest citizens by any democracy in history.
The Liberals are preparing new laws to order the national confiscation of 250,000 legally owned rifles, and to enable the municipal confiscation of all 1 million legally owned handguns.
Getting a Licence
The first step to get any firearm is to get a licence after passing the Canadian Firearms Safety Course developed by the RCMP.
To be approved for a permit, applicants must:
Get a minimum score on written and practical exams on regulations and safe gun handling
Get spousal approval
Provide references
Submit a formal application with a professional photo and pay the application fee
Pass a background check by the police to get a temporary licence card
Pass a daily police screening to keep their licence and their guns.
---
Related