RCMP Removes Bill C-71 Web Pages
TheGunBlog.ca — The RCMP removed its web pages on Bill C-71, the Canadian government's new law against federally licensed hunters, sport shooters and gun stores.
Two pages outlining the law's first round of gun prohibitions and confiscations from individuals and businesses appear to have gone offline days or weeks ago, sometime after the legislation was passed by the governing Liberal Party on June 21.
Deliberate or Accident?
The Ottawa-based Royal Canadian Mounted Police, which approves and tracks licensed gun users and businesses, didn't respond this morning to a request for information, such as the timing of the deletion or whether it was deliberate or accidental.
Political Hot Potato

Bill C-71 is one of the most-opposed legislative initiatives of the outgoing Liberal government. The Conservative Party has pledged to repeal the law if they win the October election.
In addition to the prohibitions in Bill C-71, the Liberals are campaigning on the biggest round of gun confiscations or evictions in Canadian history, starting with the owners of 200,000 rifles/shotguns.
Projections suggest the Liberals will be re-elected unless a major shift occurs, potentially led by the shooting community.
---
Check out our Canadian Gun Owners Guide to Election 2019 (Amazon Bestseller)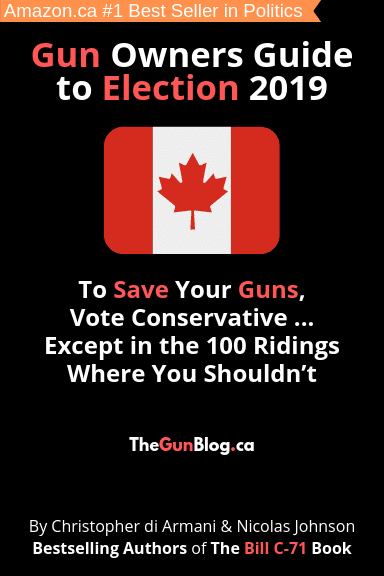 ---
404 Error
The web address to the RCMP's former Bill C-71 page for individuals (screenshot below) returns a 404 error, meaning the address can't be found.
That page directly concerned more than 10,000 families whose CZ 858 and SAN Swiss Arms rifles will be seized by police after the registered owners die. Failure to register on time can lead to prison.
Prohibit and Confiscate
Bill C-71 makes it easier for the government and RCMP to prohibit and confiscate guns. One lawyer called it a "warning sign" that more bans are coming.
The RCMP's web pages about the bill were criticized last year following a report by TheGunBlog.ca.
RCMP Undermined Parliament on Bill C-71, House Speaker Says
Overview Page
The only Bill C-71 page seen today is the overview page from June 21 saying Bill C-71 requires the RCMP to turn over the so-called Long-Gun Registry of owners of "Non-restricted" rifles and shotguns to the Quebec government if so requested, along with the following text:
The legislation provides for a number of other elements that may be brought into force, however, these would require an Order in Council. More information on how these other elements may affect you will be made available if these elements are brought into force.
Twitter Post
https://twitter.com/TheGunBlog/status/1170339285175799808
Cabinet Orders
Bill C-71 invents new crimes for Canada's 2.2 million men and women and 1,500 businesses with a federal firearm licence.
For example, if a man gives a "Non-restricted" rifle or shotgun to his spouse without explicit permission from the RCMP for the transfer, both spouses could go to prison under Bill C-71 even if they both have firearm licences.
The Liberals haven't said how they will inform people about the new measures to put them in jail for doing nothing immoral or harmful.
Many parts of the bill have yet to take effect through cabinet directives known as orders in council.
Ministry Comments on Bill C-71 Royal Assent, Orders in Council
Screenshot of Deleted RCMP Web Page
Zoom in to read.