Firearms Act Evaluated With Summary Logic Model in 1998 Report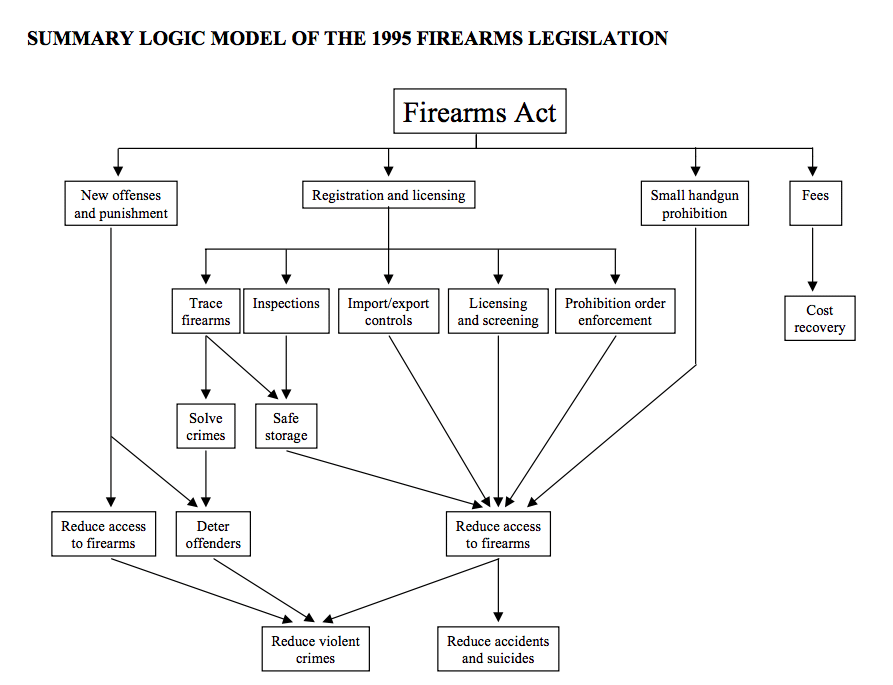 TheGunBlog.ca — Canada's Firearms Act of 1995 invented a series of crimes for hunters, farmers, sport shooters and every other private citizen who owns a gun, even if they do nothing immoral or injurious, according to an evaluation report by the Department of Justice in 1998.
Following are select highlights from the report, followed by excerpts.
Publication Details
Author: Canadian Department of Justice
Date: April 1998
Length: 94 pages
Highlights
The report included a "Summary Logic Model" of the law on p. 44, as pictured above.
The Firearms Act made it a crime punishable by prison to have any gun without government permission and a licence.
It threatened to criminalize an estimated 3 million gun owners, or about one in four Canadian households, according to the report. Today Canada has about 2.2 million gun owners with licences, suggesting many owners at the time have died, disposed of their guns or never got the permits.
The Firearms Act, passed by a Liberal Party-controlled government, resulted in the planned confiscation of more than half the handguns owned by men and women across the country in 1995, the report said.
The seizures or forced sale of prohibited handguns, rifles and shotguns continue to this day after the owners die. Including related gear that becomes worthless without the guns, the bans could represent more than $200 million in destroyed personal and family wealth. The amount doesn't reflect historical, sentimental or symbolic value.
Many of the report's suggestions for further evaluation and study were never done or never published.
---
Selected Excerpts, [With Comments by TheGunBlog.ca]
Page 1
Government efforts to restrict public access to, and use of firearms have a long history in Canada, dating back almost to the time of Confederation.
Page 2
Three basic principles have traditionally underlied firearms control measures in Canada. …
deterrence of the misuse of firearms;
general controls on persons given access to firearms;
controls placed on the availability of specific types of firearms.
Page 4
The statutory definition of a prohibited weapon has been expanded to include all .25 and .32 calibre handguns as well as all handguns with a barrel length of 105 mm (4.14") or less. As a result, over one half of the handguns currently registered in Canada have been reclassified from restricted to prohibited firearms.
A central component of the Canadian Firearms Program is the introduction of universal licensing and registration of all firearms and all firearm owners in Canada. [Well, not quite universal. Only those who choose to comply.]
Page 5
Previous evaluations of firearms control programs, both in Canada and elsewhere, have generally been hindered by shortcomings in the availability of comprehensive and consistent data. [More than 20 years later, Canada maintains this tradition.]
Page 10
The 1995 firearms legislation includes a number of significant changes and additions to the types of offences and associated penalties related to firearms possession. Some offences which previously applied only to restricted and prohibited weapons have been broadened to include any firearm in recognition of the new licensing and registration requirements for all firearms.
Page 59
The Canadian Firearms Program represents a substantial initial financial investment by the federal government which is required, over the long term, to be subject to full cost recovery through user fees charged to individuals and businesses for specific licenses, registration and other transactions. These costs, as well as other private costs associated with compliance to the requirements of the program, are therefore expected to ultimately be borne by the private users of firearms.
[In other words, the government will impose a new tax on lawful, legitimate, licensed gun owners so they can pay the full cost of having themselves tracked and tagged by the federal police, and having their firearms registered, prohibited and confiscated.]
Page 61
Firearms registration will also be examined as part of this study. As one of the more controversial components of the Canadian Firearms Program, it will be important for the evaluation to bring as much objective empirical data as possible to issues concerning the outcomes associated with universal firearms registration. The study will therefore review the specific usages and outcomes of the firearms registry in order to provide estimates of the benefits of registration in terms of police and public safety, and the role registration plays in encouraging the accountability of firearms owners, the removal of firearms from unsafe situations and in facilitating police investigations.
---
Related