SHOT Show 2019 Round Up: Anschütz, Blaser to Kel-Tec and Tenda
TheGunBlog.ca — Here are some of my highlights from this year's SHOT Show, the world's biggest trade show for the firearm industry. The expo ran last week in Las Vegas. It started with a range day.
Names You'll See Below
AmChar, Anschütz, Blaser, Canadian Shooting Sports Association (CSSA), Daniel Defense, European Arms Distributor, Galco, KelTec, Peacekeeper Products, Stoeger, Tenda (running a Glock First Look demo day). (More companies and products in my report from the range day.)
Context
The following are snippets and tidbits from chats with company representatives, usually at the company booth. The conversations and demonstrations generally lasted less than 5 minutes.
The products mentioned are a tiny sample of what caught my attention as I wandered a small portion of SHOT Show's 12.5 miles (20 km) of aisles. They aren't necessarily the hottest or newest items.
All the product info is public, but most of the comments and context haven't been published before and you won't find them anywhere else. They are exclusive to TheGunBlog.ca.
I am a customer or member of many of the companies and associations listed. See more disclosures on the About page.
The points below are alphabetical by company name.
---
Anschütz (Germany)

J.G. Anschütz GmbH & Co. KG is the world's largest maker of air rifles and .22 LR rifles used in high-end competition, from biathlon to the Olympics.
The German company's biathlon rifle at the booth was listed without sights at almost USD 4,000 (CAD 5,300) and an Olympic rifle was USD 5,300 (CAD 7,000). The manufacturer also makes rimfire and centrefire models for hunters and recreational shooters.
Anschütz created a Canadian subsidiary in 2018 presided by Brad Mills, the owner of Nova Scotia-based Nordic Marksman Inc., the official supplier of Biathlon Canada.
My host at the booth was Jochen Anschütz, the manufacturer's president and owner. Here's a short Q&A based on our chat.
On how the Anschütz family and company shaped modern biathlon:
Years ago biathlon used centrefire ammunition with targets out to 200 m.
Roughly 30 years ago, "My father worked with the technical committee to move to .22. It was more flexible, cheaper, more attractive to spectators because everything is much closer, and there's less noise."
How important is the Canadian market for you?
"It's a small market, but important."
How does it help to have a local subsidiary?
It helps to have someone acting for the company in charge of the market and in charge of after-market service, Anschütz said.
"We can develop the product much better for the needs of the Canadian market. When you buy a rifle, it's an investment. For the next 10, 20, 40 years, you can be sure there will be somebody here who can help."
Blaser (Germany)
https://www.instagram.com/p/Bsif7hWB9Fi/?utm_source=ig_web_button_share_sheet
Blaser GmbH, one of Europe's largest manufacturers of hunting rifles, may be best known for its straight-pull, bolt-action rifles. ("Blaser" is pronounced BLAH-zer.)
The rifles and shotguns I saw and handled at the booth were beautiful to look at, light and comfortable to hold and shoulder, and smooth to operate. No rattling, no slop, no roughness.
Kevin Wistner, the sales and operations manager for Blaser North America, showed me some of the features designed for hunters. They include easy disassembly for transport (e.g. in a backpack or on a plane), and a trigger-housing-plus-cartridge-magazine that is quick to swap while in use, yet can be locked to keep it in place during transport on a mule or horse going up a mountain.
Seeing how easy and quick it was to take down the rifles and put them back together made question why I bother with big, bulky gun cases that are awkward to handle and transport and broadcast to onlookers: "Guns Inside. Steal Me First."
Blaser's R8 Professional Success model in .300 Winchester Magnum was listed at USD 5,663 (CAD 7,490). Wanstalls Ltd. of British Columbia sells Blaser's R8 Baronese for more than CAD 15,200.
The single-shot, break action K95 Jaeger was USD 5,223. At roughly 5 pounds (2.3 kg), it's one of the lightest rifles I've ever lifted. The K95 breaks down into its three main components (butt and action, barrel, foregrip) in two moves.
"It's our most-accurate rifle," Wistner said. "It has no moving parts."
Unverified, but seen on the Internet: Blaser is owned by Germany's Lüke & Ortmeier Holding Gruppe, the same company that owns German Sport Guns (GSG), J.P. Sauer & Sohn, Mauser, SAN Swiss Arms and SIG Sauer.
Do you have a distributor for Canada?
"Chris Weidenfelder," said Wistner. "He's setting the world on fire. He's doing a fantastic job."
After the expo I bumped into Weidenfelder, who represents Blaser, Desert Tech, Zev Technologies and other brands through his company, Outdoor Escape Sales. I asked him about 2018 for Blaser in Canada.
"It was a phenomenal year," Weidenfelder said. This year also looks promising, and he'll be sharing details of Blaser Canada's sponsorship of youth competitors in coming weeks, he said.
Canadian Shooting Sports Association (Canada)
One of the high points of SHOT Show for me is also one of the high points of the year: the Canadian Shooting Sports Association's reception for the country's firearm industry.
This was my third time attending the largest annual gathering of Canadian gun-industry executives anywhere. The attendees included top managers and staff from the country's biggest firearm importers, distributors and retailers to one-man workshops and gunsmiths, to politicians, police and government employees, to shooting and hunting celebrities, competitors, lawyers, insurers and media.
It was my first time in the same room as senior executives from all three of Canada's national gun-rights groups plus the industry association:
CSSA: Tony Bernardo, executive director, with several colleagues
Canadian Coalition for Firearm Rights (CCFR): Rod Giltaca, chief executive officer and executive director
National Firearms Association (NFA): Blair Hagen, executive vice president
Canadian Sporting Arms and Ammunition Association (CSAAA): Alison de Groot, managing director
See the list of more than 30 sponsors in the Jan. 18 CSSA E-News.
Daniel Defense (United States)
https://www.instagram.com/p/Bs8-4EYgthS/?utm_source=ig_web_button_share_sheet
Daniel Defense Inc., a maker of AR-15 rifles and accessories and the main sponsor of SHOT Show, introduced its first bolt-action rifle, the Delta 5. It will come in .308 Winchester and two other calibres, with a Timney trigger and a 5-round AICS Magpul PMAG magazine. The firearm is scheduled to be in stores in March for a suggested price of USD 2,199 (CAD 2,900).
I asked Daniel Defense's product-design director, Daniel McLeroy, what he thinks about when he designs guns.
The science of bullet flight is divided into three stages, McLeroy said.
Internal ballistics: what the bullet does after the primer ignites until the projectile leaves the firearm.
External ballistics: what the bullet does from when it exits the muzzle until it hits the target.
Terminal ballistics: what the bullet does after it hits the target until it stops.
[McLeroy didn't mention this during our quick chat, but "terminal ballistics" sometimes includes "wound ballistics," what happens to tissues and organs after they are struck by a projectile.]
"A gun is a tool," said McLeroy, who grew up hunting and fishing in Georgia. "I'm worried about the internal ballistics and making it safe for the user."
He said his design work focuses on how to control the explosion in the chamber, and the grain structure of metals down to the level of the geometric alignment of molecules, among other topics related to physics and chemistry.
Here's a video of McLeroy presenting the Delta 5 at SHOT Show.
European Arms Distributor (Canada)
European Arms Distributor (1982) Ltd. is one of two companies authorized by Glock GmbH to distribute their pistols to gun stores (aka "dealers") in Canada. The family-owned, Vancouver-based company has five employees.
I met Giovanni Speroni, the sales manager, at the Glock booth the morning SHOT Show opened.
How was last year for business?
"Sales in 2018 were phenomenal," Speroni said.
What made it so good?
"Amazing pricing from Glock. It's a very competitive price. Price, service. And stock."
What models were the most popular?
The 19X and 19 Gen 4 with the maple leaf.
"Those were the main ticket. People could not always keep them in stock."
What do you worry about most in your business?
Canadian gun laws.
How would you be affected if the government bans handguns? I've been told that 'Restricteds' are what's keeping the industry alive, and that that's where the growth is.
"If 'Restricteds' are gone, I'd probably close shop."
"Most of the dealers are reliant on 'Restricteds.'"
Galco (United States)
Galco International Ltd., a maker of holsters, purses and belts, shared the story of how its Miami Classic shoulder holster ended up being used by Don Johnson in his role as Sonny Crocket in the 1980s TV show Miami Vice. (I spent many Friday nights as a young teenager watching Miami Vice and Knight Rider.) Galco's owner personally fitted the actor so he could comfortably carry his Bren 10 pistol. The connection to the show was good for business.
"It was by far the biggest sales bump that Galco ever got," said Mike Barham, the company's media manager.
Galco's website presents the twists and turns of how it all happened. It makes for a fun tale of firearm-industry trivia.
The company, which uses the hides of about 20,000 cows each year, said separately that its most-popular holster is the King Tuk, an inside-the-waistband model with a leather liner and a kydex gun pocket.
Kel-Tec (United States)
KelTec CNC Industries Inc. introduced its KS7 12-gauge shotgun and CP33 .22 LR pistol. The handgun is notable for having a quad-stack magazine (two double-stacked columns) that can hold 33 rounds, with an extended mag that fits 50. Both firearms will retail for less than USD 500.
A rep said the company's folding Sub-2000 rifle introduced in 1999 is its bestselling product. The firearm takes popular handgun magazines. Kel-Tec recently began selling a Multi Mag version that can switch between Beretta, SIG Sauer P226 and Smith & Wesson M&P mags. The model for Glock mags is its own version.
https://twitter.com/TheGunBlog/status/1088914618162933760
Peackekeeper Products International (United States)
The company said its telescoping baton is replacing ASP batons with many police departments in California.
Stoeger (United States)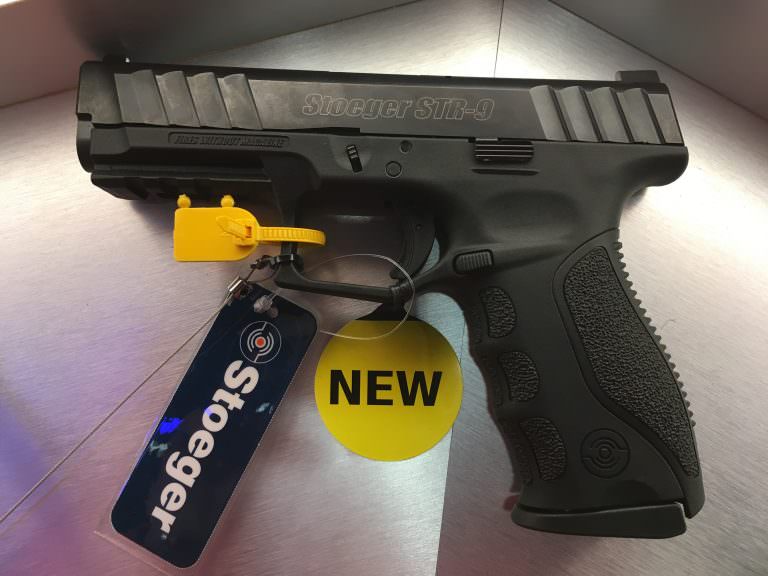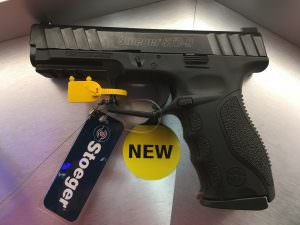 Stoeger, part of Beretta Holding SpA of Italy, introduced the STR-9 pistol in 9 mm with a 106 mm barrel that makes it legal in Canada with a reduced-capacity magazine. The base model is listed at USD 329 (CAD 435).
It felt comfortable in my hands with a good trigger for a gun at this price.
Tenda Canada (Canada)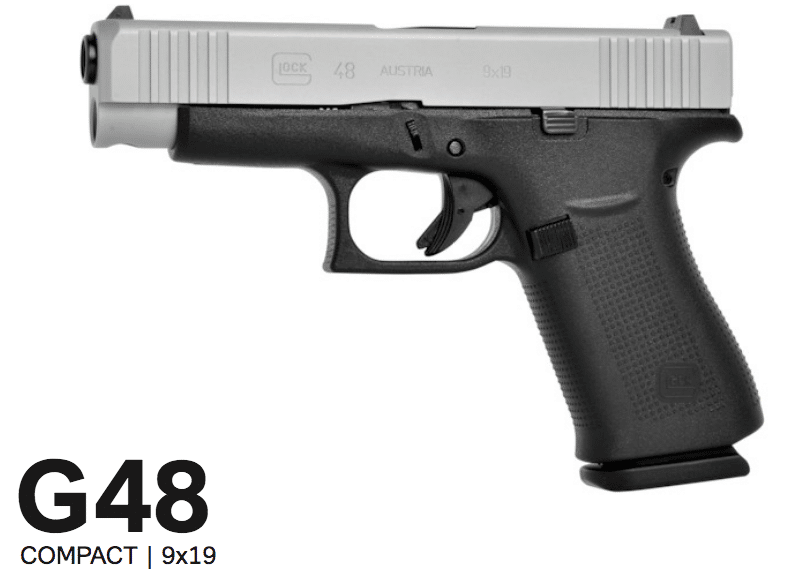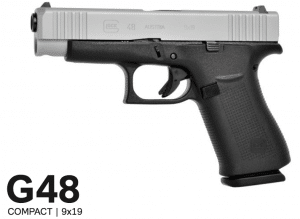 Glock First Look Event
Tenda Canada Inc., an online gun store based near Toronto, is planning a Glock "first-look" day in the next couple months at Sharon Gun Club, about 60 km north of Toronto, said Steve Kuang, the gunshop owner.
Kuang is running the event with Edward Morgis, the Canadian representative of AmChar Wholesale Inc., one of two companies authorized to distribute Glock pistols to retailers in Canada. It's part of a series of try-before-you-buy events Kuang wants to run to promote the shooting sports and help new shooters pick their first firearm.
Shooters will get to try the new Glock 48 and other models, Kuang and Morgis said at the Glock booth the morning SHOT Show opened. They plan to include special offers or giveaways for people who buy a handgun at the event, they said. They're still deciding the details. Tenda will provide updates in its newsletter.
Kuang said separately that customers have been ordering the model 48 even though it hasn't arrived in Canada yet.
"We have over 50 to 60 sold," Kuang said.
Read: Glock's New G48 Is Its First Pistol Designed to Be Canada Legal
SHOT Show 2019 Twitter Threads
https://twitter.com/TheGunBlog/status/1087423622027702273
https://twitter.com/TheGunBlog/status/1088533552436637696
---
Related Information
See all our SHOT Show coverage here.
—
Correction 28 August 2019: Corrects spelling of KelTec.