Toronto 'Crime Guns' Traced to Canada Fell to New Low in 2017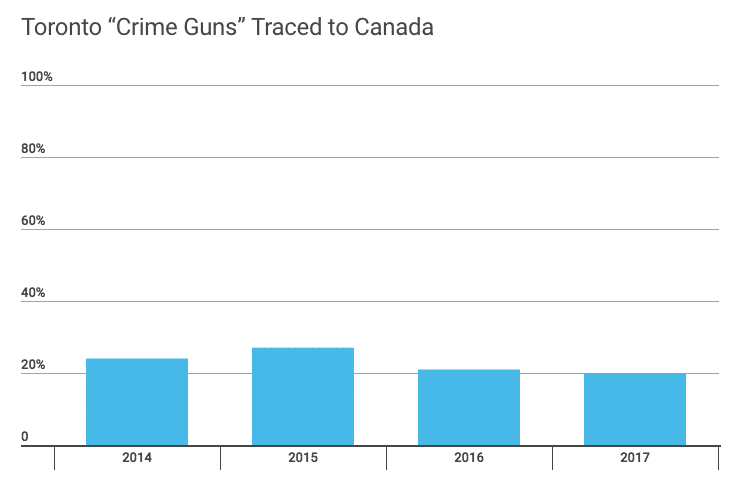 TheGunBlog.ca — Toronto police data show the percentage of so-called "crime guns" traced to Canada fell for a second straight year in 2017 to the lowest level in at least four years, contrasting with claims that outlaws are getting more of their firearms from domestic sources.
Only 20 percent of firearms, airguns, toy guns or replicas seized by the Toronto Police Service and deemed "crime guns" were traced to Canada in 2017, the least since at least 2014, according to calculations by TheGunBlog.ca based on police statistics. The earliest year available was 2014.
The data were sent by e-mail today by Meaghan Gray, a spokeswoman for the police, in response to questions from TheGunBlog.ca.
The figures were first reported last night by the Toronto Sun.
See the interactive charts below.
Read our second analysis on this topic with 11 years of data: More Than a Third of Toronto Police 'Crime Guns' Aren't Firearms
Highlights: Toronto Police 'Crime Gun' Seizures 2017

Context & Questions
Bigger Picture
Related Information
© 2018 TheGunBlog.ca
---
The most important part of gun rights isn't "gun," it's "rights."
---