RCMP to Help 'Strengthen Controls on Handguns, Assault Weapons'
TheGunBlog.ca — The RCMP, which helps decide who is allowed to own guns in Canada and which guns they are allowed to own, said in its annual plan today that it will support government efforts "to strengthen controls on handguns and assault weapons."
The plan comes the very day Brenda Lucki steps into her new job as RCMP Commissioner. It also comes less than a month after the government presented Bill C-71, a proposed law to ban more firearms and make it harder to buy and keep them.
The government appointed Lucki, manages her priorities and has the power to dismiss her. At the same time, it said Bill C-71 will entrust the RCMP to classify firearms "without political influence."
Shooting is one of Canada's most-popular activities, and more men and women have firearm licences than the number who play hockey. The law requires an RCMP-issued licence to own guns, says which firearms are legal to have, where they can be used and how they must be transported and stored. Many of the world's most popular guns, including all fully automatic firearms, are illegal for most Canadians.
The wording in the Royal Canadian Mounted Police 2018-2019 Departmental Plan differs from last year's document. Each plan echoes parts of the Prime Minister's instructions to the Minister of Public Safety in 2015.
From RCMP 2018-2019 Departmental Plan (16 April 2018)
Criminal Use of Firearms and Gang Violence

Specialized Policing Services will support Public Safety's commitments to reduce gun and gang violence and to strengthen controls on handguns and assault weapons. Through the use of integrated teams, dedicated resources, and cross-border initiatives, SPS will provide operational support to investigations involving firearms and will evaluate options to improve the national collection, analysis, and sharing of firearms-related intelligence and information.
From Mandate Letter to Minister of Public Safety Ralph Goodale (12 Nov. 2015)
Take action to get handguns and assault weapons off our streets by working with the Minister of Justice to strengthen controls on hand-guns and assault weapons, including by repealing some elements of Bill C-42.
Bill C-71 would further restrict who is eligible to buy and own guns, how they are bought and sold and which firearms are legal. It would immediately classify more than 10,000 legally owned rifles as "Prohibited" and prevent any firearm from changing hands legally without authorization by a government Registrar.
The only people who will obey the law are Canada's 2.1 million law-abiding and licensed gun owners. Statistics Canada has said authorities don't know the origin of firearms used in crime. The government hasn't said how strangling legitimate gun owners with more red tape will stop violent criminals.
The new legislation would also prevent parliament from overruling new RCMP prohibitions if they are unjustified, fuelling speculation of more bans and suspicion of potential overreach by the federal police.
"Unless firearms owners can successfully rise against this vile legislation, we can expect an outright ban on firearms such as the SKS, the Ruger Minis and the AR-15 platform," the Canadian Shooting Sports Association said in documents distributed at its annual general meeting on April 14.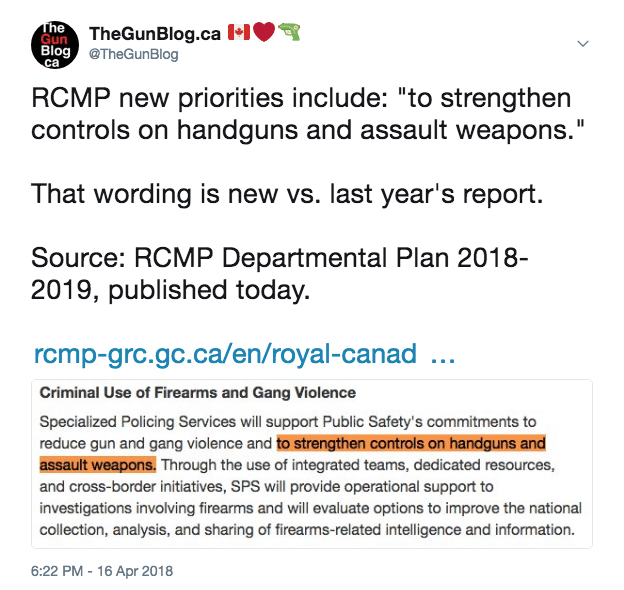 ---
The most important part of gun rights isn't "gun," it's "rights."
---