Gun Licences Rose in 2017 at Slowest Pace in at Least Five Years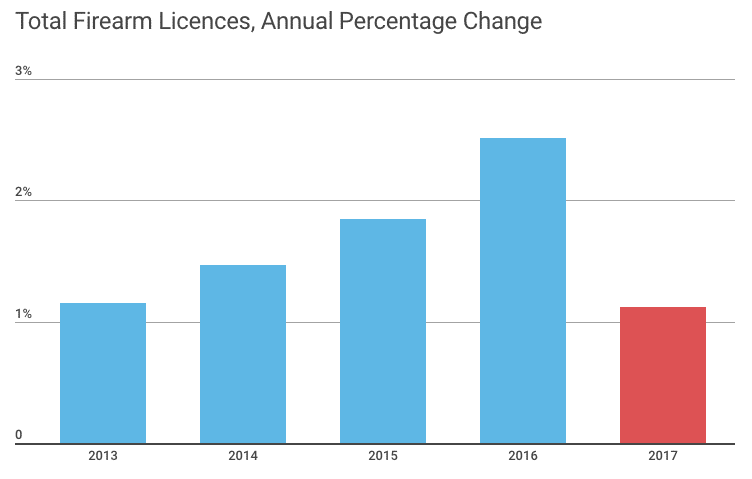 TheGunBlog.ca — Canadians got new gun licences in 2017 at the slowest pace in at least five years. The rate of increase in buying handguns, AR-15 rifles and other so-called "Restricted" firearms also weakened.
---
Highlights
Total individual gun licences: +1.1% to 2,100,181.
Ownership of "Restricted" firearms: +8.4% to 795,358.
Both rose to record highs, but pace of increase slowed.
---
Although licences and "Restricted" ownership both rose to new highs last year, the slower growth, combined with pending laws to restrict imports and to ban more guns, signals another turbulent year for the industry and for shooters.
The declining rate of increase in authorized firearm buyers could mean fewer visits to the gun store. On the other hand, the promise of more restrictions may lead to a buying spree as hunters, farmers and sport shooters rush to stock up on gear before new bans take effect.
Check out these interactive charts, and find more data below.
Licences
Total individual firearm Possession and Acquisition Licences climbed 1.1 percent to 2,100,181 at Dec. 31, 2017, from 2,076,840 a year earlier. (Excludes businesses and museums.)
That's the slowest percentage gain since at least 2013, the earliest available data.
"Non-restricted" PAL: -0.05% to 1,499,521 vs. 1,500,254.
"Restricted" PAL: +6.9% to 550,440 vs. 514,730.
"Prohibited" PAL: -3.3% to 50,220 vs. 51,949.
More Canadian adults have gun licences than the number who play golf, hockey, football, baseball, soccer or who ski. Add in our unlicensed family, friends and guests who join us at the range, and you get several million more shooters.
About 1 out of 14 adults, or 7 percent, has a gun licence.
"Restricted" Firearm Registrations
+8.4% to 795,358 in 2017 vs. 733,542.
Lowest percentage increase in at least four years.
Average weekly purchases of "Restricted" firearms: 1,189 in 2017 vs. 1,184 in 2016.
Source
Data going back to March 2013: Royal Canadian Mounted Police, data shared last week.
Before March 2013: Historical RCMP data.
Related Information
© 2018 TheGunBlog.ca
---
The most important part of gun rights isn't "gun," it's "rights."
---