New Gun Law 'Scaring' Rural Liberal Politicians, Hill Times Says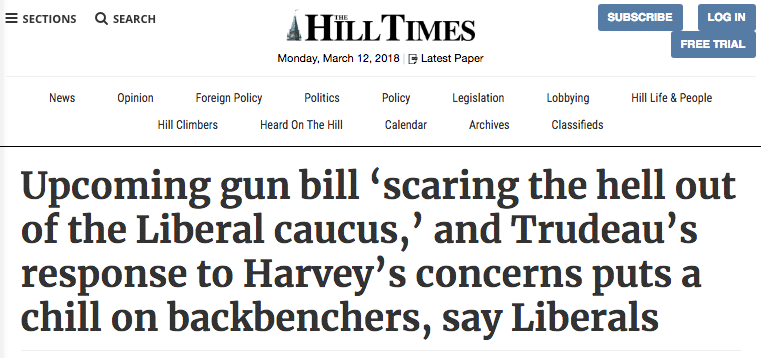 TheGunBlog.ca —The Canadian Liberal government's pending law to further limit gun rights is "scaring the hell out of the party caucus," especially politicians in rural areas, the Hill Times reported today, citing members of parliament.
Thomas Harvey, chair of the Liberal rural caucus as an elected representative from New Brunswick, stood up at a Feb. 28 meeting of Liberal MPs to express what he felt was a lack of consultation about the planned anti-gun measures, the newspaper said today, citing an MP it didn't identify.
The pending legislation is "scaring the hell out of the Liberal caucus," especially those in rural ridings, the Hill Times quoted the MP as saying.
The prime minister verbally attacked Harvey after he spoke, the newspaper said, citing the same person.
On March 9, one of the world's largest public-relations companies said the Liberals should further slash firearm rights to win re-election next year, calling gun control an "untapped opportunity."
Hunting and sport shooting are among Canada's most popular activities, with more adults having gun licences than the number who play hockey.
New Brunswick had almost 70,000 men and women with the permits at the end of 2016, out of more than 2 million across the country. Millions more unlicensed family, friends and guests also shoot lawfully and responsibly.
---
The most important part of gun rights isn't "gun," it's "rights."
---
© 2018 TheGunBlog.ca