Glock Says Canadian Model 19 Coming in January, Price to Drop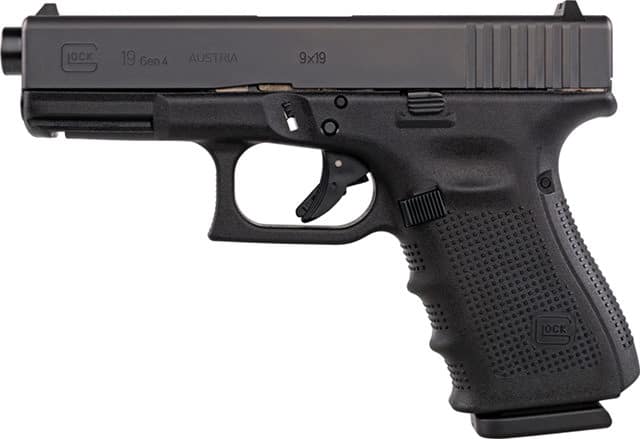 TheGunBlog.ca — Glock GmbH said the Canadian version of its model 19 pistol will start arriving in January, and that prices will drop next year.
"Delivery to Canada will be January 2018," James Cassells, Glock's sales manager for Canada, told TheGunBlog.ca today by e-mail. "Our initial run will be a limited number."
The model 19, the world's most popular pistol, is a smaller version of the original Glock 17 in 9 mm. It's a favourite for personal protection among private civilians and police, and is used by the U.S. Navy SEALs. Police in Canada generally prevent people from buying guns legally for defence, but millions of men, women and youth use them for hunting, recreation and sport shooting.
The Canadian pistol is based on the Glock 19 Gen 4, with a barrel lengthened to 106 mm and magazine capacity reduced to 10 cartridges to comply with federal law, Cassells said in September when announcing the new gun. It will also have a laser-engraved maple leaf on the slide.
Glock lowered its prices in Canada this year and said in September that the Canadian model 19 would be sold at the same price as the Glock 17 Gen 4, or about $780 at the time. The Austrian company also makes Gen 5 versions of both its model 17 and 19 handguns.
"Pricing will be the same as a G17 Gen 4 and I expect prices to be lower again in 2018," Cassells said today.
Al Flaherty's Outdoor Store in Toronto and Firearms Outlet Canada Inc. in Ajax, Ontario, currently list the Glock 19 Canadian at $731, the lowest price on GunSale.ca. Both their websites show they're sold out. Wanstalls Ltd., near Vancouver, offers it for $740.
The pistol will be on display at SHOT Show, Cassells said. The expo, the world's largest trade show for the firearm industry, starts Jan. 23 in Las Vegas. TheGunBlog.ca will be attending.
© 2017 TheGunBlog.ca