FSESO: Firearm Instructors in Ontario Have a Superb New Website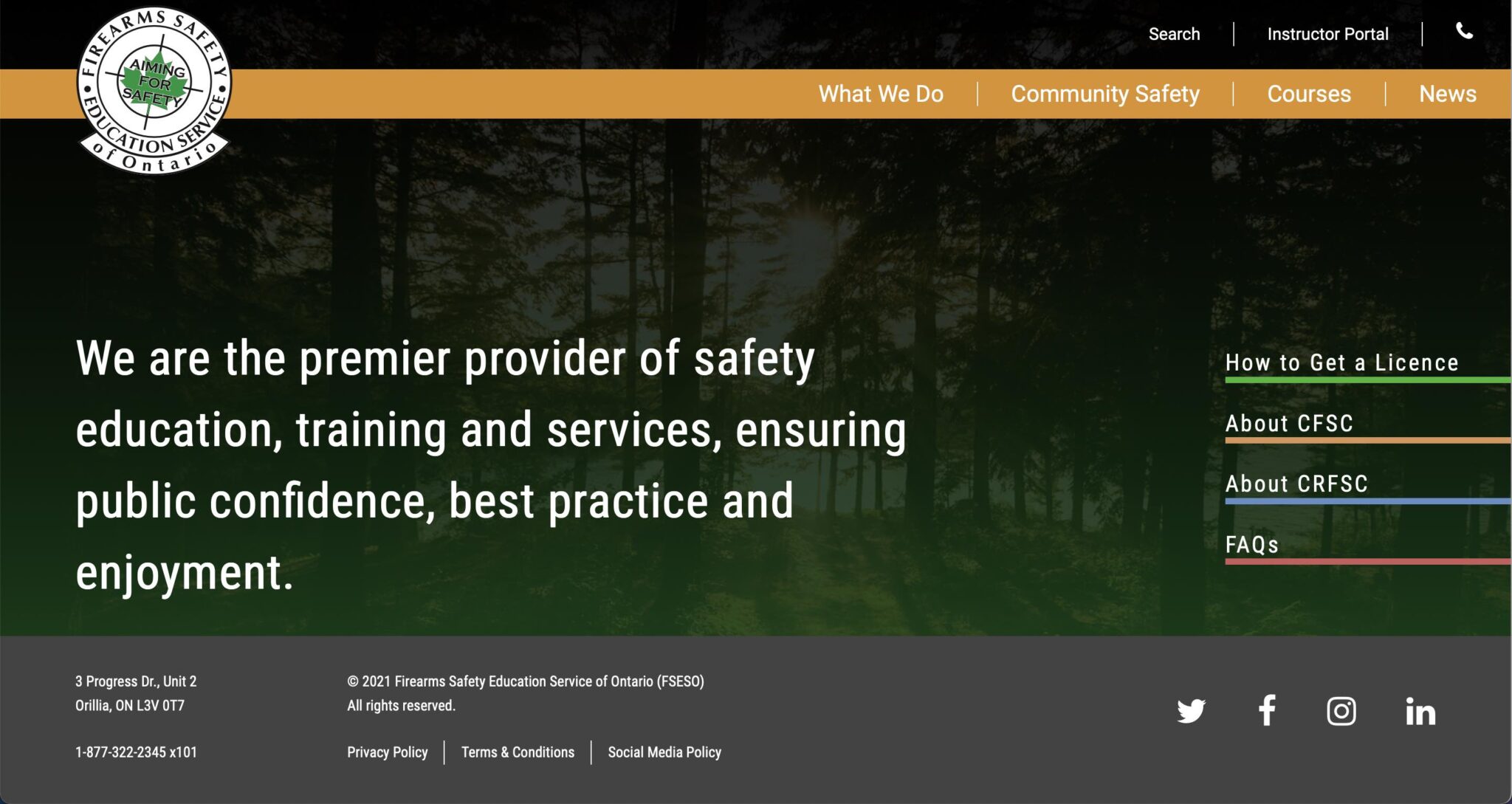 TheGunBlog.ca — The Firearms Safety Education Service of Ontario (FSESO), the biggest association of Canadian gun-licence instructors, has a superb new website: good looks, good info, runs fast.
We'd love for other organizations to follow their lead.
"We are so excited to announce that our new website is now live!" FSESO said on Twitter on September 09.
What We Like About the Updated FSESO Website
Good Looks
Clean, contemporary, minimalist design.
Few pages, easy to navigate.
Good Info
Clear overview of how to get a gun licence, with a nice infographic and detailed FAQ.
Clear menus to find a gun-safety course instructor, download the course handbook, and get more info.
Clear wording and upbeat tone

, a welcome change from the dry legalese of many organizations.

Good transparency about the FSESO, listing the names and positions of staff and the board of directors.
Runs Fast
The webpages load in a flash on both laptop and mobile.
FSESO: More Updates Coming Soon
FSESO has a single item on its News page, dated August 25:
The FSESO.org has a new look!

8/25/21

We have been working hard over the past months to bring an improved website design to the FSESO.org website. We are excited to launch our new look and hope you enjoy an improved experience on our site. You can also look forward to more upgrades and new features to the website coming soon!
More Context
FSESO is the association for Ontario's 300+ gun-safety instructors, one of Canada's largest groups of firearm professionals.
The Ontario Chief Firearms Office hired FSESO to run the province's gun-safety courses, CFSC and CRFSC.
Ontario instructors help more people get guns legally than any other region. Almost one-third of Canada's 2.2 million adults with a federal firearm Possession and Acquisition Licence (PAL) live in Ontario.
Even though FSESO targets Ontario residents, its webpage on how to get a gun licence provides a solid overview for anyone in Canada.
The Canadian Firearms Safety Course, required to get a gun licence, is the No. 1 download at Publications Canada.
---
Related