Canadian Military Picks SIG P320 As Its New Pistol, Invites Bids
Update 07 October 2022: The government announced the contract for P320 pistols on 07 October 2022.
TheGunBlog.ca — Canada's military appears to have chosen the SIG Sauer P320 handgun to replace the defunct Browning Hi Power, according to technical documents published today.
Details
The Department of National Defence in Ottawa didn't name any models in the detailed specifications for its planned new semi-automatic 9 mm pistol at BuyAndSell.gc.ca. It invited companies to bid for the contract to supply the handgun and holster.
The specs favour the P320 without naming it. They exclude existing models by Glock and other major pistol makers.
The Tender Notice – Notice of Proposed Procurement (NPP) has more than 17 separate files and annexes.
The specs are dated March 26 and are more detailed than the version published in February. The deadline to submit a bid is in August.
Bid Notice Favours SIG P320
Several clues in the technical specs point to the P320, which SIG advertises as a "modular" pistol. The U.S. Army picked the unique design as its new sidearm in 2017.
Title: "C22 Modular Pistol Project"
Paragraph 1.2.2.5: "'Modular Pistol' is defined as a pistol where the entire trigger group can be removed and dropped into another pistol frame size."
Paragraph 3.7, Trigger Group: "The trigger group must be removable as a complete assembly. The trigger group must fit/function in any grip frame housing regardless of slide size or calibre."
More C22 Handgun Specs
Military Model Designation: C22 Pistol
Calibre: 9 mm Parabellum (Paragraph 3.1)
Magazine Capacity: 17 minimum for medium-sized frame. (Paragraph 3.3.4)
Manual Thumb Safety: No. (Paragraph 3.9.4)
Colour: Flat Dark Earth (Paragraph 3.13.1)
---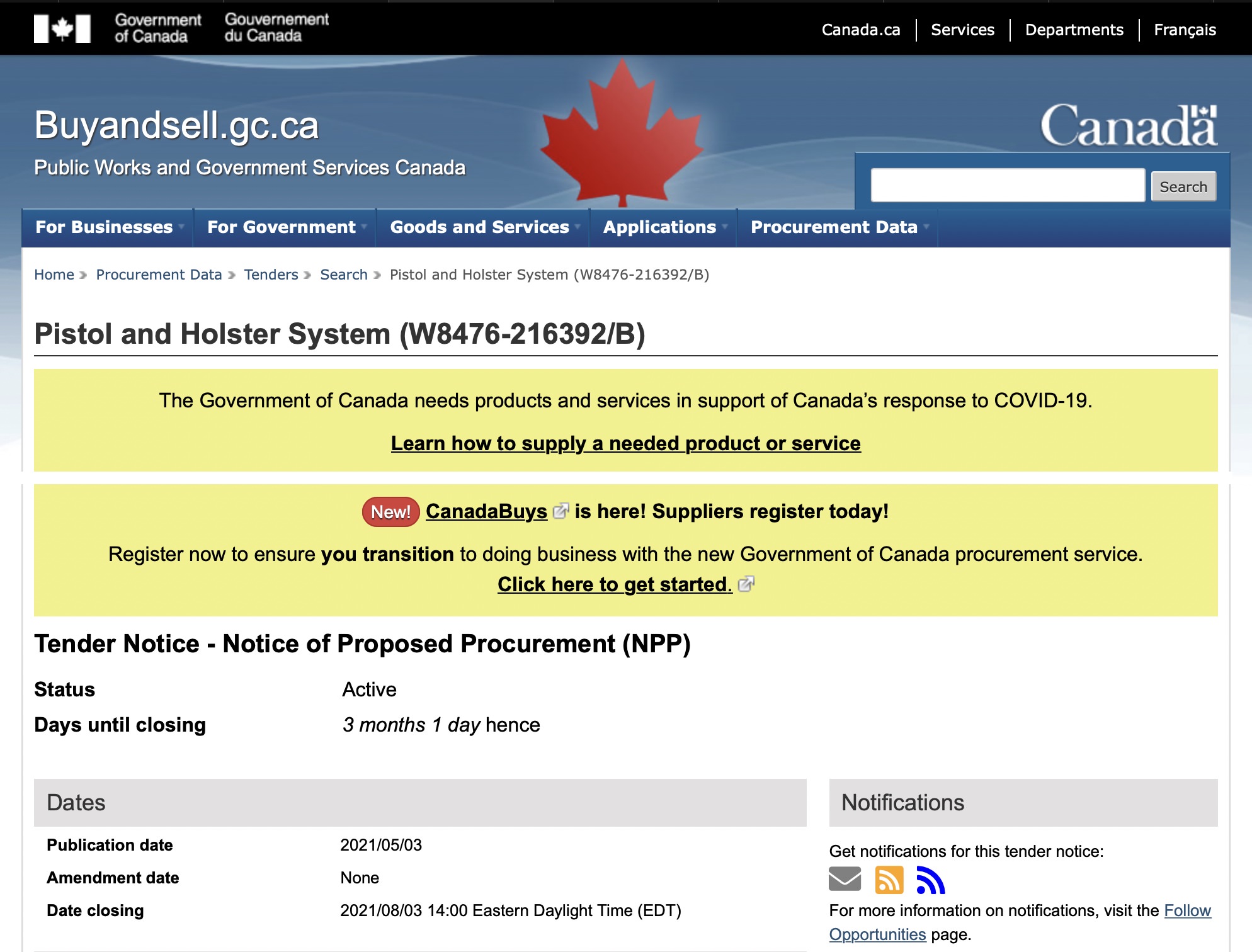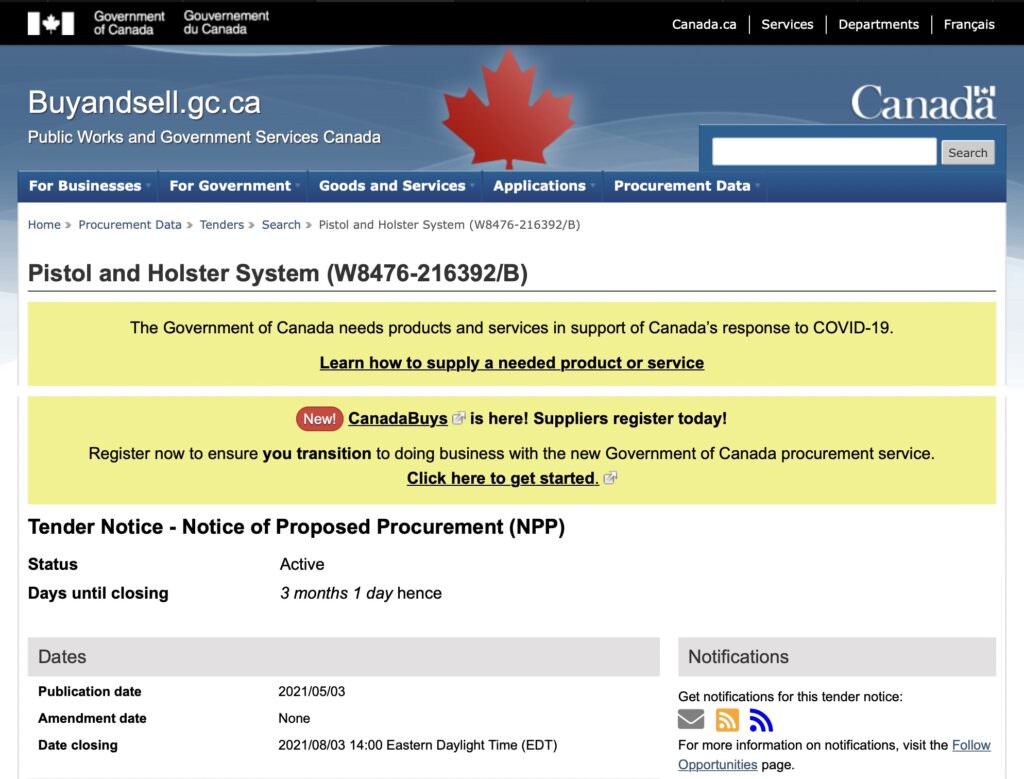 Contract Description
Source: BuyAndSell.gc.ca
TheGunBlog.ca added paragraph breaks for readability.
The current service pistol of most of the Canadian Armed Forces (CAF) is the 9mm Browning Hi-Power.

The design dates to 1935 and it was procured at the end of the Second World War.

The CAF fleet of Browning Hi-Power pistols has deteriorated to the point that it has become unsustainable and too unreliable for operations.

The security environment will continue to exhibit high volatility and uncertainty.

CAF personnel, when committed to the Contemporary Operating Environment, are assigned operational responsibility over exceptionally large and varied geographical areas.

Threats can originate from any direction with little or no warning.

CAF personnel require a reliable and effective personal weapon and holster system to deal with constrained close-range situations.

The C22 MPP will ensure that CAF personnel have a precise modular pistol and holster system that is reliable and dependable when used by personnel in operational situations from urban areas through dense vegetation to open savannah, arctic and desert under a wide range of climatic conditions.

Pistol and Holster System Tender Notice – Notice of Proposed Procurement (NPP), BuyAndSell.gc.ca, 03 May 2021
Pistol Technical and Performance Specification (PDF)
Source: BuyAndSell.gc.ca
---
Related