U.S. Shotgun Exporters Risk Confiscation Under Liberal Ban: NSSF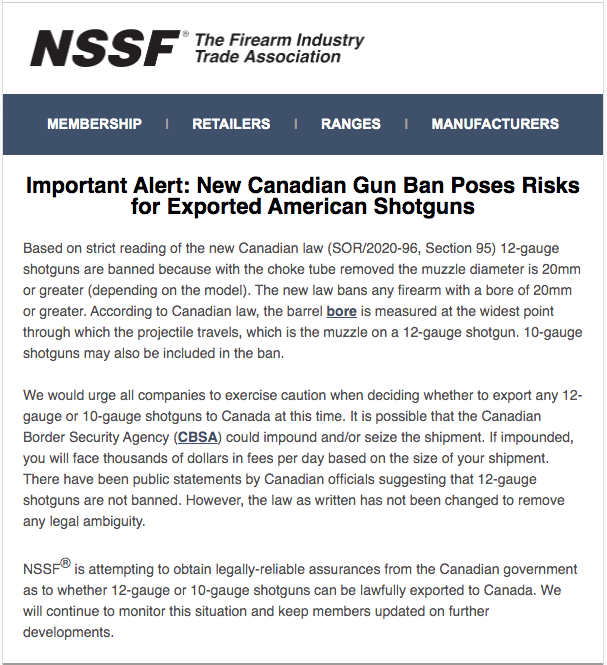 TheGunBlog.ca — The trade group for the world's largest gun industry warned shotgun exporters to Canada they risk confiscation after last week's surprise bans by the Liberal Party.
The U.S. National Shooting Sports Foundation's "important alert" shows how the prohibitions could batter firearm companies worldwide.
In the middle of business on May 1, Prime Minister Justin Trudeau ordered the immediate criminalization of any company or individual who buys, sells, imports or transports any firearm with a bore diameter of 20 mm or more, plus designated rifles.
'Impound and/or Seize'
"It is possible that the Canadian Border Security Agency (CBSA) could impound and/or seize the shipment," Newtown, Connecticut-based NSSF said today.
"If impounded, you will face thousands of dollars in fees per day based on the size of your shipment," the organization said.
CSSA, CSAAA, Burlew
The Canadian Shooting Sports Association, backed by the Canadian Sporting Arms and Ammunition Association, alerted members to the risk for shotgun owners and sellers on May 6.
The CSSA said the legal opinion was provided by Edward Burlew, their firearm lawyer.
Mossberg, Beretta
Mossberg, Beretta and other manufacturers with U.S. factories made more than 20% of the 85,000 shotguns Canada imported last year for hunters, farmers, ranchers and sport shooters.
The Liberals said their confiscations apply mostly to the owners of about 1,500 rifle and carbine models, from the AR-10 and AR-15 to U.S. Rifle M14.
Blair: 'Absolutely Incorrect'
Minister for Confiscation Bill Blair said May 6 on Twitter the CSSA is "absolutely incorrect."
The CSSA said today that an RCMP Technical Unit Supervisor had confirmed to a gun store that an old Iver Johnson, 12-gauge, single-shot, fixed-choke farm gun with a 2 3/4-inch chamber would be classified as "Prohibited."
The Ottawa-based Royal Canadian Mounted Police, which controls private gun ownership, didn't respond immediately to an after-hours request for comment from TheGunBlog.ca.
Confiscate and Incarcerate
Last week's long-gun bans and Trudeau's pending handgun bans guarantee confiscation and threaten incarceration.
They specifically target the 2.2 million adults and 4,400 businesses with a federal firearm licence authorized by the RCMP.
NSSF Urges Caution
Canada imports roughly 1,000 rifles, shotguns and handguns every day, mostly from the U.S.
"We would urge all companies to exercise caution when deciding whether to export any 12-gauge or 10-gauge shotguns to Canada at this time," the NSSF said.
RCMP Comment
Update May 09: The RCMP said late in the evening of May 08 that in its view, 10-gauge shotguns have a bore diameter of 19.69 mm, and 12-gauges are at 18.42 mm.
---
Related
—
Update May 09 at 01:55 Toronto time: Adds RCMP comment in last paragraph.