Wolverine's John Hipwell Designs New WS-MCR Semi-Auto Rifle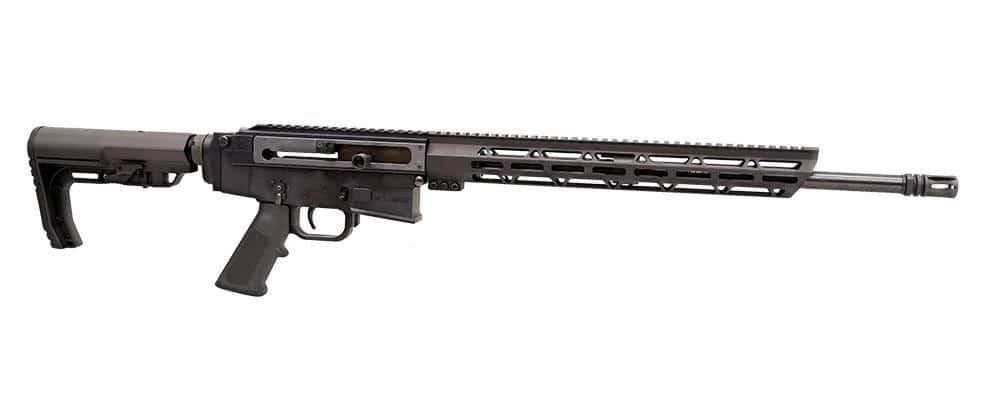 TheGunBlog.ca — John Hipwell, the founder of Wolverine Supplies Ltd., said today he designed the new WS-MCR multi-calibre rifle, his second semi-automatic model taking AR-15 ammunition magazines.
The made-in-Canada firearm is classified "Non-restricted" in Canadian law, Virden, Manitoba-based Wolverine said today in an e-mailed press release signed by Hipwell.
He said he was inspired by the AR-180 rifle and will be offering the WS-MCR for sale starting Feb. 18 for $1,299 in 5.56 NATO, and $1,499 in both 7.62 Soviet and .224 Valkyrie.
Hipwell Comment
The WS-MCR is a Multi Caliber Rifle. I like the original AR180 concept, so we went back to her and started fresh.
…
We plan on ordering the vast majority of WS-MCR rifles in calibre 5.56 NATO, a few will be available in .224 Valkyrie and I expect rifles in 7.62 x 39 to follow in a few weeks. All calibers will be using AR15 type magazines.

Source: Wolverine Supplies, Press Release, 14 Feb. 2020
Mass Confiscation-Incarceration
Wolverine is selling the new model as Canada's governing Liberal Party prepares to order mass gun confiscations against federally licensed gun shops and hundreds of thousands of hunters, farmers and sport shooters.
Owners who don't participate in the forced surrender could face jail.
Hipwell Leadership
Hipwell and Wolverine, one of Canada's largest gun distributors and retailers, are among Canada's most-powerful forces for the shooting community and firearm industry.
He was awarded the Lifetime Achievement Award by Code of Arms TV at last year's TACCOM, the Tactical & Competitive Shooting Sports Show.
Wolverine WS-MCR Summary Chart
---
Related