Canada Assists ISIS While Persecuting Hunters, Sport Shooters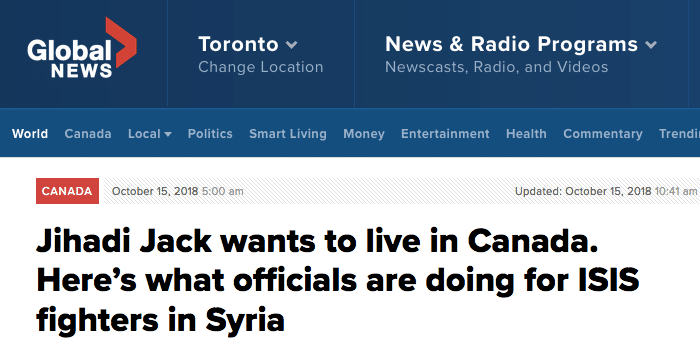 TheGunBlog.ca — The Canadian government is assisting ISIS fighters in Syria and working to bring them to Canada, while persecuting hunters, Olympic shooters and other responsible citizens at home.
Global News reported today on efforts by Global Affairs Canada to help affiliates of the so-called "Islamic State of Iraq and Syria," which has claimed responsibility for massacres, attacks and destruction around the world. The news organization published a conversation between a Canadian government official and a British ISIS supporter with Canadian citizenship in Syria nicknamed "Jihadi Jack."
"If it would be possible, would you like to come to Canada? Back to the U.K.?" the consular official asked, as reported by Global News.
"We have the intention to help you," the official said.
"Canada is an option," the official said, according to Global News.
While working to import violent criminals and terrorists, the government is harassing domestic gun owners who have been licensed under the authority of the federal police and are among Canada's safest citizens.
https://twitter.com/TheGunBlog/status/1051836036844785664
The government of Prime Minister Justin Trudeau aims to pass Bill C-71 as a law to confiscate rifles from as many as 15,000 lawful owners after they die, and to make it harder for all 2.2 million licensed owners to buy, sell, own and transport firearms.
It's also promoting a ban on handguns and many other firearms used by everyone from Olympic competitors to recreational shooters across Canada.
That's in addition to existing laws that punish lawful gun owners with prison if they change address without informing the federal police within 30 days, or if they drive home from the target range by a route police might view as not "reasonably direct." It's also a crime punishable by prison to store firearms safely in any way that isn't approved by law, or to own standard-capacity cartridge magazines for many pistols and rifles.
A public-relations firm that advises the government said in March that more restrictions on hunters and sport shooters present an "untapped opportunity" for Trudeau's Liberal Party to win votes in the next election.
Related Information
© 2018 TheGunBlog.ca