House of Commons 'Urgently' Working to Fix Glitch With Petitions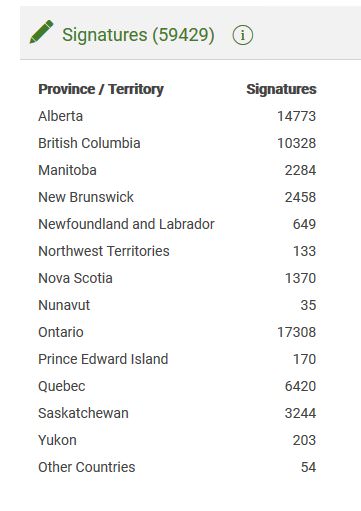 TheGunBlog.ca — The Canadian House of Commons said it's "working urgently" to fix its petitions website after it stopped displaying the number of new signatures on all motions including a petition to stop Bill C-71. All signatures are still being counted.
Petition e-1608 showed 59,429 people had signed as of 8:12 p.m. Toronto time yesterday, Matt Capranos said on Twitter. He contacted the Clerk of Petitions after noticing the counter hadn't budged for hours, even as people said they were signing As of 2 p.m. today, it showed the same count.
haven't really followed other petitions today.
From yesterday morning, E-1608 was at 58000 today it's only at 59429.
Maybe it's just me, we'll have to watch – April 8 – 8:12 pm EST – 59429 signatures….let's see what happens in a hour, at least 1 person should have signed.

— Mr. Matt Capranos (@mattcapranos) April 9, 2018
"We are working urgently to fix the issue," Cedric Taquet, an official with the Clerk of Petitions, told TheGunBlog.ca today by telephone. "The only glitch we have right now is that the website doesn't show the real number. Every signature is accounted for."
Opposition to C-71 is mounting across the country after the government proposed the bill last month to ban more guns and further restrict hunters and sport shooters seeking to own and use firearms.
Petition e-1608 has attracted more signatures than any other electronic motion related to firearms since the service began in December 2015. It's the No. 3 petition overall.
It had 60,388 signatures at 1:20 p.m. Toronto time, Taquet said. That's still less than 3 percent of Canada's 2.1 million men and women with gun licences, making it easy for the government to ignore.
Not that I want to be paranoid or anything, but watching petition E-1608 all day today and it hasn't broken 60k signatures. In the last 2 hours, it hasn't earned 1 additional signature. It's as if it's being suppressed. https://t.co/1BxNG1nzAW#NoBillC71 #StopC71 #CanadaGunnies pic.twitter.com/ViB6SKJxRr

— Mr. Matt Capranos (@mattcapranos) April 9, 2018
"Our IT department is investigating," Taquet said. "It's very important for you to know that the signatures are being collected. It touches all the e-petitions, not only this one. I can't give you a timeframe when it will be resolved."
Signing the petition is a good place to start. You can also write to your member of parliament, and get involved in election campaigns at the federal, provincial and local level. Alberta and Ontario have elections this spring, and candidates need volunteers for everything from greeting people, to picking up supplies to canvassing and helping on election day.
See TheGunBlog.ca's dedicated page on Bill C-71 for more info.
Find this useful? Subscribe.
https://twitter.com/TheGunBlog/status/983395240043253760
© 2018 TheGunBlog.ca
---
The most important part of gun rights isn't "gun," it's "rights."
---